Colorado Buffaloes vs. USC Trojans Pick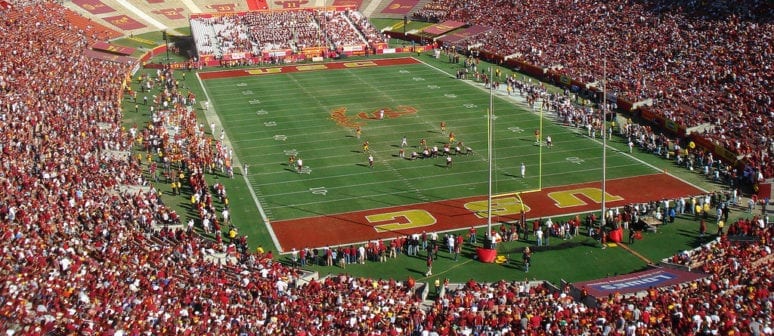 Colorado Buffaloes (5-0 SU, 4-1 ATS) vs. USC Trojans (3-2 SU, 1-4 ATS)
College Football Week 7
Date and Time: Saturday, October 13, 2018 at 10:30PM EDT
Where: Los Angeles Memorial Coliseum, Los Angeles, California
TV: Fox Sports 1
By: Loot Levinson, NCAA Football Handicapper, Predictem.com
Point Spread: COLO +7/USC -7 (Lines vary among betting sites so players should compare)
Over/Under Total: 57
The Colorado Buffaloes come to the LA Coliseum on Saturday for a Pac-12 Conference matchup with the Southern Cal Trojans. Colorado is 5-0 and it's not often one can say that. They are trying to make their first real imprint in this conference, but it's not going to be easy with tough road spots like this. After a ragged start, the Trojans have righted the ship with two straight wins, including a road-triumph over Arizona in their last game. USC had last week off, leaving them nice and rested for this big home game.
How Legit is Colorado?
Saying Colorado is a Pac-12 factor doesn't sound right, so you're not alone in withholding judgment. Making that breakthrough is not going to be easy, but they've shown they are indeed a good team—clearly a program on the rise. They actually won their division in 2016, so maybe they've already broken through. But after a 5-7 mark last season, they look ready to make another move.
Colorado now takes back to the road. After winning their first two games away from home to open the season, the Buffaloes got to set up shop in the comfy confines of Boulder the past several weeks, now facing a tough stretch of three demanding road conference games in their next four. Wins over UCLA and Arizona State set the table for what should be a tougher test this week, in a much-tougher locale.
Have the Trojans Hit Their Stride?
The season seems to be shaping up better for the Trojans after a rough start. Winning a pair of conference games leading into an off-week could help get this team's head screwed on right. Granted, a lot hasn't worked out this season, there have been a bunch of mistakes, and only one cover, but there is the element of upside to be considered. And from that standpoint, USC is a team where caution should be exercised moving forward.
There is a lot of youth on Southern Cal where the element of time will only help bring them along. Key among those players is JT Daniels, the true freshman getting his first taste of the big-time. There have been bumps, but this is a player who is going to be a handful and it's a matter of when, as opposed to "if." A three-pronged run-game with Stephen Carr, Aca'Cedric Ware, and Vavae Malepai could work out. Amon Ra-St. Brown is another freshman who is coming around and with Tyler Vaughns, Michael Pittman, Jr. and others, we're seeing the latest cast of weapons starting to develop.
The Power of Perception
So you see a 3-2 team against a 5-0 team and the team with the worse record is the 7-point favorite? A lot goes into that—some steeped in reality and some perhaps more wrapped up in perception. Colorado has a lot going for it. QB Steven Montez is a handful and capable of moving this offense in a big way. With RB Travon McMillian and WR Laviska Shenault, Jr. he has two of the more productive players at their position in the Pac-12. They're giving up less than 19 points a game and on the surface, they look very solid.
But again, the very idea of the Buffs being Pac-12 heavyweights is a concept where one needs extra urging to accept. In addition, wins over UCLA and ASU hardly signify a powerhouse. Colorado seems out-of-place in the Coliseum, like it's a setting where they're out-of-their-element. People see the Trojans starting to get their act together and the assumption is that their superior talent will begin to resonate.
TIRED OF YOUR CREDIT CARD NOT WORKING AT SPORTSBOOKS? IT WILL AT BOVADA + GET A 50% BONUS!
At the same time, it's important to trust your vision. And if USC is 7 points better than Colorado, it really hasn't surfaced on the field. It's something one is expecting to see and not without reason. This would seem on paper to be a spot where a team like Colorado could be humbled. But again, all the ammo in the Trojans' corner is wrapped up in perception—what should be, what will be, what can be. We prefer to deal in the 'what is."
Take the Points on the Road Underdog
Granted, USC has way more upside. There is something to be said, however, for where these teams are now. And Colorado is more who they want to be. USC is overloaded with youth and personnel shifts, constantly in the mode of trying to make sense of what they are and represent. And while they might be getting closer to being who they are, it's still a work-in-progress. Let's be clear, though, the talent on both sides of the ball for the Trojans is superior. But a lot of that talent is tied up in the concept of "potential." So it's there, but it's not there. USC is going to be good, but they haven't been that good yet.
Things are a bit more spelled-out for Colorado. The roles are understood better. Important components to the puzzle are more-cemented. What you now see, regardless of which direction this ends up heading, is what they're trying to do. And so far, that adds up to a powerful offense with difference-makers, along with a clutch defense that gets a lot out of what it has. And I think that equals out to a cover at the Coliseum on Saturday.
Scott's Pick to Cover the Point Spread: I'm betting on the Colorado Buffaloes plus 7 points.