Colorado Buffaloes vs. Utah Utes Week 13 Predictions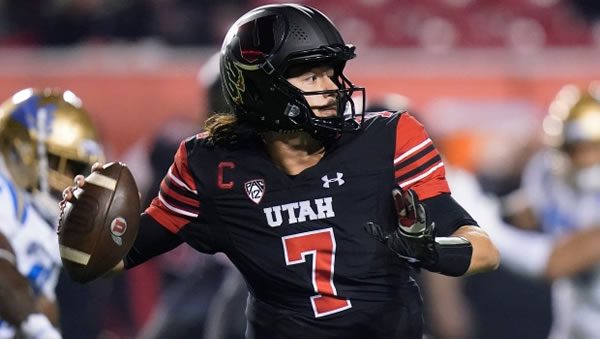 Colorado Buffaloes (4-7 SU, 5-6 ATS) vs. Utah Utes (8-3 SU, 5-6 ATS)
College Football Week 13
Date and Time: Friday, November 26, 2021 at 4PM EST
Where: Rice Eccles Stadium, Salt Lake City, Utah
TV: Fox
Point Spread: COLO +24/UTAH -24 (Betanysports - Did you know that you can bet on games at -105 odds here instead of -110? Making the switch will save you BIG money and is like getting a bonus evrey time you bet!)
Over/Under Total: 52
The Colorado Buffaloes take on the Utah Utes in a Pac-12 showdown in Salt Lake City on Friday. Colorado is coming off their fourth win of the season, a 20-17 triumph over a sagging Washington team at home on Saturday. It's their second win in three games as they at least look to close out the year in some style following a tough season. They take on a Utah squad that scored the signature win of their season, a 38-7 smashing of Oregon at home on Saturday. At 8-3 and atop of the Pac-12 South division, they have some big things on their plate.
What's on the Table for the Utes
With a win over Oregon, the Utes were able to kick their conference record to 7-1. With their win over Oregon, they locked up the South and could very well be rematching with Oregon for the Pac-12 title in a few weeks. The path is now clear. But those expecting the Utes to let off the gas now with the Pac-12 Championship looming might end up disappointed. And let's be frank, it might not require a fever-pitch Utes to lay it on the Buffaloes this week.
Tough Spot for Colorado
On top of being a bottom-end conference team that just scored its only two conference wins late in the season against struggling opponents, the Buffaloes have other things to overcome in this spot. They will be taking on a Utah team that wants to keep things going with the conference title looming. Colorado has no other tangible motivation other than having a strong close to the season.
The Buffaloes' home vs. away performance this season has been striking. At home, they scored all four of their wins and have been a decent team, sometimes effectively scoring points and sometimes seeing their defense raise up. On the road, it's been a starkly different tale, with a string of lopsided losses. It has a consistent diminishment in how they perform away from home, with a 23-point losses to Arizona State, Cal, and Oregon, and a 24-point loss to UCLA. That's a remarkably-consistent run of substandard showings on the road. If you're getting mopped up that easily by teams like Cal, what chance do they have against Utah?
Issues for Colorado
In essence, there isn't much they do well and there are some things in which they are absolutely miserable. Colorado can't manage to create any production with their aerial game. QB Brendon Lewis has 1344 yards and ten TDs on the season. He is a decent game-manager, with just three picks on the season. RB Jarek Broussard is a pretty good running back and the most productive member of the Buffaloes' offense. No receiver has so much as 300 receiving yards on this team. Five times this season, they have managed 14 or fewer points of scoring.
Unfortunately for Colorado, there isn't a ton of relief on the other side of the ball. The best accomplishment of this "D" is not being terrible, as they're simply "bad." Their inability to stop the run against the better ground-games they've seen this season has been striking. Against the strong run of the Utes, this stands out as a major matchup snafu for the Buffaloes this week. And if looking for something in the way of a big play in the way of a sack or even a turnover, you might be waiting for a long time with this bunch.
More Picks: Alabama at Auburn Week 13 Best Bet >>>
Routes to a Cover for the Utes
They make the most of what they have on offense, The run-production can come from a number of different sources, from Tavion Thomas, TJ Pledger, Micah Bernard, or even QB Cameron Rising. The aerial game may lag behind what the run-game produces for the Utes, but Rising has thrown just two picks on the season. He gets it done in a quiet and subdued way, but the Utes still manage 36 points a game, so it's not like they completely depend on a solid defense.
I could understand playing the urgency angle against Utah, as they might want to take it easy with such a big game coming up. But that carries more weight when the other team has corresponding urgency. Colorado's purpose for rising to some unprecedented form this week out of the blue seems murky indeed. Utah doesn't even need to do anything special. If their defense shows up and they run the ball against a Colorado team is bad at stopping it, it should be enough.
Take the Home Favorite
In a tough place to play against a pumped-up and dug-in Utah bunch, the Utes won't be easily separated from their momentum. And if they were to be, why would it be against a team that hasn't even been able to come within three touchdowns of the teams Utah has beaten. Colorado has been putrid on the road. That is without fail—not even a glimmer of hope in any of their road performances this season. You could say this is more a geographic and weather similarity for Colorado with so many conference teams not in this general region. Or that Utah doesn't really need this. In any event, I don't think Colorado is going to be up-to-snuff. I'll take the Utes.
Loot's Pick to Cover the Point Spread: I'm betting on the Utah Utes minus 24 points. Note: Don't forget to check out our Week 12 NFL football picks!
Fargo's CFB Game of the Year (32-23 Run) Sat

Matt is on a 9-5 CFB Run the last two weeks while going 32-23 in CFB since October! The final week of the regular season is here and Fargo is unleashing his CFB Game of the Year! He is ready for a MASSIVE end to November and if you make one move Saturday, this is the one! Do not miss out!