Colorado State vs. Boise State Pick ATS 11/12/20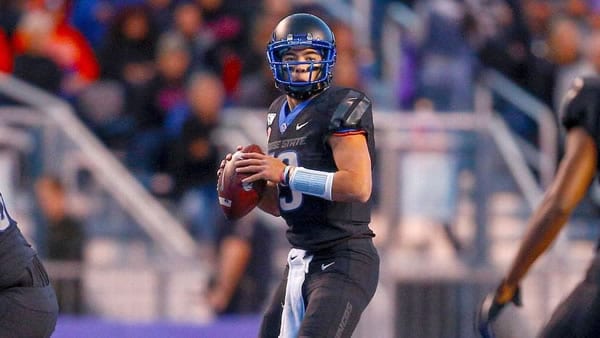 Colorado State Rams (1-1 SU, 1-1 ATS) vs. Boise State Broncos (2-1 SU, 2-1 ATS)
College Football Week 11
Date and Time: Thursday, November 12, 2020 at 8PM EST
Where: Albertson's Stadium, Boise, Idaho
TV: Fox Sports One
Point Spread: CSU +13.5/BSU -13.5 (MyBookie – Deposit $100 to $300 and they'll match you with that same exact amount in bonus money!)
Over/Under Total: 62
The Colorado State Rams face the Boise State Broncos on Thursday in a big Mountain West Conference showdown at Albertsons Stadium. The Rams get their third straight Thursday game to open the season, and last week, they got their first taste of success home at Fort Collins, beating Wyoming, 34-24, in an upset where they were the home-dog. They look for better road-results this week after losing their first away from home, but it won't be easy against a Boise State team looking to atone for a disastrous loss last Friday, falling to unbeaten BYU, 51-17, at home.
Colorado St. Turning the Corner?
One would want to exercise caution on a Rams squad that fell flat in their last road-appearance, losing to Fresno State, 38-17 in an ugly season opener. After winning just four games last season, ending the season on an ugly skid, and looking ragged in their belated debut, one could understand the skepticism against Wyoming on Thursday, but they easily covered the spread in a complete win.
Key to the Cowboys' success on Thursday was a defense that really stepped up, especially compared to their first game. Against a potent Wyoming running game, the Rams held them to 3 yards a carry on 48 runs. They got to the quarterback six times, with Manny Jones leading the way. Marshaun Cameron took an interception for a TD, and when they were in a pinch, the "D" came through. Can they do it on the road against a perennial conference power? That's more problematic, but their chances sure look better now than they would have a week prior.
After failing to dazzle last season and healthier now, Patrick O'Brien showed signs on Thursday that he can take his game to the next level, going 18-for 26 for 255 yards and two touchdowns through the air and one through the ground against Wyoming. Some of the Colorado State heavier hitters aerially delivered, with Trey McBride and Dante Wright providing a lot of production. Their big tight end McBride already has three TDs and could be a major weapon in this matchup. Marcus McElroy, Jr. and A'Jon Vivens, however, haven't really contributed in the run-game all that much, and a lack of that dimension is just another element that might indicate they are not up-to-snuff with teams like Boise State. O'Brien is a nice player, and maybe he and new coach Steve Addazio can gel and get this program headed in the right direction, but he can't do it all by himself.
Rams' Hope From Last Season?
A potential Rams' backer in this spot could reason that Colorado State is going to be better. Boise State, meanwhile, might not be as good. And still, a sideways Rams team managed to keep it respectable in a 30-20 loss last season to the Broncos. Granted, that was at Fort Collins, and this will be tougher. But maybe O'Brien can cut his mistakes from last year's game when he had two picks, while improving on his 289 yards against a Boise team that seems to have a lot on their plate right now.
Is Boise State OK?
Starting the season with conclusive wins over Air Force and Utah State, where they covered the spread in both games, suggested everything was more or less in order. But with QB Hank Bachmeier, you don't have one of your more-impressive Boise quarterbacks in recent seasons, and an injury has kept him out of action. Jack Sears, the USC transfer, started last week's game against BYU but left in the first quarter with an apparent concussion. They turned to freshman Cade Fennegan, who did what he could, but he was up against it against a swarming BYU defense.
One wants to give Boise a pass. BYU is unbeaten, a well-oiled team well into a season that Boise just started. The Cougars certainly look to be a good team. But a 34-point defeat that wasn't even that close at home is a damning indictment on the 2020 Broncos. To already be this deep in the quarterback barrel has really thrown their offense off-stride, and we see a defense that has followed suit, with 81 combined points allowed in their last two games.
Boise State Defense in Shambles?
Having Air Force run effectively against you and falling prey to a peaking BYU offense alone doesn't make the Boise State "D" a substandard unit. And Colorado State offers only a fraction of the potential the BYU offense does. We still see teams moving up and down the field with relative ease against Boise the last few weeks. BYU barely had an issue whether they took to the air or handed the ball off, with big splash plays left and right. When you have a home team like Boise that might not be in that great of shape laying points, a defense that is flip-flopping around might come at a big price, even against Colorado State.
Take the Road Dog
There are some things we might not know about until game time, and with multiple quarterback issues coming off a huge loss on this same field, you might not think this is a great spot for Boise. The Rams could be enlivened from last week's success, and even with conditions being far less-favorable last season, they still got within ten points. This Colorado State team might not be ready to compete with the better teams in the conference, and this road-context doesn't help a team that is a lot better at home. But the problems Boise has shown on both sides of the ball won't just go away, and covering a significant number might be asking a lot. I'll take a whirl on the Rams.
Loot's Pick to Cover the Point Spread: I'm betting on the Colorado State Rams plus 13.5 points. Hey! STOP laying -110 odds on your bets! You-Are-Wasting-Money!!! You work hard for your loot! Don't overspend on odds when you could only be having to lay -105 at BAS Sportsbook! They not only have reduced juice, they also offer a HUGE wagering menu with tons of prop bets, teasers up to 20 points and parlays up to 25 teams! Get all of this good stuff and more at BetAnySports!