East Carolina Pirates vs. BYU Cougars Free Pick ATS 10/28/22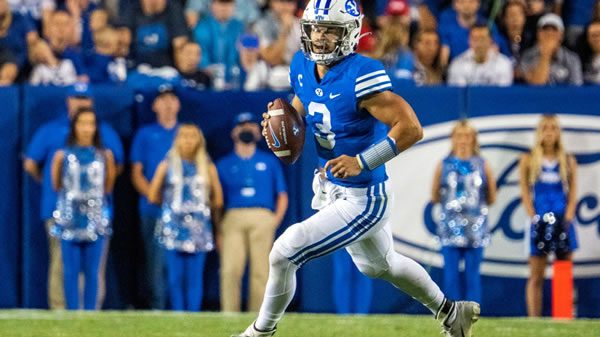 East Carolina Pirates (5-3 SU, 5-3 ATS) vs. BYU Cougars (4-4 SU, 2-6 ATS)
College Football Week 9
Date and Time: Friday, October 28, 2022 at 8PM EDT
Where: LaVell Edwards Stadium, Provo, Utah
TV: ESPN2
Point Spread: ECU +3/BYU -3 (Bovada)
Over/Under Total: 62
The East Carolina Pirates come to Provo on Friday for a showdown with the BYU Cougars. East Carolina has managed to turn things around the past few weeks, culminating in an impressive 34-13 win on Saturday over Central Florida, pretty good for a 5.5-point dog. After two weeks at home, though, this represents a tough road test against BYU. For the Cougars, however, things have gone sideways after an early season that had some promise, and a 41-14 loss as 7-point favorites to Liberty on Saturday shows how far they've fallen in the last few weeks. Will being at home give them a gust of energy, or is ECU prime to score the big win? Let's break it down!
Can BYU Right the Ship?
Losing to Notre Dame was one thing, but to be so far off the mark against both Arkansas and Liberty really has the Cougars looking awful at this point of the season. Things were going so well. Sure, they had lost to Oregon, but a win over Baylor had them looking good and at 4-1. They blew their big chance against Notre Dame, but it was thought they would rebound with what seemed like upcoming winnable spots. Normally, you'd fancy a BYU team in this spot, but in light of their recent form and East Carolina's surge, one really can't be that sure.
Still, we need to keep things in their proper context. Perhaps BYU would be celebrating a recent surge as ECU if they had been playing AAC teams. The Cougars have had a far tougher schedule, and just because they've taken some lumps doesn't mean they're packing it in. If anything, one could identify this as a fork in the road for Brigham Young, with some success still available if they get it together, with a failed season coming more into focus if they blow this one too. But they're going to need sharper showings from QB Jaren Hall, in addition to getting that run-game cranked up. And a defense that went from respectable to imminently exploitable needs to find answers. Lately, the opposing run-game has really been having its way, and even if that's not totally the Pirates' strength, they can still do damage against a massively-struggling Cougars' "D."
10* CFB Championship! 49-23, 68% Season!
Jack Banks is all-in in tonight's College Football Championship! The Banker swept his NFL yesterday (Won Div GOY) and he's had a 49-23, 68% CFB phenomenal season! Jack won his CFB Bowl GOY (Penn State) and he wraps up the season with win #50! Take it to the bank with Jack Banks!
East Carolina: Difficult Team to Gauge
Operating in the AAC, we've seen an ECU team where getting a read on them from week to week is supremely tough. The books are usually off by quite a deal with this squad, attesting to their erratic form. Right now, though, it's pretty good, and the offense is humming along nicely. QB Holton Ahlers has been getting consistently good performances lately, though interceptions remain a bit of an issue. Running back Keaton Mitchell might not deliver every week, but when he does, it's usually a big performance. This week against a spiraling BYU run-defense might be one of those occasions. Receiver Isaiah Winstead is looking to get cooking again after a fast start to the season. This is an offense with legit weapons. They are in a tough road spot this week, but maybe BYU's defensive woes give the Pirates an "in."
Still, with an erratic team like East Carolina, you look for details that would point them more toward a negative outcome. And an out-of-the-way road trip to Provo could be the ticket. This isn't a time of the season when they'd typically be exposed to a road game of this nature. They've only been away from home twice this season, both within their own conference. For a team that has seen all their games either at home or in familiar road conference territory, this could be enough to set them back into their previous ways. And any promising signs we've seen from the Pirates this season have almost all been seen at home.
Who Has the More Difficult Matchup Challenges
Looking at the Cougars lately and how opposing run games are having their way, but's not hard to picture Keaton Mitchell feasting in spots, keeping the chains moving, and allowing the ECU offense to control the tempo of the game. And even if that part of their game doesn't unfurl, Ahlers commandeers a potent aerial attack that might not be lost against a BYU secondary that isn't exactly peaking heading into this part of the season. The Pirates have numerous routes to offensive success in this spot.
Maybe their recent winning form and some of the opponents they've played have taken some attention off an ECU pass defense that is really awful. Jaren Hall has been off-key as of late, but one has to assume that at least partly connects to the quality of opponents the Cougars have been facing. Going against an AAC secondary that is really subpar would seem to be a good spot for Hall and this BYU aerial offense to find their footing again.
Lay the Points
This might be a case where we need to grade things on a curve a little bit with both teams. It's been a topsy-turvy road to this spot for both squads, but the road here was tougher for the Cougars, and I think that might resonate on Friday. Needing this win in a big way and facing a defense where they can do damage, it's really a line in the sand for Brigham Young this week, and I'll take a whirl on them to win and get the cover. I'll take the Cougars in this one.
Loot's Pick to Cover the Point Spread: I'm betting on the BYU Cougars minus 3 points.