First Responder Bowl Pick: Boston College Eagles vs. Boise State Broncos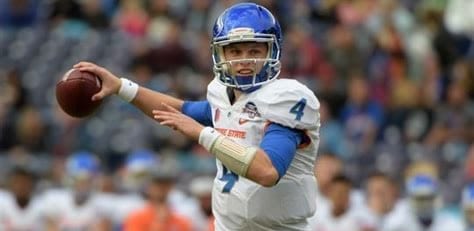 Boston College Eagles (7-5 SU, 7-5 ATS) vs. Boise State Broncos (10-3 SU, 7-5-1 ATS)
First Responder Bowl
Date and Time: Wednesday, December 26, 2018 at 1:30PM EST
Where: Cotton Bowl, Dallas, Texas
TV: ESPN
Point Spread: BC +2.5/BSU -2.5
Over/Under Total: 56
The Boston College Eagles take on the Boise State Broncos in the First Responder Bowl in Dallas on December 26. Boise State is coming off a ten-win season. While successful in many ways, coming up short at home against a team they had beaten in Fresno in the MWC title game was a tough pill to swallow. They hope to make up for it in this bowl spot against the Eagles. It was shaping into a good season for BC until the end, but they still ended up bowl-eligible and could give their season some extra credence with a nice win in this game. I like the Broncos to cover the spread in this one. (Get more of my predictions by visiting our College Bowl Picks)
Differing Paths to this Spot
Boise State had the better season with the ten wins. It's how they finished that also set them apart. Losing in OT to a good Fresno team after winning seven in a row isn't that bad, all things considered. Boston College was sitting pretty at 7-2, before the wheels came off in the last month of the season, as they didn't win or cover against Clemson, FSU, and Syracuse. Still, playing in the ACC, they faced steeper competition for the most part than the Mountain West's Broncos. While Boise beat some good teams, their record has more rift-raft on it than Boston College's ledger. But Boston College did land in this spot with more of a thud than Boise. If they lose, this will oddly be the fifth time in 6 seasons that they finished with a record of 7-6. And for what it's worth, they've lost 6 of their last 7 bowl games. Boise, meanwhile, has won 7 of their previous 9.
Matchup Issues for Boston College
A lot of times this season, we saw the opposing aerial attack making problems for the BC defense. It's hard to see that equation getting a lot better in this game. Fourth-year Boise State starter Brett Rypien had 3705 yards and 30 touchdowns this season, working well with some nice weaponry on offense. Aerially, it was Sean Modster leading the way, with AJ Richardson, CT Thomas, and John Hightower (questionable) providing a lot of production. I don't see the BC secondary negotiating this variety of weaponry very well in this spot. And stopping peaking Boise back Alexander Mattison will also be an issue, along with his 1415 yards and 17 TDs on the season.
Where the Boston College defense might have some hope is in their ability to register the big game-changing play. They had 18 picks this season, led by Hamp Cheevers' seven interceptions. That kind of play can take a sad song and make it better in terms of a leaky pass defense. With a big-play linebacker trio of Connor Strachan, Isaiah McDuffie, and Max Richardson, they have hope. They have an ample pass-rush with Wyatt Ray and Zach Allen, so it's not a group that will be lost at sea.
Can the Boston College Offense Keep Pace?
With 49 combined points in their last three games; the Eagles' offense doesn't enter this game with much positive inertia. That equation gets even worse if their top playmaker in running back AJ Dillon isn't available, as he is listed as questionable. He represents a big part of their menace. Boise State has been pretty tough against some good running games this season and BC without Dillon would seem to be in some trouble in this matchup with Ben Glines and David Bailey doing the heavy lifting.
Boston College's best chance to make noise against Boise would be aerially. Boise has struggled in that area for much of the season, and luckily for them, they didn't face a ton of teams that could air it out that well. But that's really not Boston College's forte. On the one hand, Anthony Thompson threw 20 TDs for the Eagles this season, but let's just say he's no Rypien, with barely 55% completions and a lack of star pass-catchers. Jeff Smith is certainly a nice weapon, as are Kobay White and Tommy Sweeney. Boise has more standouts in this area.
Almost Every Intangible in Boise's Favor
Boston College faced tougher competition week in and week out and that can't be understated. Maybe some of these advantages for Boise wouldn't be advantages if instead of playing Colorado State, Air Force, and New Mexico, they were playing NC State, Miami, Clemson, and Syracuse. So let's remember that context is important. But even within the Mountain West context, Boise played a reasonably tough schedule.
Still, we see a Boise squad that is more-intact from a personnel standpoint. All their big-hitters are available on both sides of the ball. Boise may have more injuries to deal with overall, but they won't be without anyone too crucial. The season ended in rough fashion for the Broncos, as one is unaccustomed to seeing them come up short in-conference at home in such an important game. But with seven wins before that, it's hard to say one OT loss by three points undoes all that. At the end of the day, they have superior talent on offense that is more-experienced in big-game situations. The Boise core is a group of guys who have been in a lot of big-game situations. Boston College's guys haven't really experienced the same things.
Lay the Points on the Broncos
I'm sure when Boise was winning 7 games in a row, they had thoughts in their head that went beyond a December 26 game in an inaugural bowl. So if there's any comedown, it might be on their part. And while Boston College finished poorly, a loss to Clemson and even Syracuse isn't that much worse than losing to Fresno at home when you already beat them. I just don't see the Boston College offense being able to keep pace for a full four quarters, as Boise gets the late separation and crosses the finish line ahead for the win and cover.
Loot's Pick to Cover the Point Spread: I'm betting on the Boise State Broncos minus 2.5 points.