Frisco Bowl Spread Pick: North Texas vs. Boise State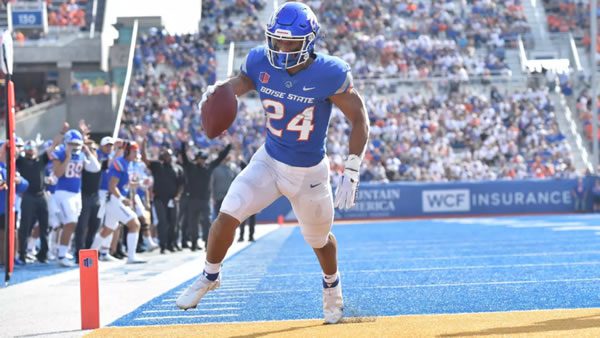 North Texas Mean Green (7-6 SU, 7-6 ATS) vs. Boise State Broncos (9-4 SU, 6-6-1 ATS)
Frisco Bowl
Date and Time: Saturday, December 17, 2022 at 9:15PM EST
Where: Toyota Stadium, Frisco, Texas
TV: ESPN
Point Spread: UNT +10.5/BSU -10.5 (Bovada – The best bookie on the web! You're missing out on GOOD stuff if you're not betting there! 50% bonus! Rebates on ALL your bets win or lose! FAST crypto payouts! HUGE wagering menu! The BEST live wagering platform on the planet!)
Over/Under Total: 57
The North Texas Mean Green faces the Boise State Broncos in Frisco, Texas, on Saturday in the aptly-named Frisco Bowl. Boise State finds themselves in what might be a distressing bowl spot, facing a 7-6 Conference USA squad in the Mean Green of North Texas. But such is the price for losing the Mountain West Conference Championship, as the Broncos lost on the 3rd to Fresno State. A 48-27 loss to San Antonio, however, doesn't show a North Texas team in great form, either, as they enter this spot coming off a loss. Who can get it together enough to deliver us the big season-ending cover on the 17th?
Getting a Lay of the Land
The obvious thing is that Boise State played in a better conference and did better overall in their conference. North Texas, however, could benefit from a certain apathy that might settle in with a Boise State team that is sagging at the finish line. The Mean Green might not enter this with a ton of momentum, but it's geographically a better fit for them, as the Broncos seldom see the Lone Star State. All season, we saw North Texas basically alternating wins and losses the whole season, never winning or losing more than two in a row.
The North Texas offense is pretty good. They average nearly 34 points a game while offering some nice balance between the air and the ground. Austin Aune, nearly 30 years of age, has thrown for 3309 yards and 32 TDs. Ayo Adeyi leads a vital running-game, and in this offense, no one is really a star, as their strength lies in their ability to get you a number of ways with many different people. The critics will rightfully point out that it's one thing to see it all work against Florida International and quite another against the likes of Boise State. And in the last three games, we've seen this Mean Green offense performing far under their normal standards.
10* CFB Championship! 49-23, 68% Season!
Jack Banks is all-in in tonight's College Football Championship! The Banker swept his NFL yesterday (Won Div GOY) and he's had a 49-23, 68% CFB phenomenal season! Jack won his CFB Bowl GOY (Penn State) and he wraps up the season with win #50! Take it to the bank with Jack Banks!
The Mental Aspect
North Texas has some nice things going for them, certainly enough to rate them as a reasonable choice as a double-digit dog in a bowl spot that might not elicit the utmost urgency from Boise State. With their last bowl game being a loss in 2019, the Broncos haven't won a bowl game since 2017, with two getting canceled. It almost furthers the storyline of the Broncos' indifference, but that was an entirely different collection of coaches and players. This is Boise head coach Andy Avalos' first bowl appearance with a team that is mostly all experiencing their first bowl game. I'm not sure how much one will be able to factor apathy as some sort of magic elixir that allows the Mean Green to hang with Boise State.
More Picks: Get Loot's WKU vs. USA New Orleans Bowl Analysis & Pick ATS
Matchup Edges for Boise Too Much to Ignore?
When you take a North Texas offense that crawled to the finish line of the regular season and combine it with a Boise "D" that was among the best in the nation with a per-game point allowance of 18.5, it starts to paint a dire picture. Against better offenses, the Boise defense has given up a completion rate of just over 50% while allowing a little more than 160 yards a game through the air. Seeing Aune labor against San Antonio doesn't suggest a lot of good things happening in this spot. You have to realistically project what Aune and this offense can do.
Then again, the Boise offense isn't hitting a crescendo, either. There was the 42-point detonation on Utah State a few games back, but other than that, we're seeing a mix of muted offensive performances with some better ones here and there. It's not the automatic offensive machine it used to be. They've been solid with a 29-point per game scoring rate, but when needing to cover double-digit spreads, you might need a little more.
This Taylen Green-led Boise offense won't go down as one of the better ones. But with George Holani and his 1133 yards on the ground, along with all the other weapons they possess, it's really hard to picture North Texas doing all that well. Other than the occasional spurt, this Mean Green defense has been eaten up even by the better Conference USA teams they faced. Against the only Mountain West team they faced this season, they fell to a sub-.500 UNLV team, 58-27. Granted, some of the Mean Green's better defensive performances of the season have come more recently, but the real playmakers on this Broncos' offense might find the resistance to be less than what they've seen for most of the season.
Lay the Number on the Broncos in the Frisco Bowl
There is no denying that Boise State isn't likely approaching this with a fever pitch, with their letdown against Fresno not really portending success in this spot. A phone-in against a pumped-up North Texas team will make this a close game. I just sense that this will come down to defense. Boise State has a good one, and North Texas does not. To see the Mean Green struggling the last several games against defenses that aren't in Boise's league suggests to me this is a spot where Boise can build up enough of a lead and coast, using their running game to build up a margin the Mean Green won't be able to backdoor. I'll take the Broncos in this one.
Loot's Pick to Cover the Point Spread: I'm betting on the Boise State Broncos minus 10.5 points. Bet your college football bowl game predictions for FREE by scoring a massive 100% real cash bonus up to $500 by using bonus code PREDICTEM at Betnow Sportsbook!
100% Free Play up to $1,000 (Crypto Only)
BONUS CODE: PREDICTEM