New Orleans Bowl Pick ATS: Western Kentucky and South Alabama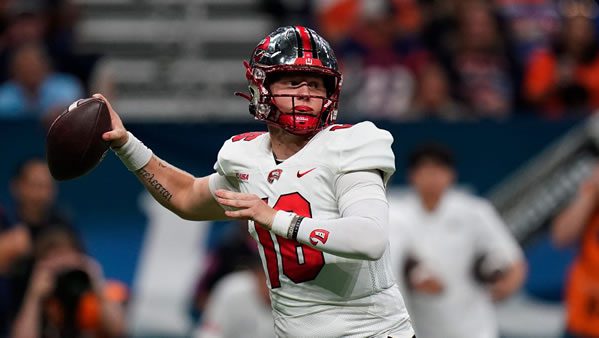 Western Kentucky Hilltoppers (8-5 SU, 8-5 ATS) vs. South Alabama Jaguars (10-2 SU, 7-4-1 ATS)
R&L Carriers New Orleans Bowl
Date and Time: Wednesday, December 21, 2022 at 9PM EST
Where: Caesars Superdome, New Orleans, Louisiana
TV: ESPN
Point Spread: WKU +8/USA -8 (Bovada – You gotta check these guys out if you live bet games! Their platform is seemless! All on one page, not clunky and bets process FAST!)
Over/Under Total: 53.5
The Western Kentucky Hilltoppers battle the South Alabama Jaguars on the 21st in the New Orleans Bowl. Both teams had a nice season and while WKU came up short in a bid to compete in the Conference USA Championship, their overtime win over Florida Atlantic to conclude their regular season on November 26 was a nice way to come into this spot. They will have their hands full with a ten-win Jaguars squad. Also, having last played on the 26th, the Jaguars beat Old Dominion 27-20, entering this with five straight wins and looking to put a cap on a positive season. Who can get us the cover in the Superdome?
How Do These Teams Match Up?
While the Jaguars enter this game on the heels of a 10-win campaign and five straight wins, the Hilltoppers have seen some things improve of late, as well. Their only loss in their last four games was an out-of-context loss to Auburn. Other than that, the last two months have gone pretty well for WKU. And how much this matters is iffy, but Western Kentucky has won five of its last seven bowl games, while this is the first bowl appearance for the South Alabama program.
Western Kentucky really airs it out on offense with a passing game that ranks among the tops in the country. With 44 TDs, quarterback Austin Reed can really get things rolling with his arm and legs. With Malachi Corley leading a potent pass-catching crew, they look to wield that on a South Alabama defense that has really been much stronger against the run and not so much the pass. But the Jaguars are a well-rounded team, and with the liabilities on the Western Kentucky defense, they should be in a good spot to do damage, as well.
10* CFB Championship! 49-23, 68% Season!
Jack Banks is all-in in tonight's College Football Championship! The Banker swept his NFL yesterday (Won Div GOY) and he's had a 49-23, 68% CFB phenomenal season! Jack won his CFB Bowl GOY (Penn State) and he wraps up the season with win #50! Take it to the bank with Jack Banks!
How Good is Western Kentucky?
I might not be the only one wondering this aloud. After getting their butts kicked by North Texas, the Hilltoppers were sitting at 5-4. Granted, the season ended well from a numbers and standings perspective. But in the last month or so, we've seen them slay a vulnerable trio of teams in Charlotte, Rice, and FAU, which sandwich a bad loss to Auburn. Their best quality win of the season might just be against Middle Tennessee—not exactly the biggest feather to have in your cap. So, while the feeling might be that they're on a run, how impressive is it really?
There is a flip side to that coin, however, and not to impugn the Sun Belt Conference, but South Alabama doesn't have much room to talk. In their only game against another top team in their conference, they lost to Troy. And struggling to beat a 3-win Old Dominion team in their last outing doesn't suggest a team in top form, as they didn't cover the spread in their last two games. Still, for the entire season, they've remained on point, seeing what they do well rise to the top far more often than not. And being able to surface week in and week out with what you do well certainly counts for something, especially at this particular level. Being able to be yourself and having it surface almost every week is an actual asset that this South Alabama team can wield on a far more erratic WKU bunch.
More Picks: Get Loot's betting recommendation for the Myrtle Beach Bowl 12/19/22 >>>
Flair vs. Solidness
In games like this, having one really standout trait can really go a long way, as WKU is hoping to drown out South Alabama's assets with their powerful aerial attack. And while that's not the strength of the South Alabama defense, their strength comes in a different package. Whereas it's mostly concentrated in the air attack for the Hilltoppers, it's more spread out for the Jaguars. With 1000-yard rusher La'Damien Webb a real weapon, along with a nice pass-attack led by QB Carter Bradley and a slew of able pass-catchers, the offense has more routes in which to exact damage. It might not be as dangerous aerially as Western Kentucky, but it's an offense that has more avenues to success than its opponents.
Some of the things that didn't fully resonate against the likes of Rice and Charlotte might turn up here against a solid South Alabama squad. Not that the Hilltoppers are looking to phone this one in, but getting a first bowl-win for a school would appear to be solid motivation for a South Alabama team that is utterly new to the college postseason. And when you take away the aerial attack of the Hilltoppers, it's not easy to identify other areas of excellence. They can't really run the ball, and to call their defense average against the run, and the pass would probably be a tad charitable. They can generate a little pass-rush, but it's not a unit that figures to grind the Jaguars' attack to a halt.
Take the Favorite
The idea that a WKU squad with a juiced-up passing offense will win this or at least hang in there doesn't seem too crazy. South Alabama is far from invulnerable, and maybe they see some things in this game that they haven't had to deal with this season in the form of a high-octane WKU offense. I just think some results this season have painted the Hilltoppers in a slightly better light than what reality represents. A solid threat with their aerial high-jinx, they are still likely to be outplayed along all other lines by a solid South Alabama team that lacks the major holes their opponents have. I'll take South Alabama in the New Orleans Bowl.
Loot's Pick to Cover the Point Spread: I'm betting on the South Alabama Jaguars minus 8 points. Did you know that we also offer free NFL football picks?
100% Free Play up to $1,000 (Crypto Only)
BONUS CODE: PREDICTEM