Gator Bowl Betting: South Carolina vs. Notre Dame Spread Pick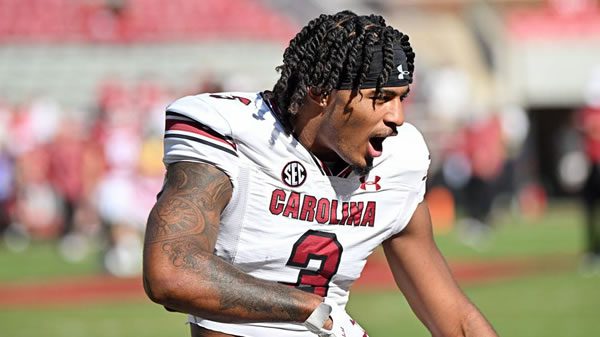 South Carolina Gamecocks (8-4 SU, 7-5 ATS) vs. Notre Dame Fighting Irish (8-4 SU, 6-6 ATS)
Date/Time:
Friday, December 30th, 3:30 PM
Where:
TIAA Bank Field, Jacksonville, FL
TV:
ESPN
Point Spread: SC +2.5 / ND -2.5 (Deposit $100 and get $100 FREE when you use bonus code PREDICT100 at the web's most fun sportsbook —> MyBookie!)
Over/Under Total: 51.5
Notre Dame and South Carolina head to sunny Florida to battle it out in a late afternoon Gator Bowl matchup on December 30th. This is just the fifth-ever meeting between the teams, with the Fighting Irish holding a 3-1 advantage that is absolutely meaningless, considering the last game played was back in 1984.
BEAMING
Head coach Shane Beamer took over in Columbia after the 2020 season with South Carolina in the midst of 6-17 slide and having missed out on the postseason in back-to-back years for the first time in over a decade. The Gamecocks have since posted consecutive winning seasons and have already surpassed last year's win total of seven. With still a game to go, Beamer can continue to build forward momentum going into next year. However, he will assuredly be relying heavily upon quarterback Spencer Rattler to continue his hot hand. Especially with all the offensive holes, the team will need to try and cover up thanks to injuries and, even more so, the now incredibly prevalent transfer portal.
SPENCER FOR HIRE
After transferring from Oklahoma, Spencer Rattler took some time to get acclimated to the Gamecocks offense. Going into the last games of the regular season, he had thrown for under 2000 yards total and had more interceptions (9) than touchdowns (8). Something must have clicked soon after. Over the last two games of the year, Rattler led South Carolina to an upset win over Tennessee and followed that a week later by ending Clemson's 40-game home win streak with an upset victory over the Tigers at Memorial Stadium. In those two games, Rattler threw for 798 yards and a whopping eight touchdowns. He has also improved significantly on his turnovers, with just two interceptions in four games since October after averaging over one a game previously. The wide receiver position for Rattler and the Gamecocks is one of the only ones that hasn't been hit with injuries, though his selection at the tight end couldn't be in more of a precarious position.
TIGHT SPOT
The Gamecocks find themselves with a senior grad student and two walk-ons as their only options at tight end against the Irish, thanks to Jaheim Bell and Austin Stogner both leaving via the transfer portal and third-stringer Traevon Kenion retiring from football altogether. Rattler will undoubtedly rely heavily upon his starting wide receiving trio of Antwane Wells Jr, Jalen Brooks, and Josh Vann. Wells Jr. has been the clear best of the bunch after leading the team in receptions along with receiving yards and touchdowns, while last year's top option Josh Vann seems to have gotten out of his season-long slump with the Rattler's resurgence and has caught all three of his touchdowns over the past two games. The Gamecock trio will likely see plenty of action against Notre Dame, not only due to riding the hot hand of Rattler and the passing game but also because who will even be in their backfield remains in question.
RUNNING ON EMPTY
The top two in rushing yards for South Carolina are both gone due to the transfer portal, with both leading rusher and touchdown scorer MarShawn Lloyd and previously mentioned hybrid tight end Jaheim Bell both having already moved on. Third on the team in yards is Juju McDowell, though he doesn't appear to be any sort of a legit option when you consider the fact he has -4 yards rushing yards over the past two games and hasn't cleared 50 yards on the ground in a contest all year. This leaves Christian Beal-Smith as the only other running back on the team with more than six carries on the season. The hyphenated back is nursing a foot injury and has already missed four games on the year, but as of now is still expected to play. At least he will be facing a depleted Irish defense line that is missing their best player Isaiah Foskey as he follows the recent trend of skipping a bowl game to prepare for the NFL Draft. This all started after the 2016 season when then Fighting Irish linebacker and expected top-five pick Jaylon Smith tore his ACL and LCL in their bowl and eventually dropped to the end of the first round. The following year Christian McCaffrey and Leonard Fournette were amongst a handful of players to skip their game, and ever since, many have followed suit.
THE DEPARTED
Notre Dame will be without their top offensive player as well against South Carolina due to the draft prep, with the best tight end in school history and top prospect at his position Michael Mayer skipping the Gator Bowl. Mayer led all Fighting Irish players in catches, receiving yards, and touchdown receptions and will be sorely missed as easily the most consistent and certainly reliable option through the air. Unfortunately for Notre Dame head coach Marcus Freeman and coordinator Tommy Rees, the loss of Mayer is not the only major issue facing their team, thanks to sensitive quarterback Drew Pyne bailing on the team unexpectedly.
QB QUITTER
After finding out he wasn't going to be handed the starting position on a platter for the 2023 season, Drew Pyne immediately left Notre Dame and entered the transfer portal. When looking at his stats for the season, it makes his bafflement at the idea of competition all the more confusing, considering the teams' passing offense ranked 106th in the country, Pyne only threw for over 300 yards in a game once and completed less than 53% of his passes in five of their last seven matchups. Wherever he goes will at least have fair warning that he cares a lot more about himself than the whatever team he is on while also being clearly delusional about his talent level.
TYLER TAKE TWO
The loss of Pyne likely puts Tyler Buchner back into the starting role, one he had to begin the year before an injury in week two knocked him out for the rest of the regular season. Buchner is a definite threat to run, but as a starter appeared to lack the passing ability to be successful at the college level. How much he is able to improve on them when coming back from injury remains to be seen, but if he is unable to go or faces similar struggles and needs to be replaced, then highly touted freshman Steve Angeli would be next in line to take over at the position.
STEP UP
With Michael Mayer gone and inexperience at the quarterback position, the effectiveness of the Fighting Irish wide receivers will be one of the more critical factors in the Gator Bowl. Lorenzo Styles, Jayden Thomas, and Brandon Lenzy will be the primary receiver targets for whoever is at quarterback, but unfortunately, their consistency hasn't been overly reliable throughout the year. Styles is now the team leader in receptions and yards but has just one touchdown catch all season and has posted just seven receptions over the past four weeks. Jayden Thomas has highlight reel potential on any play but hasn't posted more than three receptions in a game all season. Brandon Lenzy just has just 20 receptions on the season, though at least he has had a bit of a scoring run of late, with two of his three touchdowns coming in the past three games. The three should at least find the going a bit easier, thanks to South Carolina cornerback Cam Smith having decided to bypass the Gator Bowl to prepare for the NFL Draft. And the Irish backfield will certainly benefit from the Gamecocks' other star defensive player, lineman Zacch Pickens, bailing on the bowl game as well.More Picks: Get Jay's New Year's Eve Bowl Best Bet >>>
FULL ESTIME AHEAD
The Irish rushing attack ranked 42nd in the country and seemed to get progressively better throughout the season, most notably when they decided to finally turn the backfield into more of a two-man show than a three and put more of a focal point on Audric Estime and Logan Diggs. The bruising Estime has 11 of the teams' 22 rushing touchdowns, averaged over 5.5 yards per carry in the last nine games in a row, and his use has a direct correlation to his teams' success this season as the Fighting Irish are 6-0 when he gets over ten carries in a game and 2-4 when he doesn't. Diggs has cleared the century mark in yards in three of their last six games with scores over the past two contests and should continue to find plenty of opportunities as a speedy change of pace to Estime's hard-hitting style.
THE FINAL DECISION
South Carolina has performed incredibly well this season as an underdog, going 4-1 against the spread in their last five games getting points, with all four those covers also outright victories against Tennessee and Texas A&M at home and Clemson and Kentucky on the road. The Gamecocks are also in the midst of a run of success in neutral field games, having gone 7-2 against the spread in their last nine. On the other hand, the Irish ended their season with yet another loss to a ranked opponent and are now 6-18 straight up in their last 24 games against Top 20 teams.
The biggest deciding factor in the Gator Bowl will likely be which team can offset their vast personal losses with the greatest success, which will not be an easy factor for either considering how many players were lost for each team to NFL Draft preparation or entering the transfer portal. I believe Notre Dame will have a much harder time considering just how crucial the pieces they lost were, and with the Irish also dealing with questions at the quarterback position and a continuous run of inferiority against quality opponents, I will be taking South Carolina and the points in the Gator Bowl.Mike's Pick to Cover the Point Spread: South Carolina +2.5. Note: Check out this incredible offer! Deposit $100 to $300 and get a MASSIVE 125% real cash bonus PLUS get a FREE HALF POINT everytime you bet your favorite NFL, college football, NBA and college basketball team! All you have to do is use bonus promo code PREDICTEM when you sign up at GTBets Sportsbook! They have a cool player loyalty rewards program too!
10* CFB Championship! 49-23, 68% Season!
Jack Banks is all-in in tonight's College Football Championship! The Banker swept his NFL yesterday (Won Div GOY) and he's had a 49-23, 68% CFB phenomenal season! Jack won his CFB Bowl GOY (Penn State) and he wraps up the season with win #50! Take it to the bank with Jack Banks!