[et_pb_dcsbcm_divi_breadcrumbs_module hide_homebreadcrumb="off" homebreadcrumbtext="Home" separator="sep-raquo" hide_currentbreadcrumb="off" homebreadcrumborientation="left" _builder_version="3.8″ fontsbreadcrumbs_font="Lato||||||||" fontsbreadcrumbs_text_color="#000000″ fontsbreadcrumbs_font_size="15px" fontsbreadcrumbs_line_height="16px" fontsseperator_font="||||||||" fontsbreadcrumblinks_font="||||||||" fontsbreadcrumblinks_text_color="#2567cf" custom_margin="25px|||" custom_margin_phone="30px|||" custom_margin_last_edited="off|desktop" custom_css_main_element="font-family: Helvetica Regular;" global_module="3641″ saved_tabs="all"][/et_pb_dcsbcm_divi_breadcrumbs_module]
Georgia Bulldogs -14 vs Missouri Tigers Pick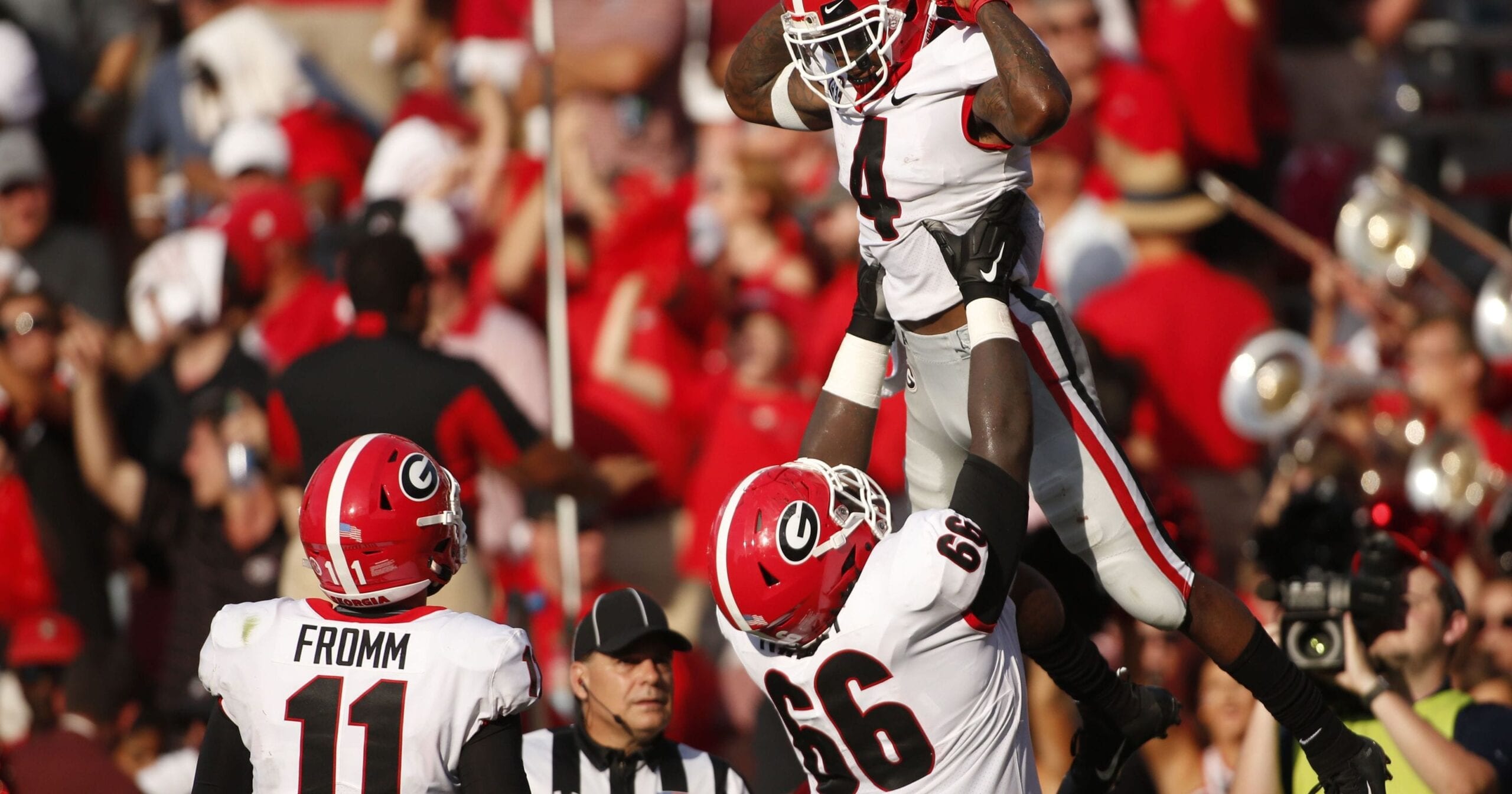 No. 2 Georgia Bulldogs (3-0 SU, 2-1 ATS) vs. Missouri Tigers (3-0 SU, 2-1 ATS)
College Football Week 4
When: Saturday September 22nd, 2018. 12:00PM (EST)
Where: Faurot Field Columbia, M.O.
TV: ESPN
By: Jay Horne, College Football Handicapper, Predictem.com
Spread: UGA -14/MIZZ +14
Total: 64.5
The Georgia Bulldogs will take their number 2 ranking on the road this week when they go into Columbia, Missouri for a showdown with the Missouri Tigers. It is another 2 TD spread for Georgia backers.  Ironically, the Bulldogs have already survived one trip to Columbia this year. Back in week 2, the Bulldogs blew out no. 24 South Carolina 41-17 in Columbia, SC. This week the Bulldogs are hoping for a similar result against a Missouri team that improved to 3-0 last week with the help of a Tucker McCann game winning field goal in a 40-37 win over Purdue.
Most people are aware of Georgia's talent. The Bulldogs nearly won the National Championship last year and Kirby Smart is bringing in elite level talent on the recruiting trail. This Georgia team is mostly intact from a year ago outside of running backs Sony Michel and Nick Chubb. Still, nobody produces top level running backs like the University of Georgia and they have some homerun threats in D'Andre Swift and Elijah Holyfield. Along with quarterback Jake Fromm, this Georgia offense will now set their sights on a Missouri defense that relinquished more than 600 yards in last week's win against Purdue. I do not have any doubt Georgia will strive in this game. My only question is can Missouri keep pace?
Bulldogs defense vs. Drew Lock
 The Tigers have one of the best weapons in the country in quarterback Drew Lock. The senior has already thrown for 1,062 yards with 11 touchdowns and just 1 pick through the first 3 games. In all honesty, I would say he is the best pure passer in college football. Let that comment sink in for a second. While Lock's potential and ability is undeniable, this is not going to be an easy matchup for the Missouri offense. The Bulldogs are extremely talented all around. The secondary has some inexperience but extremely talented pieces. The biggest concern for this week's game is they need a bigger pass rush presence from the defensive front.
Check before you bet: Predictem's Sportsbook List with Pros and Cons
If they can get some decent pressure on Lock, I really like the secondary's talent to limit the Tigers' receiving corps. Missouri's biggest receiving threat is Emanuel Hall but if Georgia can shut down their main outlet; I think they will have a tough time throughout this game. Also, do not overlook the fact that Kirby Smart is a defensive mastermind. Smart built his reputation as Alabama's Defensive Coordinator under Nick Saban and his defenses at Georgia have been outstanding currently giving up just 8 points per game. This will be a tougher challenge but from a coaching standpoint, everything is easier when you have the more talented players. Expect Georgia to mix things up with coverage and blitzes to keep Lock uncomfortable.
Bet on the Georgia offense!
I believe the Bulldogs defense is going to be the reason that Missouri fails to stay in this game. However, I am also expecting the Bulldogs to exploit this Missouri defense as well. Purdue made things look extremely easy last week and their offense is not nearly on the same level as the Bulldogs. Georgia's offensive line is one of the biggest strengths for this team and I believe Georgia will run the ball with ease. If they control the ground game like I expect, it will open things up for the entire offense and From should have some opportunities down the field. Overall I just think this is a matchup Georgia should win on both sides of the ball as they cruise to a convincing victory..
Jay's Pick to Cover the Point Spread: If my view of the match-ups is not enough to convince you. Also consider the fact, Georgia has been a huge moneymaker for bettors for the last 2 seasons. The Bulldogs are 6-1-1 ATS in the last 8 games and also 10-1 ATS in their last 11 games on the road. Follow the money. Take Georgia -14

<aside><h4 class="widgettitle">NFL Picks</h4><!-- [et_pb_line_break_holder] -->
<!-- [et_pb_line_break_holder] --><div class="widget-footer"><a href="https://www.predictem.com/nfl/">See all the NFL picks.</a></div><!-- [et_pb_line_break_holder] --><hr><!-- [et_pb_line_break_holder] --><style><!-- [et_pb_line_break_holder] -->ul.postsbycategory {list-style-type: none; margin:0; padding: 0; margin-left: -3px}<!-- [et_pb_line_break_holder] -->.postsbycategory li {padding: 5px 0px; display:block; clear: both; border-bottom: 1px solid #ccc;line-height:16px!important; min-height: 50px;}<!-- [et_pb_line_break_holder] -->.postsbycategory li a{color: #000; font-size: 14px!important;}<!-- [et_pb_line_break_holder] -->.postsbycategory img {width: 85px!important; height: 40px;<!-- [et_pb_line_break_holder] -->float:left; <!-- [et_pb_line_break_holder] -->padding:0px;<!-- [et_pb_line_break_holder] -->margin: 0px; margin-right: 8px;<!-- [et_pb_line_break_holder] -->border: 1px solid #EEE;<!-- [et_pb_line_break_holder] -->}<!-- [et_pb_line_break_holder] --> .widget-footer a {color: #666;}<!-- [et_pb_line_break_holder] --> .widget-footer a:hover {padding-top: 2px;}<!-- [et_pb_line_break_holder] --> </style></aside></aside>
<div style="width:340px; margin: 0 auto;"><!-- [et_pb_line_break_holder] --> <a class="twitter-timeline" data-width="340" data-height="500" data-link-color="#008156" href="https://twitter.com/PredictemPicks?ref_src=twsrc%5Etfw">Tweets by PredictemPicks</a> <script async src="https://platform.twitter.com/widgets.js" charset="utf-8"></script><!-- [et_pb_line_break_holder] --></div>