Georgia Tech vs. Clemson Week 1 Pick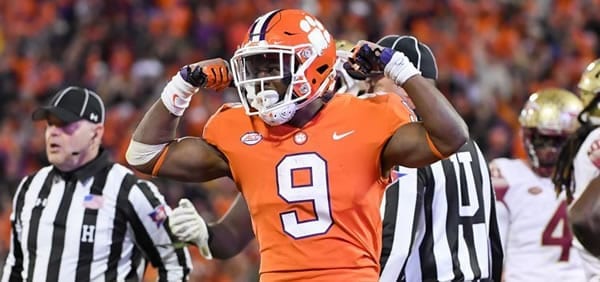 Georgia Tech Yellow Jackets (0-0 SU, 0-0 ATS) vs. No. 1 Clemson Tigers (0-0 SU, 0-0 ATS)
Date/Time: Thursday August 29th, 2019. 8:00PM (EST)
Where: Memorial Stadium Clemson, S.C.
TV: ACC Network
Point Spread:GT +36/CLEM -36
Over/Under Total: 59.5
The Clemson Tigers will begin their 2019 campaign this Thursday when they host the Georgia Tech Yellow Jackets in an ACC opener at Memorial Stadium in South Carolina. The Tigers are the defending National Champions, and reigning #1 ranked team in the country with a ton of returning talent capable of another championship run. Meanwhile, the visiting Yellow Jackets are undergoing changes with first-year Head Coach Geoff Collins who looks to re-establish a new identity at Georgia Tech after a decade long stint under former Head Coach Paul Johnson who was famous for the infamous triple-option offense. Typically a program in the midst of an entire rebuild needs time to turn things around, and that is the baseline of expectations for Georgia Tech in 2019. However, the Yellow Jackets will be thrown to the wolves in Week 1 against a Clemson team that will be ready to deliver from the opening snap of the football. As a result, I am prepared to tell you a few reasons why you should not be scared of that enormous 36 point betting line and put your faith in the Tigers this Thursday!
Clemson's defense will wreak havoc against Georgia Tech
The Clemson Tigers have won 2 of the last 3 National Championships led by all-star talents on the offensive side of the football that was able to hang point totals of 35 and 44 against Alabama's notoriously tough defense in both title games. The offense deserves credit, but the defense from the Tigers has been vastly underrated in recent years under Head Coach Dabo Swinney and Defensive Coordinator Brent Venables. The Tigers ranked 5th in overall defense last year and ranked #1 in scoring allowing just 13.1 points for the entire season. The Tigers even held Alabama's flourishing offense led by Tua Tagovailoa to just 16 points in that title game. This year, college football fans should expect another dominating presence on the defensive side of the football. The Tigers return veteran talent that is stacked to the gills in their back seven which will be among the best in the nation. There will be some new faces up front that lack experience but garnish a ton of talent.
The reason this defense is worrisome in this Thursday's match-up is because Georgia Tech is a one-dimensional football team. New Head Coach Geoff Collins will bring more balance to the Yellow Jackets attack compared to Paul Johnson's triple-option attack. However, Collins has to bring in the talent to establish a balanced offense which is severely lacking. In fact, Collins has adapted his "above the line" philosophy to this year's depth chart which he used at Temple that basically means the players who are playing above the status quo will see playing time, and that status is evaluated regularly. Still, the Yellow Jackets have an offense that was recruited for a running style approach, and I have extreme concerns that they need a few recruiting cycles from Collins to get things heading in the right direction. At quarterback, the team is expected to turn to Lucas Johnson who is a relatively inexperienced redshirt junior who missed all of 2019 with a leg injury. Now his welcoming party is quite possibly the best defense in college football. Needless to say, things do not bode well for Georgia Tech, especially this early in the season when offenses tend to struggle.
Tigers offense for further success behind Trevor Lawrence
It seems like a distant memory now but does everyone remember when Head Coach Dabo Swinney benched starting quarterback Kelly Bryant midway through the season in 2018 despite being undefeated? Well for those that live in the South Carolina area, the move was not surprising. I am personally a Gamecocks fan, but I think everyone in this state had heard the buzz surrounding quarterback Trevor Lawrence. I also believe Swinney knew who was the best quarterback on that team a year ago as well. By all accounts, Lawrence was unbelievable throwing for 3,280 yards with 30 touchdowns and just four picks despite missing the first several weeks of the year. Now the true sophomore has a chance to build on his legacy and solidify his position as one of the best quarterbacks in college football.
Lawrence and the Tigers offense will kick off the season against a Georgia Tech defense that is simply inferior in terms of speed and size. The entire Clemson receiving corps is exceptionally talented led by junior Tee Higgins. Meanwhile, running back Travis Etienne provides a homerun threat in the Tigers backfield in the rushing department. Needless to say, Clemson's offense will be able to pick their poison when necessary. The most significant difference in this Thursday's match-up against Georgia Tech's defense is simply speed. The Tigers have a ton of speed at the skill positions, and the Yellow Jackets are going to have tough match-ups all over the field. I believe Clemson will be able to exploit those match-ups as the offense picks up where they left off in 2018.
Georgia Tech vs. Clemson Betting Trends
On top of the sentiment that I spoke to earlier involving returning talent and match-ups in this game, Georgia Tech also does not favor well in terms of recent trends. The Yellow Jackets are just 5-10 ATS in their last 15 games and just 1-5-1 ATS in the last seven games against Clemson. If you take it a step further, the Yellow Jackets are just 2-5 ATS in their last 7 Thursday night games. Meanwhile, Clemson was one of the most successful betting teams in the country in 2018 and are on the heels of an 8-2 mark ATS in their last ten contests. The Tigers own a 15 game home winning streak and have covered the number in 6 of their last seven games against conference foes.
Jay's Pick to Cover the Point Spread: Clemson -36