Marshall Thundering Herd vs. Notre Dame Fighting Irish Best Bet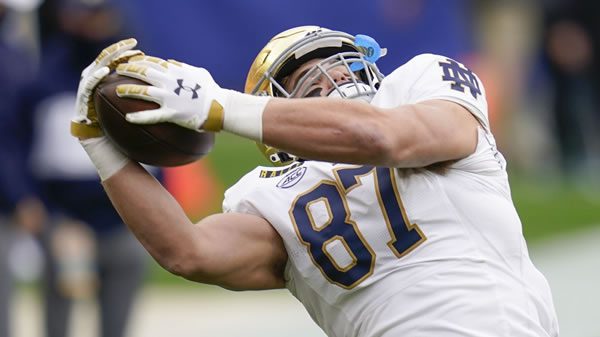 Marshall Thundering Herd (1-0 SU, 1-0 ATS 2021) vs. Notre Dame Fighting Irish (0-1 SU, 1-0 ATS)
Date/Time: Saturday, September 10th, 2:30 PM
Where: Notre Dame Stadium, South Bend IN
TV: NBC
Point Spread: MAR +20.5 / ND -20.5 (Wagerweb – Make ND a -0.5 favorite by inserting them into a massive 20 point college football teaser found at WW!)
Over/Under Total: 51.5
The Thundering Herd of Marshall head to Indiana to take on the Notre Dame Fighting Irish for a Saturday afternoon showdown in South Bend. This will be the initial meeting between the two teams and also the first-ever matchup between the Irish and a team from the Sun Belt Conference after Marshall realigned to it during the offseason.
STARTING OFF
Notre Dame and Marshall had opposite starts to their 2022 campaigns, with the Herd destroying Norfolk State 55-3 and the Irish falling apart offensively and losing to Ohio State 21-10. Even with the defeat, Marcus Freeman's team can still salvage their season and put themselves in a possible playoff position if they run the table the rest of the way. At the same time, Marshall is set up well to challenge for a Sun Belt Championship, especially with a favorable schedule that sees them getting all of their toughest conference foes (Appalachian State, Coastal Carolina, and Louisiana) at home.
HAPPY HENRY
One possible question mark Marshall was able to answer early was at their quarterback position. After some offseason upheaval that saw them lose their two top quarterbacks, the Thundering Herd went to Texas Tech transfer Henry Colombi. He started his Huntington career by completing 24 of 26 passes while also throwing a touchdown pass in last week's victory against Norfolk. Even with all of those completions, he only managed to throw for 206 yards, so it will be interesting to see how things change strategically against actual FCS competition when it comes to having to stretch the field versus a real defense. Especially one that just faced CJ Stroud and held one of the best offenses in the country to 24 points.
DOUBLE UP
Unfortunately, the Thundering Herd still faces an unexpected backfield issue after Rasheen Ali announced a couple of weeks ago that he was taking a leave of absence from the team. Ali was slated to be the focal point of the offense coming off a 2021 freshman season which saw him earn first-team All-Conference USA honors after rushing for over 1400 yards and scoring 23 touchdowns. Ethan Payne is now the likely leader in the backfield and was able to calm the situation a bit with his 113 yards, two touchdown performance against Norfolk State. Thankfully for the team, he wasn't the only running back to find success, as now second-stringer Khalan Laborn was also able to clear the century mark and get into the endzone twice.
TARGET SPREAD
Ten different players caught at least one pass for Marshall a week ago, and they will likely have to continue the spread-the-ball strategy against Notre Dame. Wide receiver Corey Gammage is the best of the bunch and should, in turn, get the requisite additional attention from the Irish pass defense, which means if the Thundering Herd have any chance of pulling off the upset, they will need someone other than just Gammage to stand out. Junior slot receiver Talik Keaton could be just that player. He will also be building upon some first-week momentum after putting up a career-high eight receptions and over 100 yards receiving versus the Spartans.
OFFENSIVE OFFENSE
While Marshall was able to score at will in their week one win, Notre Dame was only successful for the first 18 minutes of the game before their offense came to a grinding halt against Ohio State and went scoreless for the final 42 minutes of the game. Quarterback Tyler Buchner was efficient as ever to start, completing his first eight passes, but finished just 2 for his last 10. Considering those stats, it's no wonder the team put up just 72 yards of total offense in the six drives they had after scoring their lone touchdown early in the second quarter.
PASSING PROBLEMS
Only five different players caught passes for Notre Dame against Ohio, and four of them finished with just one reception. Star tight end Michael Mayer led the team with five catches, but in turn, like the offense around him, his production was severely limited after early success, and he finished with just one reception in the final 45 minutes of game time. Starting receivers Brandon Lenzy and Lorenzo Styles faced a tough matchup against the Buckeyes but won't find things that much easier against two of Marshall's best players on defense, cornerbacks Steven Gilmore (brother of the NFL's Stephon) and Micah Abraham (14 pass breakups led Conf-USA last year).
RUSH TO PASS
One of the reasons that the Notre Dame offense wasn't able to find consistent success against Ohio State was quarterback Tyler Buchner's issues utilizing his dual-threat capabilities, rushing for just 18 yards on 11 carries. That ability was one of the key factors in selecting him as the starter over Drew Pyne, even with the latter's better passing ability and a strong performance against the two best defenses (Wisconsin and Cincinnati) that they faced a season ago. The Irish coaching staff will need to find a way to open things up for Buchner on the ground, which, thanks to the extra space it would require the defense to cover, should immediately pay dividends making room for Mayer, Lenzo, and Styles in the passing game as well.
BACKFIELD BUCKED
The Notre Dame ground game never had much of a chance to find the consistency a week ago, with the running backs finishing with a total of 19 carries for 58 yards and a three yards per carry average. Chris Tyree, Audric Estime, and Logan Diggs should find things easier against a Marshall defense that struggled against the run a year ago and returned only 2 of its top 5 in tackles. However, they still shouldn't expect any sort of a cakewalk with Marshall defensive star linebacker Abraham Beauplan patrolling the other side of the field.
More Picks: Get Dan's USC at Stanford Spread bet 9/10/22
DOG DAYS
Marshall faces near unfamiliar territory this week, as they find themselves as a 20-point underdog against Notre Dame. The Thundering Herd have been favored in 18 of their last 19 regular season games and have also only been underdogs of 7 points or more in just four regular-season games over the past five seasons. For those interested in trends, the Herd managed to cover in every one of them. Marshall will be hoping to continue a current run of success as a traveling underdog as well, as they have gone 14-5-1 against the spread in their last 20 games, getting points on the road.
THE FINAL DECISION
On Saturday, the Notre Dame offense will look to find the type of rhythm and success that evaded them in their disastrous near-final three quarters against Ohio State. On the other side, Marshall looked good in their first game, but how much credence can you really put in a win against a subpar FCS team remains to be seen. The Herd are still breaking in a brand new to the system quarterback, and doing so deprived easily of their best offensive player with Rasheen Ali's unexpected absence. Notre Dame is 28-1 in their last 29 games at home, and I definitely believe the streak of success will continue, but I also think that both offenses will struggle to score consistently enough to surpass the total of 51.5 and will be taking the game to go under on Saturday in South Bend.
Mike's Pick to Cover the Point Spread: UNDER 51.5. Bet your Week 2 college football picks for FREE by taking advantage of a 100% real cash bonus up to $500 when you use bonus promo code PREDICTEM at the web's oldest and most trusted betting shop —> Everygame Sportsbook