Michigan Wolverines Season Wins O/U Pick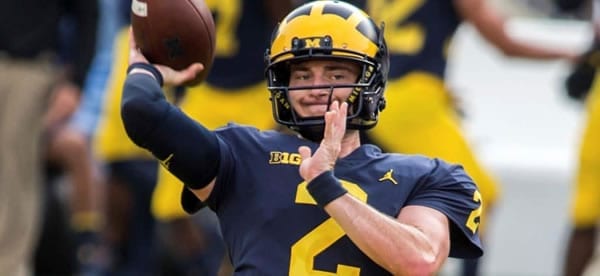 Betting Overview
Michigan Team Win Total O/U: 9.5
Last season started promising for Michigan, responding well after an opening week loss to Notre Dame to find themselves with a 10-1 record that included a streak of double-digit victories against ranked conference opponents Wisconsin, Michigan State and Penn State. They were ranked fourth in the country and favored by 4.5 points against
Ohio State
going into the last week of the regular season, but from there the wheels fell off, getting blown out 62-39 against the Buckeyes and then following that with an upset loss against the Florida Gators 41-15 in the Peach Bowl. This defeat marked their third straight bowl loss and put their record under Harbaugh against top ten teams at 1-9, which along with their recent 1-14 run against Ohio State doesn't come close to putting the Wolverines in the elite category that their fans have been talking about for years. This season could be the year that Wolverines finally put everything together, with a strong lineup on both sides of the ball and a schedule that lines up well in many places.
PATTERSON FINALE
Eight starters are back for the Michigan offense, with the most important being senior quarterback Shea Patterson, who is the returning leader in passing efficiency in the Big Ten after finishing last season with a 64% completion rate and throwing for 22 touchdowns compared to just seven interceptions. He gets his favorite target back in junior wide receiver Donovan Peoples-Jones, who had 47 catches for 612 yards and eight touchdowns, and along with Tariq Black, Mike Sainristill and Nico Collins provide a well-balanced stable of targets for Patterson to look for. How well Patterson protects the ball had a direct correlation to his teams' success, as they were 7-0 last season when he avoided throwing an interception and 3-3 when he didn't.
STRENGTH UPFRONT
One major thing helping Patterson and the Wolverines running game is their offensive line, which is not only the best in the conference but also one of the tops in the nation. Four players that earned all Big Ten honors are back for Michigan; center Cesar Ruiz guards Ben Bredeson and Michael Onwienu, and left tackle Jon Runyan. Their strength should help to offset the lone weakness of the Michigan offense, which is the running game as they look to replace Karan Higbon, who last season ran for 1,178 yards and scored ten touchdowns. In Higbon's place, they will rely on a multi back attack, including freshman Christian Turner and senior Tru Wilson.
MISSING PIECES OF DEFENSE
There are big shoes to fill for the Michigan defense, with three players chosen early on in the NFL Draft gone with the departure of Devin Bush, Rashan Gary, and Chase Winovich. There is still ample talent to go around, all of which will be needed to help offset those lost to the professional ranks. The strength of the team is in the defensive backfield, which should help continue their success of last season when they finished second in the country in passing yards allowed per game led by seniors cornerback Lavert Hill and safety Josh Metellus. At the linebacker position, they have plenty of talent as well with the return of Khaleke Hudson, who earned second-team all-conference honors in 2018, and Josh Ross, the returning team leader in tackles. Upfront, junior defensive tackle Carlo Kemp is the only starter back and will hope to help make up for the losses of Gary and WInovich.
THE SCHEDULE
Michigan benefits from a schedule that includes only five road games, which is a significant advantage for them, as they have not only gone 19-2 over the last three seasons at home but also haven't done so well away from Ann Arbor in recent history. The Wolverines are 23-29 in away games since 2008, and an even worse 17-35 against the spread, while also going 4-11 since 2003 in neutral field matchups. They got all three of their non-conference matchups at home with games against MTSU, Army and Notre Dame, and early lines have them favored against all three including by 17.5 against the Black Knights and 6.5 against the Fighting Irish.
Michigan has done well under Harbaugh against non-Buckeye conference opponents, going 26-5 over the past four seasons, and will look to continue that success as they get their toughest Big 10 challenges at home with Michigan State and Iowa both heading to Michigan Stadium this season, while also avoiding both Nebraska and Northwestern from the Big Ten West. But its how they do against the Buckeyes that will ultimately determine how far they can go this season as they look to achieve their first conference championship since 2003 and in turn first entry into the BCS Playoffs. They have gone 0-4 under Harbaugh against Ohio State with an average loss by 16 points per game, but along with their tough non-conference game against Notre Dame they at least get them at home, which in the end could be the biggest variable in their favor and what finally puts them over the edge to achieve the true success that has dodged them from even before Harbaugh arrived. I believe this could be the year they make that leap and that they are a strong bet to clear their win total.
PICK: MICHIGAN OVER 9.5 WINS
100% Free Play up to $1,000