Mississippi State Bulldogs at Auburn Tigers Pick 9/28/19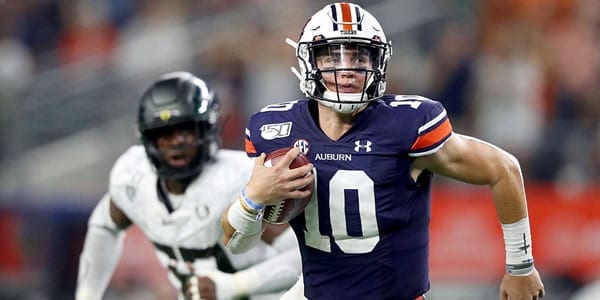 Mississippi State Bulldogs (3-1) at Auburn Tigers (4-0)
When: Saturday, September 28, 7 p.m. EDT
Where: Jordan-Hare Stadium, Auburn, Ala.
TV: ESPN
Point Spread: Miss St/AUB -11
Total: O/U 47.5
Outlook For Week 5
After four home games to open the season, Mississippi State now gets started on its first trip away from Starkville, and given that the Bulldogs get both Alabama and LSU at home, this is the absolute last road trip that Mississippi State needs right now. Auburn comes in brimming with confidence after going to Kyle Field and beating Texas A&M 28-20 in a game that really wasn't even that close. With victories at College Station and on a neutral field against Oregon, it's hard to argue that anyone has had a better first month of the season than the Tigers.
The Bulldogs certainly aren't in a position to make that case. While they have a decent SEC win over Kentucky, they've also got a loss at home to Kansas State on their resume. K-State looks like an upper-echelon team in the Big 12, but that's still a loss that a team that's looking to contend in the SEC West can't take at home. Beating Kentucky was big to get Mississippi State's confidence back, but facing Auburn is a daunting task.
How the Public is Betting the Mississippi State/Auburn Game
The line opened at Auburn -10.5, and it's moved slightly toward the Tigers, who are now favored by 11 in light of their win at College Station. The total has held at 47.5 points since its opening.
Injury Concerns
Mississippi State:
Running back Lee Witherspoon is questionable with a lower-leg injury, as is wide receiver Stephen Guidry and lineman Dareuan Parker, who have undisclosed injuries. Linemen Evans Wilkerson and Darryl Williams both have lower body injuries and are questionable. Quarterback Tommy Stevens is also questionable, having missed the Kentucky game with a shoulder injury.
Auburn:
Wide receivers Ja'Varrius Johnson and Seth Williams are both questionable, Johnson with a personal matter and Williams with a shoulder injury. Defensive tackle Derrick Brown is questionable with an upper-body injury, and linebacker Derick Hall is questionable with a knee injury after missing the Ti-gers' win over Texas A&M.
More Picks: Arizona St. at Cal Pick Against the Spread
When Mississippi State Has the Ball
So what is the plan now for Mississippi State? If Stevens is healthy, do they return to him under cen-ter? Or do they ride with freshman Garrett Shrader, who stepped in for Stevens and beat Kentucky by using his legs as much as his arm and taking what the Wildcats' defense gave him? That depends on what the Bulldogs think is the best plan for attacking the Tigers because the two quarterbacks present a completely different look.
Stevens is a classic pocket passer who brings experience to the table but didn't throw for much against either Southern Mississippi or Kansas State. Shrader lacks experience, but he's got the ability to ex-tend plays and get outside the pocket. Against Kentucky, Shrader ran for 125 yards and threw for 180, both of which were greater than Stevens' passing totals against either Southern Miss or K-State.
Whichever quarterback plays will need a good performance out of running back Kylin Hill. Hill's been a workhorse for the Bulldogs to this point of the season with 551 yards and five touchdowns, but Au-burn is stout against the run, giving up just 89.5 rushing yards per game.
When Auburn Has the Ball
Bo Nix has been every bit as good as advertised in his freshman season. The signal-caller ran into some adversity against Texas A&M, tossing for just 100 yards, but that's to be expected in his first SEC road start. For the most part, he's moved Auburn's offense well enough and is starting to make much better decisions with the football. Against Tulane and Oregon, he struggled to find his receivers, but he's done much better at not forcing the issue in the past two weeks. Instead, he's taken his shots when they're there and let Jatarvious Whitlow do the rest on the ground.
So far, that's proven an effective strategy, but it remains to be seen just how well that will work against an opponent who can take away Whitlow and force Nix to win the game through the air. Mis-sissippi State does not figure to be that opponent, as the Bulldogs give up 143 yards per game on the ground.
Betting Trends
Mississippi State has done well in SEC play as of late, going 4-1 ATS against SEC foes in its past five league games. Here's the bad news: Only one of those four wins came outside of Starkville. Mississip-pi State has lost five of its past six against the spread when it's gone on the road, and that's a big problem going into the Jungle, where Auburn has been incredibly tough to defeat.
Since a rather embarrassing home loss to Tennessee last year, the Tigers have won six in a row against the spread at home and have won five straight ATS overall, including wins over Oregon at a neutral site and at Texas A&M. However, the Tigers haven't had a lot of success ATS against Mississip-pi State in recent years. Auburn is just 2-5 against the spread, even as it has won four of the teams' past five meetings at Auburn.
These teams also tend to play defensive battles, as six of their past seven meetings have gone under the total.
Weather Report
It's the first game of the fall, but you would never know it by these temperatures. The mercury will be at 92 degrees at kickoff in Auburn.
Dan's Pick to Cover the Spread
It's tough to know what you're getting with Mississippi State. The Bulldogs are an unknown commodity because of Stevens' injury, but he wasn't moving the ball that well before he got hurt. The Bulldogs have said that Shrader will start if Stevens can't go, and if he does, that would be the last game he could participate in before he becomes ineligible for a redshirt.
Auburn seems to be the more proven commodity, and the Tigers have the best weapon for facing Mississippi State: a solid run defense that can keep Hill from finding open spaces. The Tigers don't have the greatest offense either, but Nix is healthy and gaining confidence with every week. That should be enough to keep the Bulldogs at bay and allow the Tigers to keep rolling into their matchup with Florida. Give me the Tigers to cover in the Jungle.
100% Free Play up to $1,000