Arizona State Sun Devils vs. California Golden Bears Pick 9/27/19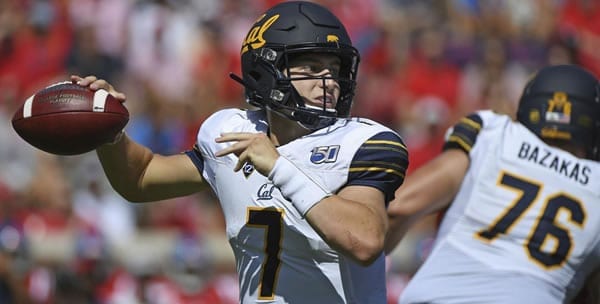 Arizona State Sun Devils (3-1 SU, 1-3 ATS) vs. California Golden Bears (4-0 SU, 2-2 ATS)
College Football Week 5
Date and Time: Friday, September 27, 2019 at 10:30PM EDT
Where: Memorial Stadium, Berkeley, California
TV: ESPN
Point Spread: ASU +5/CAL -5 (Bookmaker)
Over/Under Total: 40.5
The Arizona State Sun Devils come up north to face the Cal Golden Bears in a big Pac-12 matchup on Saturday. Cal is at home in what should be a passionate home-environment with the Golden Bears looking as good as they have in years. After already upsetting Washington on the road a few weeks ago, they went into Ole Miss on Saturday and got the big win. Meanwhile, Arizona State started the season nicely with three straight wins, riding a defense that was allowing very little. But like last season, the moment they got ranked, they slipped up, losing to Colorado on Saturday, 34-31. After coming down to earth, can ASU come into Berkeley and give a ranked Cal team a run for their money?
A Pac-12 Battle of Defenses
Cal's defense is what has gotten them ranked and made them a legitimate conference threat for the first time in a long time. After some early difficulty against Ole Miss on the road, they steadied the ship in the second half. Toward the end, they began to wane, with the Rebels scoring a late TD and making a big late push. But in a frantic last-ditch effort, the Cal defense was able to show a lot of clutch and keep Ole Miss out of the end zone, though some think they didn't. At the end of the day, they got the win, held an SEC home team to 20 points, and now turn their attention to the ASU offense.
Cal allowed 19 points on the road to Washington in another good performance. They should give ASU a lot of issues in the run department, where they have been pretty solid against better rushing attacks then what the Sun Devils bring to the table. They have a great linebacker in Evan Weaver, who made 22 tackles on Saturday, none more important than the last one. Coming into this game, however, we'd like to see them a little closer to full-health, as a ton of guys in the middle were out of action last week.
Arizona State started the season with a lot of life on the defensive side of the ball. In their first three games, they gave up 21 total points. They had shown their mettle in a road game against Michigan State, where they allowed just 7 points. But Herm Edwards' bunch couldn't quite replicate that success against Steven Montez and Company, allowing 475 yards to the Colorado offense. The pass-rush was negligent, and the ASU front was roughed up during stretches of the game, with the secondary getting exploited in spots. They look to find their stride again this week. Maybe facing a Cal team not known for their offense will help.
Offenses Coming to Life
On Saturday in the first half against Ole Miss, Cal reverted to the old Cal teams we know—all passing-offense with a suffering defense. It was nice to see Cal QB Chase Garbers letting it loose in an important game, as he had 357 yards and four touchdowns on Saturday. Putting his weapons to better use could help against an ASU offense that is good against the run. Having a variety of aerial weapons would appear to be a good recipe against this "D" and on Saturday, we saw Jordan Duncan Jake Tonges, Nikko Remigio, Trevon Clark, and RB Christopher Brown, Jr. all making plays through the air. Brown, Jr. is enough of a threat on the ground so that the "D" can't just focus on the air-attack. Make no mistake; there are some stylistic components for Cal to exploit in this home-spot.
Last week also saw the Arizona State offense find some new life, albeit in a losing effort. They hadn't been looking very good, even in scoring 30 against Kent, only 19 against Sacramento State, and ten against Michigan State. When ASU goes into Lansing and scores a big win, you can't really be critical. Still, it was good to see Jayden Daniels going for 345 yards through the air. They have a guy who could become one of the better receivers in the conference in Brandon Aiyuk, and he had 122 yards and a TD Saturday. Running back Eno Benjamin, who had been quiet the first few weeks of the season, scored two touchdowns. They just couldn't get the defense to hold their end of the deal last week. Is this a week for them to thrive? I don't see their run-game coming off in this spot. Can they rely on their aerial attack, led by a true freshman in a tough place this week?
More Picks: Jay's Clemson at North Carolina Point Spread Pick
Food for Thought
This is a wacky conference. It always has been, but since last season, results come down the pike that follows no rhyme or reason. Just last week, we saw a winless UCLA team that had been looking half-dead put up 50 second-half points to beat a ranked Washington State team on the road. So we can notice that a Cal offense matches up well with certain facets of the ASU defense. Or that the Cal defense would appear to match up well with an unproven Sun Devils offense. But utterly bizarre Pac-12 games are not an aberration—they're the norm. When you add in the fact that we don't really know how good freshman ASU QB Jayden Williams can be, this game could go any number of different directions.
Take the Home Team
Despite that, I'm going to try to apply some sound reason to this matchup. I do feel the ASU defense is better than they looked last week and might have a more-manageable matchup this week with a Cal offense that doesn't always deliver a lot of production. But I think it's the Arizona St. offense that faces more potential issues this week. I see a Cal secondary getting the job done, while the ASU run-game is kept in check. I think Cal gets out of this with the win and the cover.
Loot's Pick to Cover the Point Spread: I'm betting on the California Golden Bears minus 5 points.
100% Free Play up to $1,000