NCAAF Picks: Utah Utes vs. Arizona State Sun Devils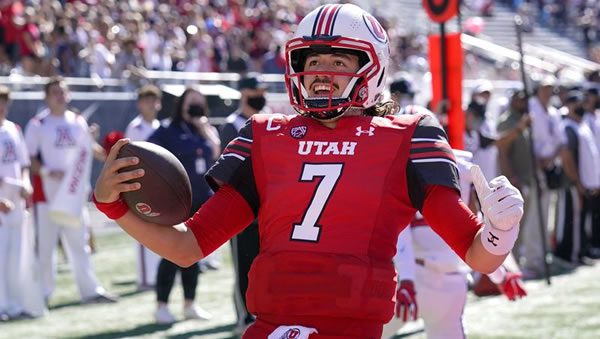 Utah Utes (2-1 SU, 2-1 ATS) vs. Arizona State Sun Devils (1-2 SU, 1-2 ATS)
College Football Week 4
Date and Time: Saturday, September 24, 2022 at 10:30PM EST
Where: Sun Devil Stadium, Tempe, Arizona
TV: ESPN
Point Spread: UTAH -14/ASU +14 (BAS - Make this the week that you finally stop overpaying for college football betting odds and start laying only -105 at Betanysports!)
Over/Under Total: 54
The Utah Utes come to Tempe on Saturday for a Pac-12 matchup with the Arizona State Sun Devils. Both teams begin conference play this week, and for these teams, this is where things really start to count, as these schools are measured by how they perform in the Pac-12. Hats off to Utah for at least being able to bounce back strongly after a bad opening-week loss to Florida. Two very thorough beatings over Southern Utah and then San Diego State shows they are entering conference play in good working order. The same can't really be said for a Sun Devils bunch that has been beaten soundly twice since a perfunctory opening win over NAU. On Saturday, they lost at home to Eastern Michigan, 30-21. And the chips fell.
Processing the ASU News
After the loss to EMU, Herm Edwards was fired as Sun Devils' head coach. Shaun Aguano will step in on an interim basis. Granted, midseason coaching firings are more commonplace than they used to be; it's a little unconventional to see that occur before conference play even starts. It's likely heavily tied to the recently announced NCAA investigation. Their start to the season was rough, but you generally wouldn't see a former NFL head coach dumped like that by a program like ASU strictly for football reasons. What this means in a betting sense is that it might not be the damning indictment it seems on paper.
Not that a coach getting fired can mean anything good. It doesn't suggest good things about the program from a performance or morale standpoint. There is still a chance that it's welcomed in the locker room. It's not like he was getting much out of this squad this season, anyway. Losing to Oklahoma State badly is one thing, but when EMU comes into town and wins by 9, maybe a change at the top can give the Sun Devils that little boost of adrenaline you sometimes see from teams in similar situations.
Get $60 of FREE member picks & predictions
(NO commitments. NO Credit Card. NO Salesman.)
Bad Style Matchup for Arizona State?
One concern I'd have for Arizona State is that we've seen a mistake-prone team on both sides of the ball. And with the recent dysfunction having likely compromised their mental state somewhat, the Utes might not be what the doctor ordered. Luckily this game is at night for the Utes, but ASU gets a break with this being at home and not in Salt Lake, with some heat factor that even when the sun is down can throw a team like the Utes off. But these teams that stress soundness, competence, and not making undermining mistakes like Utah can be tough on teams like Arizona State that have already started hitting the rocks in these areas.
Utah QB Cameron Rising's 8 TD throws against just one pick understate this offense's approach. Aerially, there are typically no stars, just a collection of guys who can all do different things. Running back Tavion Thomas hasn't knocked anyone's socks off yet but has four TDs to bolster the effort. Rising can also be quite nifty with his feet on occasion. We see a slight aerial uptick for this offense compared to previous campaigns. Thomas has been able to put together big games before, but they don't really have that consistent difference-maker in the backfield that they've had before.
The Value Factor
A ton has changed from last season, when the Sun Devils were one-point dogs to the Utes in Salt Lake City, descending to two-touchdown dogs in 11 months. Could the spread be overstating the case a little bit? They aren't a totally lost cause on paper offensively with former Florida starter Emory Jones at QB, experience, and proven production at running back with Xazavian Valladay and Daniyel Ngata while recruiting wide receiver prospects Giovanni Sanders and Elijah Badger. The engine just hasn't really turned over yet. And giving up 258 yards on the ground to Eastern Michigan RB Samson Evans only underscores their leakiness against the run. Against the different ground-weaponry Utah can yield, that could be an issue this week. It's just that you can see what the books are thinking—that it might be hard to get people to bet on the Sun Devils this week with all the negative publicity and results on people's minds, therefore the spread might be overly congratulatory to a good, but flawed road Utah squad.
Take the Points
A lot of this has to do with Utah, a team that I feel might be overrated just a tad. But I'm not sure we don't see that mini-jolt that young teams sometimes get amidst a change of leadership. Utah simply isn't a team you can depend on to blow out their opponents, a trait you'd like to see when laying 14 points. Granted, that was the margin by which they won at home last season, and ASU hasn't shown they're up to that level yet. I just think the same thing can be said for a Utes team that was maybe made to look a touch better than they really are the last few weeks. After all, Southern Utah is not a real test, and San Diego State isn't what they were. With all that in consideration, I think the Sun Devils can vaguely hang in there, and if a win isn't on the table, I suspect they at least won't get disrespected too badly at home. I'll take Arizona State.
Loot's Pick to Cover the Point Spread: I'm betting on the Arizona State Sun Devils plus 14 points.
Hey! How would you like a FREE half point EVERY TIME you bet your favorite NCAA and Pro football teams? Plus, you'll receive a 125% real cash bonus up to $400 when you use bonus code PREDICTEM at GTBets Sportsbook! It's the best signup bonus offer on the web!
CFB Non Conference Total of YEAR *13-0 Run!*

Coming off a 6-0 SWEEP last Saturday! 13-0 in my last 13 football selections! Clients have been beating the books in a big way! This CFB Non Conference Total of the YEAR is ready to go. Get on board with this RED HOT run and join in with this CFB Non Conference Total of the YEAR.