[et_pb_dcsbcm_divi_breadcrumbs_module hide_homebreadcrumb="off" homebreadcrumbtext="Home" separator="sep-raquo" hide_currentbreadcrumb="off" homebreadcrumborientation="left" _builder_version="3.8″ fontsbreadcrumbs_font="Lato||||||||" fontsbreadcrumbs_text_color="#000000″ fontsbreadcrumbs_font_size="15px" fontsbreadcrumbs_line_height="16px" fontsseperator_font="||||||||" fontsbreadcrumblinks_font="||||||||" fontsbreadcrumblinks_text_color="#2567cf" custom_margin="25px|||" custom_margin_phone="30px|||" custom_margin_last_edited="off|desktop" custom_css_main_element="font-family: Helvetica Regular;" disabled="on" global_module="3641″ saved_tabs="all"][/et_pb_dcsbcm_divi_breadcrumbs_module]
Northwestern Wildcats vs. Ohio State Buckeyes Big Ten Title Pick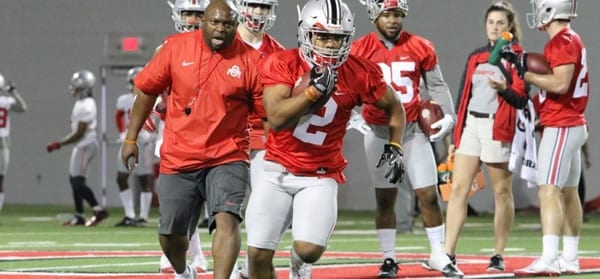 Northwestern Wildcats (8-4 SU, 6-4-2 ATS) vs. Ohio State Buckeyes (11-1 SU, 5-7 ATS)
College Football Championship Week
Date and Time: Saturday, December 1 at 8pm ET
Where: Lucas Oil Stadium
TV: FOX
Point Spread: NW +14/OSU -14
Over/Under Total: 60
Winning six games and gaining bowl eligibility is the mark of a successful season for a lot of NCAA programs. Playing in a thirteenth game is a next-level goal for teams as it means they are playing during Championship Week. The Conference Championship games take center stage this weekend with College Football Playoff implications firmly tied to some results. Ohio State is making its fourth Big Ten Championship game appearance and the Buckeyes still have a path to the final four draw after running through Michigan last week. Northwestern visits Indianapolis for the first time since the Big Ten added a conference championship game with the Wildcats playing their familiar spoiler role. These teams have met on 76 previous occasions but they have only played two games since 2008 with Ohio State most recently sneaking out a 24-20 win at home during the 2016 season. Northwestern is among the most intelligent and disciplined teams in the nation, will their football IQ be enough to overcome the talent advantage of Ohio State? Will the Buckeyes come out and dominate like they did against Michigan or see the same struggles that plagued them at Purdue? I am not seeing many that are picking Northwestern to get the upset on Saturday but picking The Cats and the fourteen is a much more popular option. Let's take a closer look at this one.
Air it Out
The best unit on the field this Saturday will be the Ohio State offense and there probably isn't much hope for Northwestern if the Buckeyes are at the top of their game. State raised it's scoring average to 43.3 points per game after hanging 62 on the top-ranked Wolverine defense. Dwayne Haskins pilots the 3rd best passing game in the NCAA and has thrown for 4,003 yards and 41 touchdowns heading into the weekend. The Parris Campbell/K.J. Hill combo has racked up over 1,600 receiving yards with 16 scores and Terry McLaurin (19.1 ypr) provides a big play threat. Those three will likely see some level of success against a Northwestern D that is stronger against the run than it is against the pass. The Wildcats are allowing a respectable 238 passing yards per game but they have not seen a passing game like OSU has and the NW secondary is banged up. Corners Trae Williams and Montre Hartage are both questionable, as is S Jared McGee. Northwestern also struggles to get pressure on the QB with only 17 sacks so far. A comfortable Haskins leading a successful OSU passing attack is not a good matchup for the Wildcats.
Enough in the Tank?
In comparison to the Ohio State offense, Northwestern comes up a bit short and you have to wonder if the Cats have enough firepower to hang. The passing game ranks the best at 63rd but Northwestern is outside the top-100 in rushing yards, total yards and scoring at 23.7 points per game. A keepaway strategy is going to be tough considering the Wildcats average just three yards per rush and the pass-happy Buckeyes actually lead the time of possession average by nearly two minutes. Clayton Thorson has NFL aspirations but he has thrown for 200 yards just once since ripping Michigan State and Nebraska for a combined 828 yards. Flynn Nagel is Thorson's favorite target but Nagel (64/746/2) is nursing a bad leg and is questionable for Saturday. Bennett Skowronek and slot-man Cameron Green are viable options but neither average more than 12.8 yards per catch, leaving the Wildcat passing game looking a bit punch-less. Ohio State does not have a championship level defense and allows 237 passing yards per game but Northwestern will probably have to do better than that to threaten the upset.
Despite giving up 25.8 points and nearly 400 total yards per game, the Ohio State defense does get to the quarterback. They have 34 sacks and hold opponents to a 31% conversion rate on third down. Northwestern has allowed 29 sacks and convert on third down a pedestrian 40% of the time. A lot of third-and-long scenarios are going to play right into the hands of OSU and let them concentrate on playing the pass in obvious situations. Northwestern could focus on testing a Buckeye run defense that is allowing 4.6 yards per rush and 161 yards per game but no Wildcat back is averaging five yards per carry. Isaiah Bowser has come on to be a tough runner and has 100-yard efforts to his credit but the homerun potential of the run game is nearly absent. I am not sure Northwestern can invest in a run game providing modest production and any lead by OSU puts the ball in Thorson's hand immediately. Thorson has plenty of experience with 51 starts under his belt and he will need one of his best efforts to keep this Saturday.
Pat Fitzgerald has a history of getting his team to play well above their weight class but the most recent results point toward Ohio State. Northwestern fell just short of covering with the 9.5 against Notre Dame – their only loss during a 7-1 finish – but wound up ten points behind the Irish. The Buckeyes just played their best game of the season against Michigan in a spot where they were playing for literally everything. That win kept final-four hopes alive and a win this Saturday guarantees a Rose Bowl berth at worst. A motivated OSU squad appears to have gotten its mojo back and they have every reason to throw up a big number to further impress any playoff voters that are on the fence about their chances. The Buckeyes are better between the lines and have been in this spot before. Northwestern is always a tough out but also lost to Duke and Akron earlier in the season. As bad as the Purdue loss looked for the Buckeyes, the Wildcats are not without a couple of clunkers as well. In the absence of crazy turnover or special teams scenarios, I think Ohio State just pulls away in this one en route to a win. It could be over early if the OSU defense from the Michigan games shows up but in any scenario, I see the Buckeyes cover and it looks like a 39-20 win to me.
Ted's Pick to Cover the Point Spread: Ohio State
<!-- Revive Adserver iFrame Tag - Generated with Revive Adserver v4.1.4 --><!-- [et_pb_line_break_holder] --><iframe id='a223fd52' name='a223fd52' src='http://52.3.161.173/www/delivery/afr.php?zoneid=19&cb=INSERT_RANDOM_NUMBER_HERE' frameborder='0' scrolling='no' width='728' height='90'><a href='http://52.3.161.173/www/delivery/ck.php?n=aa09f3f5&cb=INSERT_RANDOM_NUMBER_HERE' target='_blank'><img src='http://52.3.161.173/www/delivery/avw.php?zoneid=19&cb=INSERT_RANDOM_NUMBER_HERE&n=aa09f3f5' border='0' alt='' /></a></iframe><!-- [et_pb_line_break_holder] -->
<div class="widget105"><!-- [et_pb_line_break_holder] --><h4 class="parlays">Best Sportsbooks for Parlays</h4><!-- [et_pb_line_break_holder] --><!-- [et_pb_line_break_holder] --><table id="parlay"><!-- [et_pb_line_break_holder] --> <tr><!-- [et_pb_line_break_holder] --> <th><span class="team"></span></th><!-- [et_pb_line_break_holder] --> <th>2 Team Parlay</th><!-- [et_pb_line_break_holder] --> <th>3 Team Parlay</th><!-- [et_pb_line_break_holder] --> <th>4 Team Parlay</th><!-- [et_pb_line_break_holder] --> </tr><!-- [et_pb_line_break_holder] --> <tr><!-- [et_pb_line_break_holder] --> <td><a href="https://www.predictem.com/out/SportbetP"><img src="https://www.predictem.com/wp-content/uploads/2018/06/sportbet-sm.png"></a></td><!-- [et_pb_line_break_holder] --> <td>2.74 to 1</td><!-- [et_pb_line_break_holder] --> <td>6.24 to 1</td><!-- [et_pb_line_break_holder] --> <td>13 to 1</td><!-- [et_pb_line_break_holder] --> </tr><!-- [et_pb_line_break_holder] --> <tr><!-- [et_pb_line_break_holder] --> <td><a href="https://www.predictem.com/out/BovadaP"><img src="https://www.predictem.com/wp-content/uploads/2018/06/bovada_sm.png"></a></td><!-- [et_pb_line_break_holder] --> <td>2.64 to 1</td><!-- [et_pb_line_break_holder] --> <td>6 to 1</td><!-- [et_pb_line_break_holder] --> <td>12.3 to 1</td><!-- [et_pb_line_break_holder] --> </tr><!-- [et_pb_line_break_holder] --> <tr><!-- [et_pb_line_break_holder] --> <td><a href="https://www.predictem.com/out/MybookieP"><img src="https://www.predictem.com/wp-content/uploads/2018/06/mybookie-sm.png"></a></td><!-- [et_pb_line_break_holder] --> <td>2.64 to 1</td><!-- [et_pb_line_break_holder] --> <td>6 to 1</td><!-- [et_pb_line_break_holder] --> <td>12 to 1</td><!-- [et_pb_line_break_holder] --> </tr><!-- [et_pb_line_break_holder] --></table><!-- [et_pb_line_break_holder] --><div class="widget-footer"><a href="https://www.predictem.com/best-sportsbooks/parlays-odds/">See all Sportsbook Parlays</a></div><!-- [et_pb_line_break_holder] --></div><!-- [et_pb_line_break_holder] --><!-- [et_pb_line_break_holder] --><!-- [et_pb_line_break_holder] --><style><!-- [et_pb_line_break_holder] --> #parlay {border-collapse: collapse;<!-- [et_pb_line_break_holder] --> width: 100%; border: 0px;<!-- [et_pb_line_break_holder] --> font-size: 14px!important;}<!-- [et_pb_line_break_holder] --> #parlay td, #parlay th {<!-- [et_pb_line_break_holder] --> border: 0px;<!-- [et_pb_line_break_holder] --> padding: 8px;<!-- [et_pb_line_break_holder] --> text-align: left;}<!-- [et_pb_line_break_holder] --> #parlay th {<!-- [et_pb_line_break_holder] --> padding-top: 5px;<!-- [et_pb_line_break_holder] --> padding-bottom: 5px;<!-- [et_pb_line_break_holder] --> font-weight: bold;<!-- [et_pb_line_break_holder] --> line-height: 14px;<!-- [et_pb_line_break_holder] --> text-align: center;<!-- [et_pb_line_break_holder] --> color: #000;}<!-- [et_pb_line_break_holder] --> #parlay tr {border-bottom: 1px solid #edeef0;}<!-- [et_pb_line_break_holder] --> .team {font-size: 16px;}<!-- [et_pb_line_break_holder] --></style>
<aside><p align="center"><!-- [et_pb_line_break_holder] --><a href="http://www.bigal.com/" target="_blank" rel="nofollow"><img src="https://www.predictem.com/wp-content/uploads/2018/11/bigal-300x250.jpg" alt="Free Picks From Doc Sports"></a></p></aside><!-- [et_pb_line_break_holder] -->
<div style="width:340px; margin: 0 auto;"><!-- [et_pb_line_break_holder] --> <a class="twitter-timeline" data-width="340" data-height="500" data-link-color="#008156" href="https://twitter.com/PredictemPicks?ref_src=twsrc%5Etfw">Tweets by PredictemPicks</a> <script async src="https://platform.twitter.com/widgets.js" charset="utf-8"></script><!-- [et_pb_line_break_holder] --></div>