Notre Dame Fighting Irish vs. Syracuse Orange Odds, Analysis, Predictions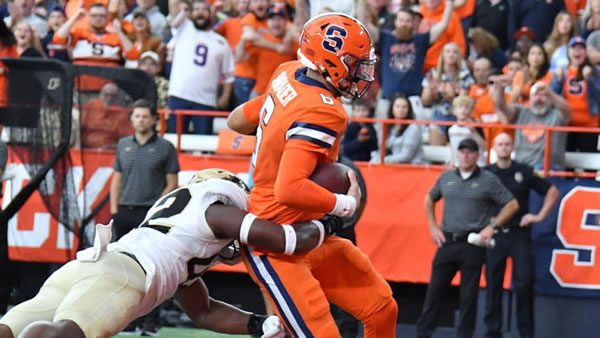 Notre Dame Fighting Irish (4-3 SU, 3-4 ATS 2021) vs. Syracuse Orange (6-1 SU, 6-1 ATS)
Date/Time: Saturday, October 29th, 12:00 PM
Where: JMA Wireless Dome, Syracuse NY
TV: ABC
Point Spread: ND +2.5 / SYR -2.5
Over/Under Total: 47.5
In a battle of teams having opposite years based upon expected success, the Notre Dame Fighting Irish take on the Syracuse Orange in a Saturday afternoon showdown at the JMA Wireless Dome in New York. The Irish have a 7-3 all-time advantage against Syracuse, which includes wins in their last four straight matchups.
ORANGE CRUSH
Going into the 2022 season, the Orange had suffered three straight losing seasons and were riding an unfortunate 11-25 streak over their past 36 games. They were picked no higher than 57 in any preseason rankings, didn't receive a single vote in the AP or Coaches poll, and the oddsmakers had their total wins for the year over/under set at just five. Yet somehow, Syracuse won their first six games of the year and was up 21-7 at Clemson a week ago before some questionable play calling and suspect officiating doomed them in the long run to their first loss of the season. How coach Dino Babers gets his team to respond after that crushing loss will be a season decider as Syracuse strives for what would be only their second double-digit win season in the last 22 years.
TUCKED UP
The most confusing part of the Orange loss to Clemson was the lack of play calls for Sean Tucker. The star running back led the ACC in rushing yards a season ago and is second in the conference this year, yet he only had two carries in the game after Syracuse went up 21-7. This makes less than zero sense as Tucker is easily the best player Syracuse has, and from a strategy standpoint, it seems like attempting to control the clock with a big lead against a better team might have been the wiser choice. Dino Babers was asked about his baffling game plan, and he stated it was due to Clemson's game scheme, which is easily countered by the fact that Tucker averaged over ten yards per carry in the game and has an on-field resume of success that can't be ignored. It's comments like that by Babers that give a good clue as to why Syracuse has had five losing seasons in his six years as coach.
Despite the lack of use, Tucker has been at his best of late, with nearly 400 yards rushing over the past three weeks, which includes a nine YPC average and five touchdowns. Tucker has eight of the nine Syracuse touchdowns scored this year by running backs and is second on the team in receptions with 28. If Babers and offensive coordinator Robert Anae want to keep the teams' surprisingly successful season going, they would be wise to start including Tucker a lot more in their game script. Especially this week against an Irish run defense that just got torched for 142 yards by UNLV's backup running back and ranks just 58th nationally in run defense.
DUAL-THREAT GARRETT
One reason Sean Tucker didn't see as many rushing attempts against Clemson was due to the season-high 21 carries by quarterback Garrett Shrader, who is tied with Tucker for the team lead in touchdowns on the ground with six. Shrader has completed nearly 70% of his passes this season with a 13/4 TD-INT ratio, but looking deeper into those stats, they don't appear to be maintaining the consistency and success he saw early on. The Syracuse signal caller started the year with eight touchdown passes and zero interceptions in his first three games but has since leveled out with just a 5/4 ratio in his past four games, which includes a stat-padding 59-0 blowout win against lowly Wagner. Shrader will undoubtedly be hoping Notre Dame's defense continues its barren turnover run to start the year, as they have only one interception total through their first seven games.
THREE LEAGUE LEGACY
The top wide receiver for Syracuse this year has undoubtedly been Oronde Gadsden II, which is all the more impressive considering he wasn't even a starter to begin the season. Gadsden II leads the team in all receiving categories and is the only one at his position to score multiple touchdowns through their first seven games. He has done especially well against their more formidable opponents and, much like Tucker at running back, will be sure to see substantial action on Saturday against the Irish as one the Orange's clear best offensive weapons. You can definitely see where some of his talent comes from, considering Gadsden's father played for the Cowboys and Dolphins in the NFL while also spending time in the World League of American Football and Arena Football League.
CAN YOU DIGGS IT
Unlike Syracuse, which has a clear focal point of their backfield, the Irish maintain a triple rotation consisting of Audric Estime, Logan Diggs, and Chris Tyree. After Estime was benched against UNLV for fumbling for the third time in four games, Diggs took advantage of his opportunity and had a career day with 130 yards on 28 carries. Estime has the best yards per carry average on Notre Dame by almost a full yard and has more rushing touchdowns than everyone else on the team combined, but he was barely getting extra looks when clearly putting up the best numbers, so it appears like the turnover troubles are only going to push him even further back in his progress. Hopefully, at least one of the three can figure out a way to get involved in the passing game, as none of them had a reception against the Rebels and combined for just five catches for 26 yards over the previous two games against Stanford and BYU.
MISSING AFTER MAYER
As Michael Mayer continues his reign on the Notre Dame tight end record books and smashing a clear path toward an early slot in the 2023 NFL Draft, the rest of the receiving options on the team remain unable to find any sort of game-to-game consistency. Every wide receiver on the team has combined for 50 receptions compared to Mayer's 44, with the leader of the pack Lorenzo Styles putting up only 23 on the year and just seven over the past three weeks. Jayden Thomas has shown flashes of potential, but that has only translated to a total of nine receptions as he gets further acclimated to the offense. There is hope for Braden Lenzy to at least build off the momentum of his best game of the season thus far with four receptions and a touchdown against UNLV, but no matter, someone other than Mayer is going to have to step up if the Irish have a chance of getting past someone of their more difficult remaining opponents like Syracuse, Clemson, and USC.
More Picks: Florida at Georgia betting analysis, trends, predictions for 10/29/22
PASSING PROBLEMS
There are plenty of areas for improvement in the Notre Dame passing game, which ranks a lowly 101st amongst FBS teams. Drew Pyne started well in his three games, but his performance has since tapered off as he has passed for a combined 356 yards in their last two games and wasn't able to clear a 50% completion rate or a quarterback rating over 40 in either. There are only so many times that Pyne can try and force the ball to Mayer, especially with much better teams awaiting them than they have played since taking on Ohio State in week one. If the Irish have any intention of getting to a post-Christmas bowl game, offensive coordinator Tommy Rees is going to have to come up with an alternative game plan than what they have used to barely get by so far this season.
THE FINAL DECISION
Notre Dame's struggles are well documented against top-tier opponents and include a 5-17 record in their last 22 games against teams ranked in the Top 20. Those issues get worse when they are not in the friendly confines of South Bend, as the Irish have beaten just one top-20 team on the road in the past 17 years, and that lone victory was a decade ago in 2012. You can't count on Notre Dame for offensive consistency in 2022, and you shouldn't rely on them financially against elite talent until they can start showing they even deserve to be in the same conversation as those at the top. Syracuse has gone 14-4 against the spread and 13-5 straight up in their last 18 games against non-conference opponents, and I expect both of those records to improve this weekend as the Orange continue to build on their improbable season with a win and cover at home against Notre Dame.
Mike's Pick to Cover the Point Spread: Syracuse -2.5