[et_pb_dcsbcm_divi_breadcrumbs_module hide_homebreadcrumb="off" homebreadcrumbtext="Home" separator="sep-raquo" hide_currentbreadcrumb="off" homebreadcrumborientation="left" _builder_version="3.8″ fontsbreadcrumbs_font="Lato||||||||" fontsbreadcrumbs_text_color="#000000″ fontsbreadcrumbs_font_size="15px" fontsbreadcrumbs_line_height="16px" fontsseperator_font="||||||||" fontsbreadcrumblinks_font="||||||||" fontsbreadcrumblinks_text_color="#2567cf" custom_margin="25px|||" custom_margin_phone="30px|||" custom_margin_last_edited="off|desktop" custom_css_main_element="font-family: Helvetica Regular;" global_module="3641″ saved_tabs="all"][/et_pb_dcsbcm_divi_breadcrumbs_module]
Notre Dame Season Win Total: Fighting But Going Down Swinging
By Mike Mann, Football Handicapper, Predictem.com
Notre Dame Season Win Total: Fighting But Going Down Swinging
The always-anticipated start to the college football season is around the corner, and with it online sportsbooks release each teams over/under for season wins (as well as their 2018 signup bonuses). Here are my five reasons why I believe there is only one way to bet the Notre Dame Over/Under 9.5 Wins for the 2018 season.
#1 Head Coach Brian Kelly
A promising start to their 2018 season had hopes high in South Bend, beginning the year with a 7-1 record both straight up and against the spread. Unfortunately, then November happened. The final month of the season was their undoing. Blowout losses to both Miami and Stanford ended any hopes of getting into the BCS Playoffs. They are now 0-7 in their last seven November games against ranked teams under Brian Kelly. Their only win under him in those circumstances came way back in 2010 versus a Utah team that closed out their the season unranked. With the polls mattering as much as they do when it comes to where teams fall for bowl eligibility, games toward the end of the year truly do matter more than those at the start. For Notre Dame to have a chance of ever getting back to playoff relevancy, this will need to be a trend that ends immediately. This would be a welcomed change for bettors backing the Irish who have seen their bets go just 1-7 against the spread over the last two years in the month of November.
#2 Head Coach Brian Kelly
The Irish coach seems to have trouble against the best of the NCAA. Kelly has just a 1-10 record in his last eleven games at Notre Dame versus teams ranked in the top 13. They were able to take down USC in Sam Darnold's worst performance of last season, but Kelly was thoroughly exposed soon after when they got steamrolled against the Hurricanes. Their highly touted matchup was essentially over five minutes after it started, as Notre Dame was clearly ill prepared going in and never bothered to make game plan adjustments to quell the onslaught. 2018 brings their usual assortment of tough opponents, so how Kelly manages against the best will again be the determining factor in how much of an impact Notre Dame can truly have in the college football world.
#3 Losses on Offense
Significant production and protection has moved on from the Notre Dame offense of 2017. They lost their top two running backs, Josh Adams and Deion McIntosh, and top wide receivers, Equanimeous St. Brown and Kevin Stephenson. Adams and St. Brown both went pro after their junior seasons and were the clear focal points of offense. However, the losses that could hurt the most may be those to the offensive line. All-Americans Quenton Nelson and Mike McGlinchey were both drafted in the top nine of this years' NFL Draft and were the biggest reason why the Irish offense was able to withstand the turnover proneness of their quarterback Brandon Wimbush. Even with Nelson, McGlinchey and other great talent on their line including returning center Sam Mustipher, they still couldn't do enough to counter Wimbush's continuous lack of pocket awareness. He also ended the season with a completion percentage of under 50%, and after struggling throughout the final month, was mercifully removed in their bowl game in favor of backup Ian Book who eventually led his team to a comeback victory against LSU. There are still plenty of options returning for the Irish on offense, including Citrus Bowl MVP wide receiver Miles Boykin, but if Wimbush remains the starter it may not matter who else is on the field. When it comes to betting a team's over/under for wins every week counts dearly, and with a big change up front in protection, any close game could easily turn away from the Irish if protecting the ball isn't a priority.
#4 Mike Elko's departure
After dealing with the weekly disaster of Brian Van Gorder as the team's' defensive coordinator, they mercifully got rid of him and hired Mike Elko to take over the position last season. His impact was clearly noticeable as Notre Dame eventually ended the year ranked first in the NCAA in points off turnovers while also improving their scoring defense from 61st to 31st. Elko has since moved on to Texas A&M. Notre Dame will now turn to linebackers coach Clark Lea to become what will be their third defensive coordinator in two seasons. There is no denying the talent returning to the Notre Dame defense, but there is only so much instability that a team can handle at such a key coaching spot before it starts having an effect. In their two November losses last season Notre Dame didn't cause a single turnover and pulled off a disastrous ratio of -7. The correlation between just how important the statistic was and likely will continue to be to their success in 2018 is abundantly clear. With the architecture of that strength in Elko now gone it's logical to believe they will experience a drop in this area, and as such a possibility in the win column as well.
#5 The Schedule
With no conference alignment, Notre Dame has made it a yearly routine to create a swing-for-the-fences schedule and this year consists of eight teams that ended last year with a winning record. The season begins with Michigan and Stanford bookending the month of September, followed by an October highlighted by a tough trip to Blacksburg for Virginia Tech. November, the month of doom, includes a home matchup against Florida State and road games versus Northwestern and USC. An over/under set at 9.5 means that only two losses are allowed. Those six games in addition to their usual matchup against a Navy team that has given them fits in recent years leaves only so much room for difficulty before things can start to affect them in the standings.
If they are unable to maintain the consistency they will hope to build in the early months, it will be another November case of deja vu all over again for the Irish and their loyal fan base.
A Fighting chance?
With another top 20 recruiting class and an especially strong defense, Notre Dame is again set to challenge for a top bowl berth, but this year a run at the BCS Playoffs will not be in the realm of possibility. Unfortunately heavy losses on offense, question marks at the quarterback position, and a head coach that repeatedly fails against top competition will likely be too much for the Irish to overcome the 9.5 win marker. Take the under 9.5 with confidence.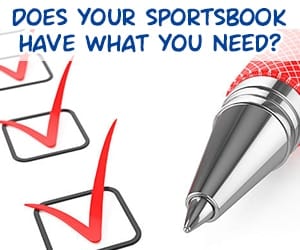 <div class="widget105"><!-- [et_pb_line_break_holder] --><h4 class="parlays">Best Parlays</h4><!-- [et_pb_line_break_holder] --><!-- [et_pb_line_break_holder] --><table id="parlay"><!-- [et_pb_line_break_holder] --> <tr><!-- [et_pb_line_break_holder] --> <th><span class="team"></span></th><!-- [et_pb_line_break_holder] --> <th>2 Team Parlay</th><!-- [et_pb_line_break_holder] --> <th>3 Team Parlay</th><!-- [et_pb_line_break_holder] --> <th>4 Team Parlay</th><!-- [et_pb_line_break_holder] --> </tr><!-- [et_pb_line_break_holder] --> <tr><!-- [et_pb_line_break_holder] --> <td><a href="https://affiliates.sportbet.com/tracking/Affiliate.aspx?idBook=2&mediaTypeID=220&AffUrlID=80&LandingPageID=55"><img src="https://www.predictem.com/wp-content/uploads/2018/06/sportbet-sm.png"></a></td><!-- [et_pb_line_break_holder] --> <td>2.74 to 1</td><!-- [et_pb_line_break_holder] --> <td>6.24 to 1</td><!-- [et_pb_line_break_holder] --> <td>13 to 1</td><!-- [et_pb_line_break_holder] --> </tr><!-- [et_pb_line_break_holder] --> <tr><!-- [et_pb_line_break_holder] --> <td><a href="https://record.bettingpartners.com/_5vfuDOH_H2wWPf2JTsWUjGNd7ZgqdRLk/1/"><img src="https://www.predictem.com/wp-content/uploads/2018/06/bovada_sm.png"></a></td><!-- [et_pb_line_break_holder] --> <td>2.64 to 1</td><!-- [et_pb_line_break_holder] --> <td>6 to 1</td><!-- [et_pb_line_break_holder] --> <td>12.3 to 1</td><!-- [et_pb_line_break_holder] --> </tr><!-- [et_pb_line_break_holder] --> <tr><!-- [et_pb_line_break_holder] --> <td><a href="https://record.webpartners.co/_jGZUKO3JWgwmunhzcKAZ62Nd7ZgqdRLk/1/"><img src="https://www.predictem.com/wp-content/uploads/2018/06/mybookie-sm.png"></a></td><!-- [et_pb_line_break_holder] --> <td>2.64 to 1</td><!-- [et_pb_line_break_holder] --> <td>6 to 1</td><!-- [et_pb_line_break_holder] --> <td>12 to 1</td><!-- [et_pb_line_break_holder] --> </tr><!-- [et_pb_line_break_holder] --></table><!-- [et_pb_line_break_holder] --><div class="widget-footer"><a href="https://www.predictem.com/best-sportsbooks/parlays-odds/">See all Sportsbook Parlays</a></div><!-- [et_pb_line_break_holder] --></div><!-- [et_pb_line_break_holder] --><!-- [et_pb_line_break_holder] --><!-- [et_pb_line_break_holder] --><style><!-- [et_pb_line_break_holder] --> #parlay {border-collapse: collapse;<!-- [et_pb_line_break_holder] --> width: 100%; border: 0px;<!-- [et_pb_line_break_holder] --> font-size: 14px!important;}<!-- [et_pb_line_break_holder] --> #parlay td, #parlay th {<!-- [et_pb_line_break_holder] --> border: 0px;<!-- [et_pb_line_break_holder] --> padding: 8px;<!-- [et_pb_line_break_holder] --> text-align: left;}<!-- [et_pb_line_break_holder] --> #parlay th {<!-- [et_pb_line_break_holder] --> padding-top: 5px;<!-- [et_pb_line_break_holder] --> padding-bottom: 5px;<!-- [et_pb_line_break_holder] --> font-weight: bold;<!-- [et_pb_line_break_holder] --> line-height: 14px;<!-- [et_pb_line_break_holder] --> text-align: center;<!-- [et_pb_line_break_holder] --> color: #000;}<!-- [et_pb_line_break_holder] --> #parlay tr {border-bottom: 1px solid #edeef0;}<!-- [et_pb_line_break_holder] --> .team {font-size: 16px;}<!-- [et_pb_line_break_holder] --></style>
<div style="width:340px; margin: 0 auto;"><!-- [et_pb_line_break_holder] --> <a class="twitter-timeline" data-width="340" data-height="500" data-link-color="#008156" href="https://twitter.com/PredictemPicks?ref_src=twsrc%5Etfw">Tweets by PredictemPicks</a> <script async src="https://platform.twitter.com/widgets.js" charset="utf-8"></script><!-- [et_pb_line_break_holder] --></div>