Pick: 2018 NFL Offensive Rookie of the Year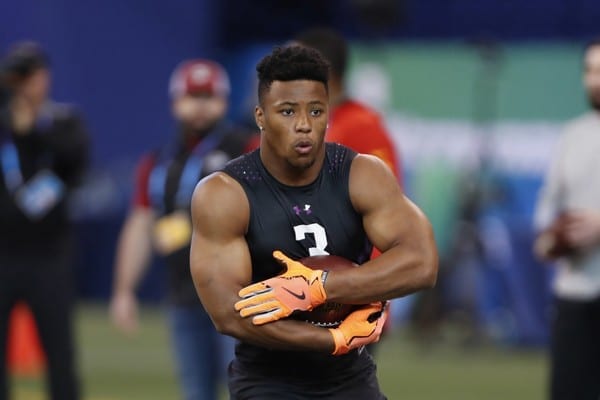 With the NFL Draft past and the OTA's starting throughout the league, it's never too early to get a look at this year's odds for who will take home the prize for the best offensive rookie in the NFL. Before getting into the candidates, here are some quick trends and facts on what has happened in previous years:
In the 51-year history of the award, the breakdown by position has gone 34 running backs, nine wide receivers and eight quarterbacks.
Only one quarterback won the award since its inception in 1967 to 2003, but quarterbacks have since taken home the trophy in seven of the last fourteen years.
The past eleven players to win the award played in the NFC.
The last five winners have come from SEC teams. The same conference is tied with the ACC for most ROY graduates with 11 apiece.
From 2001 to 2015 every player to win Rookie of the Year was drafted in either the 1st or 2nd round. The last two have bucked that trend; with 4th round pick Dak Prescott in 2016 and 3rd rounder Alvin Kamara previous season.
And now, onto this year's top 20 contenders based upon odds provided by 5Dimes.
20. James Washington, WR, Pittsburgh Steelers (+5500) - There is no doubting the 1st team All-American's talent, but the odds of him making a big enough impact to win the award are limited because he's competing for touches against a stacked offense including Le'Veon Bell, Antonio Brown and JuJu Smith-Schuster.
19. Anthony Miller, WR, Chicago Bears (+5500) - The other 1st team All-American from 2017 finds himself on an offense surrounded by significantly less skill position talent, with Allen Robinson the only other receiver of relevance on a lackluster Bears roster. Both newcomers will be looking to build a rapport with second-year quarterback Mitch Trubinksy, who had his moments last season, but it remains to be seen just how effective he can be.
18. Courtland Sutton, WR, Denver Broncos (+3300) - Sutton was the third wide receiver selected in the draft and was done so to eventually replace the man he will hope to learn a great deal from in Demaryius Thomas. Unfortunately for Sutton, he begins the year behind both Thomas and Emmanuel Sanders on the depth chart, though neither of the Broncos receivers is in the prime of their career (both 30 or older), so the time could come sooner than later for Sutton to make the leap.
17. Michael Gallup, WR, Dallas Cowboys (+4000) - After deciding to move on from Dez Bryant and signing only Allen Hurns via free agency, the Cowboys drafted Gallup in the third round out of Colorado State. The opportunity is certainly there for the former Ram to make an impact, and how quickly he builds a rapport with Dak Prescott in training camp will be worth monitoring as the high odds could provide some long shot value.
16. Kerryon Johnson, RB, Detroit Lions (+3300) - Detroit finished the< 2017 season ranked last in the NFL in rushing, so it was no surprise that new Detroit head coach Matt Patricia made improving that facet of their offense a priority. He did so by< trading up to take Kerryon Johnson of Auburn, who led the SEC with 1,320 on the ground last season. With not much in the way in terms of competition (Theo Riddick, Ameer Abdullah, LeGarrette Blount), Johnson is already the early favorite to be the Lions lead back.
15. Nick Chubb, RB, Cleveland Browns (+3000) - After passing on Saquon Barkley in the 1st round, Cleveland went with Georgia running back Nick Chubb in the second. He joins a crowded Browns backfield that is led by newly signed Carlos Hyde along with 2015 3rd round pick Duke Johnson Jr, and will likely have a difficult time making enough of an impact in such a crowded situation to be worthy of a wager.
14. Dallas Goedart, TE, Philadelphia Eagles (+2800) - Goedart will be looking to become the first tight end ever to take home the award, though he will surely have his work cut out for him with Zach Ertz ahead of him on the depth chart along with fighting for touches on a crowded Eagle offense.
13. DJ Moore, WR, Carolina Panthers (+3300) - The first wide receiver chosen in the draft, Moore has value at 28-1 but may face a limited ceiling due to the situation in Carolina. The Panthers are primarily a "run first" offense with Cam Newton and Christian McCaffrey, while Moore will also need to compete with Devin Funchess and Torrey Smith in hopes of becoming just the second Panthers receiver to gain over 1,000 yards in a season since 2012.
12. Royce Freeman, RB, Denver Broncos (+1800) - With CJ Anderson gone and only Devontae Booker in the way for on the Broncos backfield depth chart, the door is wide open for Freeman to make a big difference in Denver this season. Despite being the 8th running back chosen in the draft, Freeman has one of the best chances of stepping into a starting job immediately.
11. Calvin Ridley, WR, Atlanta Falcons (+1600) - Falling to the 26th pick in the draft, Ridley was an easy pick for the Falcons as they will hope he can compete for a
starting job to play alongside fellow former Crimson Tide wideout Julio Jones in their potent offense. Devonta Freeman and Muhamed Sanu are still in Atlanta as well, so Ridley will have to stand out to get a fair enough share of touches to carry true value in terms of betting his odds.
With the first quarterbacks' addition to the list, my opinion on all five is the same and that I don't think any of them will make enough of an impact this season to provide enough value to earn your wager, whether it is due to depth chart positioning or more so the quality of team they are on. While you don't necessarily have to play for a title contender, the last seven quarterbacks to win the award averaged ten wins in their rookie seasons.
10. Lamar Jackson, QB, Baltimore Ravens (+2000) - Jackson is the only one of the five quarterbacks taken in the first round to play for a team expected to have a chance at making the playoffs. Unfortunately for the former Heisman winner, he is also the only one to begin the year as the clear backup with an entrenched veteran ahead of him of the depth chart (Joe Flacco).
9. Ronald Jones II, RB, Tampa Bay Buccaneers (+3300) - The USC Trojan Jones has a chance to slide right into the starters' spot in Tampa with Doug Martin no longer around and only the underwhelming trio of Jacquizz Rodgers, Peyton Barber and Charles Sims around him on the depth chart. How much of an effect that he can have on third down in passing situations remains to be seen, but the setup is indeed there for Jones to make an immediate impact.
8. Sam Darnold, QB, New York Jets (+1600) - Gang Green gave up a lot to move up to the third spot in the draft, but things eventually aligned in their favor when their top choice Darnold dropped to them. Unfortunately, the former Trojan may face a rough early going mainly due to the fact that the Jets have one of the worst groupings of skill position players in the league.
7. Derrius Guice, RB, Washington Redskins (+1600) - My favorite value pick amongst all the Offensive Rookie of the Year candidates. Guice brings a much needed, significant positive presence to a Redskins backfield that hasn't had a 1,000-yard rusher since Alfred Morris in 2014, and to a team itself that has just one playoff win since 1999. The bruising but also speedy Guice has the build and makeup to be an "every down" back and be a factor not only this year but down the road as well.
6. Sony Michel, RB, New England Patriots (+1000) - Essentially drafted to replace the versatile Dion Lewis in the Patriots backfield, Michel will have a definite chance to shine on a talented New England offense. How much of a timeshare he will get is his most significant limitation, as he will have to compete with James White and Jeremy Hill for touches as part of a Patriots backfield that is never easy to count on when it comes to consistency.
5. Rashaad Penny, RB, Seattle Seahawks (+1400) - Many were surprised when the Seahawks traded up to make Penny the first running back chosen in the draft with the 27th pick, but Seattle was apparently enamored with a player some thought should have at least been in the Heisman conversation after rushing for 2,027 yards to lead the NCAA a season ago. He has a great chance to make an immediate impact for a Seahawks backfield that has been in disarray since Marshawn Lynch left and, at 12-1 odds, provides a worthwhile investment.
4. Josh Allen, QB, Buffalo Bills (+900) - Even going back to his high /> school days Allen has never been the most accurate quarterback and will have his work cut out for him on a Buffalo offense featuring Kelvin Benjamin as the only real wide receiver threat. At least the competition for the starting job shouldn't be too tough with A.J McCarron, Nathan Peterman, and T.J. Yates the other position mates.
3. Josh Rosen, QB, Arizona Cardinals (+900) - Sam Bradford remains ahead of Rosen on the Cardinals depth chart, but Bradford is a bit on the brittle side so a starting role could happen sooner than later for the former UCLA Bruin. Unfortunately, Rosen seems to have some personality issues, and though it may not be on the level as a Jeff George or Ryan Leaf, it remains to be seen whether he is more winner than a whiner.
2. Baker Mayfield, QB, Cleveland Browns (+400) - Mayfield became the 21st Heisman Trophy winner to be selected with the first overall pick after shooting up draft boards throughout the 2017 season, and unlike Rosen above him, Mayfield's desire and drive to win can never be questioned. He will hope to overtake Tyrod Taylor for the starting position and if successful will undoubtedly have wide receiver weapons at his disposal in Jarvis Landry, Josh Cordon and Corey Coleman.
1. Saquon Barkley, RB, New York Giants (+140)- The best offensive player in this years' draft, Barkley is expected to immediately contribute to a Giants backfield that has averaged under 100 yards per game the last two seasons in a row. As much as I believe in Barkley this season as a worthwhile early investment in fantasy football leagues, his near even odds to win Offensive ROY doesn't carry a whole lot of value. If I'm wagering on Barkley to win the award I need to see more value.
My favorite value picks, in order, for NFL Offensive Rookie of the Year:
Derrius Guice +1600
Rashaad Penny +1400
DJ Moore +3300
Royce Freeman +1800
Michael Gallup +4000
Kerryon Johnson +3300