Ohio State Buckeyes vs. Rutgers Scarlet Knights Analysis & Prediction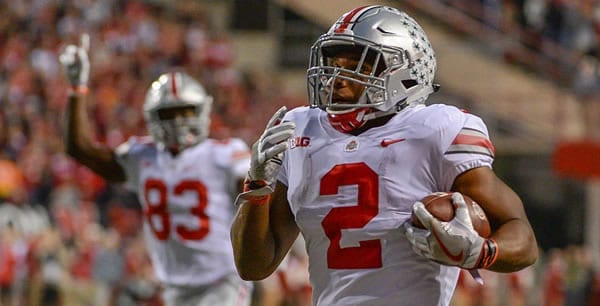 Ohio State Buckeyes (9-0 SU, 8-1 ATS) vs. Rutgers Scarlet Knights (2-7 SU, 2-7 ATS)
When: Saturday, November 16th, 2019 – 3:30 PM ET
Where: SHI Stadium – Piscataway, NJ
TV: B1G Ten Network
Point Spread: BUCKS -51 / RU +51
Total: 60.5
Poll Rankings: Rutgers +54
Takeaways From Week Eleven
The Buckeyes continue to lay waste to everything they come across. Their most recent victim: the Maryland Terrapins. Last week, The Ohio State University hosted the Terps in Columbus for a conference match-up and went to work on the Terrapins. Closing as a 42.5-point favorite, the Bucks were easy money yet again in a 73-14 rout of Maryland. Rutgers comes into this contest off a bitter 38-10 loss on the road at Illinois two weeks ago. Closing as an 18.5-point underdog, the Scarlet Knights failed to reel in the money. Rutgers has won and cashed in once against the spread in its last eight matches.
How the Public is Betting the Ohio State- Rutgers Game
62% of the betting public fancy the Buckeyes here laying the abundance of road points. Despite this heavy lean, the line has yet to move at the time this article was written (Tuesday Morning).
More Picks: Michigan State at Michigan Pick ATS >>>
The Historicals
The Buckeyes and Scarlet Knights have crossed paths on five occasions since the Scarlet Knights came to the B1G conference. Ohio State has been all business as they have won and covered in all five meetings. Last year, Ohio State hosted RU in Columbus and went to work. The Buckeyes dispatched the Scarlet Knights 52-3 to cover easily as a 34.5-point favorite.
Betting Trends
The betting trends for this series speak for themselves. The Bucks were the favorite in all five meetings between these two sides, and they have delivered the goods on each occasion. Rutgers is 0-6 ATS in their last six conference tilts, which further tarnishes any luster that the Scarlet Knights may offer with the massive amount of points. For Over/Under takers that are taking a peek, the Under is 3-2 ATS in the five meetings between Ohio State and Rutgers.
Injury Concerns
The most notable concern for both teams indeed circulates around the Buckeye camp. Defensive End Chase Young, who many regards as the defensive player in America, is out indefinitely serving a suspension for an NCAA rules violation. Despite his absence last week, the Buckeyes were able to mangle Maryland with ease.
Why We Like Rutgers To Cover
There is one reason and one reason only why one should back Rutgers here: the points. Ohio State has been producing profits at a clip all season long, and with such profit realization comes a premium. Be that as it may, Ohio State is typically prone to be overvalued by their namesake alone, but needless to say, OSU has "bucked" that trend this season, no pun intended. The Buckeyes have demolished Rutgers in every meeting they have ever had, and this is the most significant number that the Bucks will be laying to Rutgers in series history and their biggest tag as a favorite season-to-date. As a result of all of these narratives, the value here lies with the dog as difficult as that might be to imagine.
Keith's Pick to Cover the Spread: Rutgers +51
Please allow me to preface this analysis by stating it would be an understatement to say I don't think Rutgers is winning this game. On that note, I don't even think Rutgers will be within five scores of this monster that is coming to the Garden State. Make no mistake, Ohio State is coming for its lunch money, but that doesn't mean that they will cover this ludicrous figure while doing so. Besides the obvious backdoor potential that resides in this figure, Ohio State may not be so inclined to leave its first team out long enough to build such a substantial lead. While Rutgers may very well be shutout (after all Rutgers has been goose-egged on three occasions already this season), averting such an event is likely a victory for this program at this point. Should Rutgers find one junk-time score, Ohio State would be required to score perhaps 55 to 59 points to get their takers to the window. Very simply, that is a long swim back and something that is always ill-advised. Thus, taking the points is the academic move and will likely produce a profit here given the propensity for overlay.