Oklahoma Season Win Bet Picks & Analysis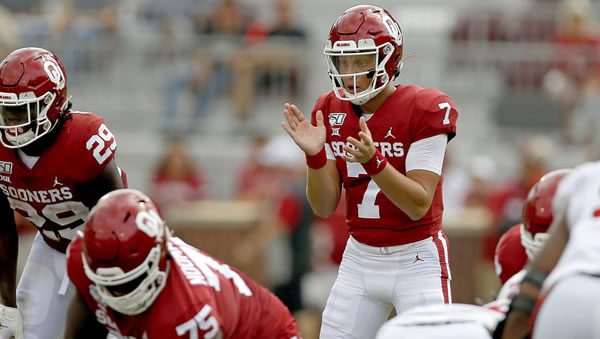 Oklahoma Sooners (+800)
Dominating the Big 12 is something the Sooners have gotten used to, and they're in prime position to add yet another trophy to the case in what could very well be their final season in this conference. The Sooners aren't likely to leave for the SEC for a couple of seasons, but after throwing a grenade at college football's landscape, they're going to have a giant target on their backs this season.
Luckily, Oklahoma has a large amount of defensive experience coming back after ripping through the final eight games of the schedule without a defeat. The Sooners blitzed everyone except Texas and Iowa State by double digits down the stretch, and most of their talent is back this year, including the majority of the offensive line, running back Kennedy Brooks, and quarterback Spencer Rattler.
Whether the Sooners can become a real threat to win the national title depends on whether Rattler can continue the growth he showed last season. As a true freshman, Rattler was thrown into the fire with nothing other than one game against Missouri State for preparation, and his decision-making left a lot to be desired, as he threw multiple interceptions against Iowa State, Kansas State, and Texas and earned himself a seat on the bench. But when he returned, Rattler was excellent, throwing just two picks over the final seven regular-season games and helping the Sooners get off the canvas and into the Big 12 title game. If that growth continues — never a sure thing with a young quarterback — the Sooners' attack will be complicated to stop.
But that said, there are a few areas for concern here. First, Oklahoma has to overcome its history in playoff games if it's going to make this bet cash. The Sooners have seen their past three trips to the playoff stopped cold by the SEC champion and own an 0-4 mark in the College Football Playoff semifinals, with only the 2017 loss to Georgia even being a close contest. Second, the Big 12 has become a very top-heavy league, and in the four-team playoff era, two losses would likely be enough to put the Sooners on the outside looking in, especially if they came against the wrong teams. Oklahoma hasn't gone undefeated in the Big 12 since 2016, and the Sooners haven't posted an undefeated regular season since 2004.
Third, and perhaps most important, the wide receivers are still a young group. None of Rattler's top targets are more experienced than a third-year sophomore, and it's anyone's guess as to whether returning to a more normal season will be a help or a hindrance. Oklahoma returns a very experienced defense, but the Sooners are still a team that produces a ton of points first and foremost. When a team was able to score with Oklahoma last year, the Sooners weren't able to keep putting up the numbers they needed to earn a win, as they fell to both Kansas State and Iowa State when they surrendered a combined 75 points to the Wildcats and Cyclones.
For me, the value's not quite high enough on the Sooners to throw a bet on them to win the national title. I expect the Sooners will win the Big 12 yet again, but I'm not sure that they can handle Alabama or Clemson when they get to the big stage. I expect this will be another year that finishes with Oklahoma notctihing 11 or 12 wins and then getting trucked when it matters most. Note: If you're betting college football futures, you need to be placing those wagers at a sportsbook you KNOW is going to be in business at the end of the season. With a track record dating back over 25 years, Bookmaker Sportsbook is one worth having in your sports betting arsenal! They do bitcoin payouts within an hour!
Start your season off right! Boost your bankroll with a 100% real cash bonus on your first deposit of $100 to $300 at MyBookie Sportsbook! (Must use bonus code PREDICT100)
Over or Under: 11 Wins
I wouldn't touch the over, even with Oklahoma's abundance of talent. To get a winning bet here, you need no more than one slip-up from the Sooners, and that's asking a lot with the talent in the Big 12. The non-conference schedule isn't the easiest, as they open with a true road game at Tulane and play Nebraska two weeks later before entering Big 12 play. Say what you will about the Huskers being down, but that's still never a gimme of a game, even if it is in Norman.
Two weeks after that, the Sooners follow with their jinx team, as Kansas State has beaten them in back-to-back years and gets to face them in Manhattan. Since Lincoln Riley took over, the Wildcats are 2-2 against the Sooners, and three of the four meetings were decided by seven points or less. And if that wasn't tough enough, they follow that up with the Red River Rivalry with Texas.
Survive there, and the job still isn't even close to done. Oklahoma's final two games of the year are as tough as they come in the Big 12, with Iowa State coming to Norman and the season-ending with the Bedlam Game in Stillwater. And if the Sooners do arrive with 11 wins, they'll still have to do the job against Iowa State or Texas a second time in the Big 12 title game. There's just too much risk for too little reward to take the "Over "with this slate. Oklahoma will probably show up in Arlington at 11-1 as usual, but that's not a chance I want to take to have my money tied up for three months. I wouldn't bet this total at all. If you liked this article, please consider checking out my weekly college football picks by bookmarking the page in that link! I'd sure appreciate it!