Oklahoma State Cowboys vs. Boise State Broncos Pick ATS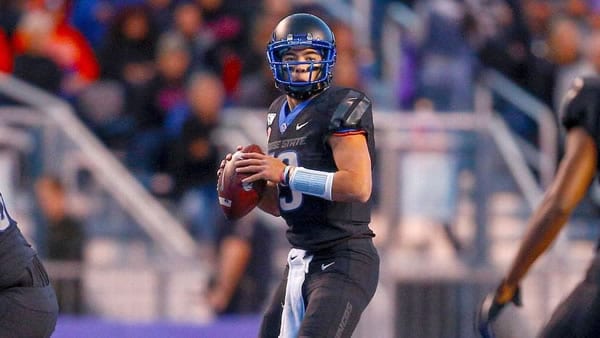 Oklahoma State Cowboys (2-0 SU, 0-2 ATS) vs. Boise State Broncos (1-1 SU, 2-0 ATS)
College Football Week 3
Date and Time: Saturday. September 18, 2021 at 9PM EDT
Where: Albertsons Stadium, Boise, Idaho
TV: Fox Sports One
Point Spread: OKST +5/BSU -5 (BetNow - This place offers Predictem readers a 100% bonus on your first deposit up to $1000! HUGE bonus!)
Over/Under Total: 57.5
The Oklahoma State Cowboys come to the blue field in Idaho to battle the Boise State Broncos on Saturday. It's an interesting non-conference game for the Broncos, getting an opponent that would allow them to raise their profile if they won. A victory over a Big 12 school would normally really elevate them. For the Cowboys, it's a tricky road-trip to an area in which they aren't accustomed. Can Boise score the big home win or will the Cowboys remind us about the different levels of the different conferences? Let's break it down!
Boise Means Big Offense
The Cowboys will need to repel a high-octane offense that has already scored 85 points in two games. The first game ended in heartbreak for the Broncos, suffering a tough loss to Central Florida. But a week two matchup with UTEP allowed them to get on the winning track. Now in their second chance to score a high-profile win over an out-of-conference opponent, I would expect the Broncos to be sharp at home.
Hank Bachmeier offers a lot of hope at QB, able to get the ball into the hands of his playmakers. He will be connecting with ultra-productive receiver Khalil Shakir, who has been making a lot of plays through two weeks of ball. But with Octavius Evans and Stefan Cobbs, he's not the only aerial option. With Tyler Crowe and Andrew Van Buren in the backfield, along with experienced pass-catching back Cyrus Habibi-Likio, they have a lot of weapons to wield on opposing defenses this season.
How Dependable Will the Boise Defense Be in this Spot?
This is the proverbial fly in the ointment for Boise's prospects this week. Sure, they took care of business in their last game against UTEP, but that's what they're supposed to do against a team like that. And not that giving up 36 in a road game to an offensive power like Central Florida is the end of the world, but their collapse and the sheer amount of yards they gave up makes these out-of-conference matchups against good offensive teams a bit of a dicey proposition. It started out well, but when the Golden Knights started pouring it on, Boise had few answers in the air or on the ground. It's a defense built to thrive in the MWC. Outside of that realm, they're going to be up against it. The question is whether this is a typical Oklahoma State team, the kind of offensive juggernaut we've become accustomed to seeing.
A two-game window can be faulty, but the early returns on Oklahoma State are not promising. Week one saw a way too-close-for-comfort 23-16 win over the FCS' Missouri State. Against a putrid Tulsa team that lost in week one to UC Davis, the Cowboys needed a 21-point fourth quarter to notch the narrow 28-23 win. Say what you will about whatever you thought the hopes were for the Cowboys in the big picture this season, but no one expected them to be this ragged coming out of the gate.
More Picks: USC at WSU Pick Against the Spread >>>
Obstacles for a Oklahoma St. Cover
Normally in a spot like this where a Mountain West team is hosting a Big 12 school, the issue would be the Mountain West team's level of opposition. But in this case, it's the Broncos who are more-proven this season, while the Cowboys have labored against low-end opponents. You can perhaps attempt to reason that these opponents failed to arouse their competitive edge and now against a good team, they will raise their level of urgency. It's possible. But through two games, maybe it's time to accept that what we see is what it is. At least for now.
I'd look for Cowboys' quarterback Spencer Sanders to get better, as last week was his first game after missing the opener. He's a bit of a dual threat type guy who keeps opposing defenses on their toes. He has a good receiver crew that has yet to really fire with guys like Jaden Bray, who was big in the late comeback win on Saturday. And maybe that late surge, albeit in a game they had no business falling behind, signals that the Oklahoma State offensive engine has turned over.
Trust Your Eyes
Chances are this is not going to be one of those vintage Boise teams that makes a national splash. But they're still a good team by any measure and first-year head coach Andy Avalos looks to have them headed in a good direction. They have abundant offensive talent and their defense has shown they can play good, at least in spots. Avalos, a former defensive assistant for the Broncos, has made this a priority we should see pay off as the season gets older. And to top it off, they're at home in a region with which Oklahoma State has little familiarity. Oklahoma State is struggling with teams that have only a fraction of their own resources, recruiting power, and destination-appeal. It's about as soft as a 2-0 record that a team can have.
Lay the Number
Again, judging a team like Oklahoma State overly-harshly over what are still wins could lead us astray. And their late-surge on Saturday could be a bad sign for Boise backers laying points against a team from a much superior conference. It's just that Boise looks a step faster to me so far. And on this field, which is still a tough place for an out-of-conference team to play, I see them putting together a solid four quarters and establishing some distance from the Cowboys when it's said and done. I'll take Boise State.
Loot's Pick to Cover the Point Spread: I'm betting on the Boise State Cowboys minus points. Hey! Don't forget to check out our Week 2 NFL picks!