Oregon State Beavers vs. Utah State Aggies Prediction ATS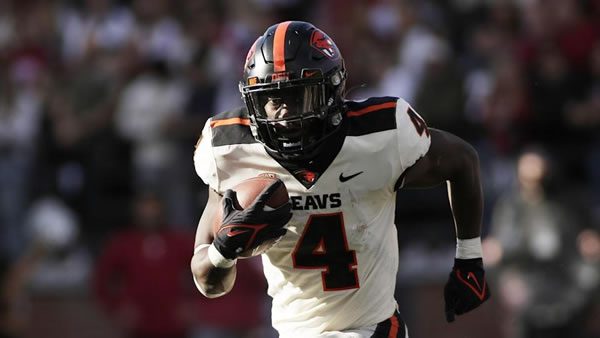 Oregon State Beavers (7-5 SU, 7-5 ATS) vs. Utah State Aggies (10-3 SU, 9-4 ATS)
Lending Tree Bowl
Date and Time: Saturday, December 18, 2021 at 7:30PM EST
Where: SoFi Stadium, Inglewood, California
TV: ABC
Point Spread: ORST -7/USU +7 (Betanysports - Home of -105 odds instead of the spendier -110 your bookie is forcing you to lay! Make the switch! Start saving BIG money!)
Over/Under Total: 66.5
The Oregon State Beavers take on the Utah State Aggies on Saturday in the Lending Tree Bowl at SoFi Stadium. It's a big stage for two teams that got pointed in the right direction this season. The 7-5 Beavers were in a spot to win their division with a win over Oregon in their regular-season finale with a little help, but fell, 38-29. Utah State meanwhile capped off a massive turnaround season by winning the Mountain West Conference Championship in a 48-13 romp over San Diego State. Who can cap the season off with a big win on December 18?
Setting the Table
A high-powered rushing attack had the Beavers pointed upward this season, with a slew of conference wins, including one over Pac-12 champion Utah. They were prone to the occasional setback, with a puzzling spell where they dropped back-to-back games against Cal and Colorado, being a costly part of their season. But in this matchup, they flex a diverse run-game, led by BJ Baylor, along with a group of backs who are used in different situations to great effect. QB Chance Nolan can be nifty with his legs, as well.
The Beavers will be going against a team whose inner-resource is off the charts, turning around a dysfunctional program in short order and taking over the MWC this season. Hats off to Blake Anderson, his staff, and roster because it seemed like they were barely keeping it together as a program last season. Granted, it was a difficult time for a lot of teams amidst a pulverized schedule, but the Aggies were really adrift at sea. To do what they did and punctuate it with a five-touchdown win in the conference title game has their sails pumped full of wind.
The Importance of Context
It misses the spirit of the whole point, perhaps to nitpick Utah State's success this season. But their best win was either over Air Force or a Washington State team that actually beat Oregon St. this season. They lost to Boise State, BYU, and a Wyoming team that only had one other conference win. Their list of wins features a few nuggets, along with a gaggle of bottom-half conference teams. And this is only being brought up in light of who their opponent is in this matchup. It's not New Mexico, and it's not San Jose State.
There's no doubt that Utah State QB Logan Bonner can sling it, with over 3500 yards, along with three receivers with at least nine TD receptions. Deven Thompkins is a major weapon with his 1589 yards. Their run-game is average at best, and it has been the offense carrying the bulk of the weight. But there is no doubting that their "D" has gotten better throughout the season, and since October, the high-point output for any opponent has been 17 points.
The quality of opponent quotient over the second half of the season, however, has been jarring. While Oregon State was scoring a large handful of quality wins in the Pac-12, Utah State was taking on some of the worst teams in the Mountain West and not winning every time out, either. And this isn't a Pac-12 vs. Mountain West argument, but when the Mountain West team gets a pretty cooperative schedule, it bears mentioning.
More Picks: NIU vs. Coastal Carolina Predictions >>>
Possible Edges for the Aggies
Not that Oregon State can afford to be flippant about bowl appearances with their recent history, but this probably means more to the Aggies, where a nice win here would be a bigger cherry on their season than it would be for the Beavers. A big chunk of Utah State's aerial numbers this season came against weak defenses, but it's not an offense that's going to just disappear in a heightened context, especially in light of Oregon State's dicey pass defense. Even struggling aerial offenses were able to dial it in against the Beavers this season. It's the one part of their team that prevented them from reaching truly memorable heights this season.
But Not So Fast…
Let's see how a Utah State defense that wasn't good against the run in the Mountain West does against BJ Baylor and company. If Baylor can dump over 150+ on Utah and Arizona State, maybe this bodes as a good spot for him this week. Maybe Bonner won't find the going so easy against a disruptive and ball-hawking Pac-12 secondary. Not that Oregon State is in any way infallible. But to go from where Utah State has been, including the title game against an Aztecs team that had gone sideways, to this level might be a bit jarring for the Aggies.
Take the Points
Whether it's the big stage, the inertia of the Aggies, or an aspect about the matchup, something tells me this could be close. Not to butt horns with those who set these numbers, but maybe the spread is a little disrespectful to what the Aggies accomplished this season. There is a lot that isn't in their corner in this matchup, but I see their aerial offense making enough big plays to keep this one from getting out of hand. I think they'll show the kind of energy to help see them through, at least enough to cover the spread in Inglewood. I'll take Utah State in the Lending Tree Bowl.
Loot's Pick to Cover the Point Spread: I'm betting on the Utah State Aggies plus 7 points. Bet YOUR Beavers vs. Aggies pick for FREE by taking advantage of a 100% REAL CASH bonus on your first deposit of $100 to $300 at MyBookie Sportsbook! (Must use bonus promo code PREDICT100 on when registering for an account!)