Oregon vs. Washington State Recommended Bet 9/24/22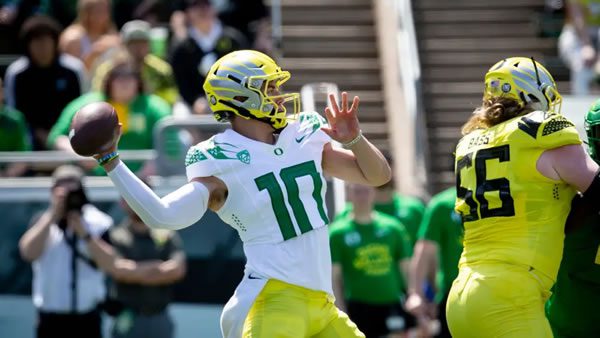 Oregon Ducks (2-1 SU, 2-1 ATS) vs. Washington State Cougars (3-0 SU, 2-1 ATS)
College Football Week 4
Date and Time: Saturday, September 24, 2022 at 4PM EST
Where: Martin Stadium, Pullman, Washington
TV: Fox
Point Spread: ORE -6.5/WSU +6.5 (Bovada – Check them out and compare to your bookie! They're incredible!)
Over/Under Total: 54.5
The Oregon Ducks take on the Washington State Cougars in Pullman this Saturday in Pac-12 action. In a lot of ways, this is where the season begins for both teams, as conference play starts for each squad this week. And other than Oregon's season-opening loss to defending champion Georgia, these teams have been winning. On Saturday, Oregon served notice with a 41-20 win over a really good BYU team. After two weeks at home, the Ducks now take the relatively short road trip for their familiar pairing with a Cougars team that has started fast at 3-0, and with one of their wins on the road against Wisconsin, they have also served notice that they could be a threat in the Pac-12. On Saturday, they hammered Colorado State and look to be ready for this big spot. Let's break this one down!
Cougars: The X-Factor in this Showdown
We've already seen some wide ranges of form from the Cougars through three games. Massive dogs in Madison, they scored one of their biggest wins in the last several seasons. That took some folks aback, as their previous game was at home as 4-touchdown favorites against Idaho, where they eked out a 7-point win. They looked good last week in a 34-7 win over Colorado State. One could expect another higher-end performance from the Cougars this week, with a huge game at home to begin conference play. With the transfer of their starting QB, along with a different overall look on offense, we are seeing some new faces on this WSU offense, and the early returns are pretty good.
After being freshman of the year in the FCS, Cameron Ward is showing a nice touch in the Cougar offense. We're also seeing new faces at running back and wide receiver, with RB Nakai Watson and receivers De'Zhaun Stribling and Donovan Ollie getting their first real tastes of exposure in this WSU offense. And with head coach Jake Dickert, the Cougars have a defensive-minded leader who has already brought that part of the Cougars' game up a level. They get after the passer well and can be stout and disruptive. But alas, they are on the verge of their toughest battle of the season thus far.
Have the Ducks Turned the Corner
Granted, their opener looked horrid, but the risk for those who placed too much importance on the Ducks' 49-3 loss to the best team in the country was that they wouldn't see coming what happened last Saturday. Week one showed the Ducks aren't the best team in the nation, something we should have already known. That doesn't mean they won't be hell on other good teams and future conference opposition.
On Saturday, the Ducks struck quickly, and Bo Nix had his first signature game as the new Ducks' starting quarterback. The former Auburn starter threw for two TDs and ran in three more. With Nix so effective running it in the red zone, they also have their typical multi-pronged running attack, led by Mar'Keise Irving. So the ground production will be coming from a number of different sources. Aerially, you see a nice mix of experience and young talent, with Troy Franklin taking a larger hand in things. This is where we'll see if a Cougars defense that has gotten high grades thus far can shift that effectiveness to an elevated context.
More Picks: Capper Ted Walker things he has the spread winner for the Week 4 WIS/OSU game
Will This Game Follow the Script?
People will regard this game as a regulator of sorts, where these teams assume their customary roles. In other words, the 2-1 Ducks will do something resembling their 14-point win over the Cougars last season and start making their case for Pac-12 supremacy. That's despite Washington St. being unbeaten and having perhaps the best win among the two teams. They didn't get their clocks cleaned by 46 as the Ducks did. It's an understandable sentiment but one that could backfire. The Cougars have no real stars on the team, and people can low-rate them all the way to the poorhouse. I still think this could be an uphill battle.
Being at home in Pullman for a big game will pay off for the Cougars, but maybe their win over Wisconsin doesn't translate as well to this as Oregon's win over BYU. The Cougars won a low-scoring game against a run-heavy team that stresses defense in the Badgers and beat two inferior foes. Can Ward and his inexperienced supporting cast purport themselves as well in a more offensively-themed game? Can that defense that has held it together nicely for the first three weeks hang in there against the blue-chippers they will encounter this week?
Lay the Points
This is in no way to infer that WSU's 3-0 start is some kind of mirage. Their offense has been running smoothly and will only get better, bolstered by a defense that can really make a difference. I sense that the run-game of the Ducks, their versatility, and experience at key positions will be enough to see them take flight in this game. It might get ugly in spots, but I see the Ducks getting the measure of the Cougars by the second half en route to a win and cover in Pullman.
Loot's Pick to Cover the Point Spread: I'm betting on the Oregon Ducks minus 6.5 points.
Hey! How would you like a FREE half point EVERY TIME you bet your favorite team? Plus, you'll receive a 125% real cash bonus up to $400 when you use bonus code PREDICTEM at GTBets Sportsbook! It's the best signup bonus offer on the web!