Pick Oregon Ducks -3 Over California Golden Bears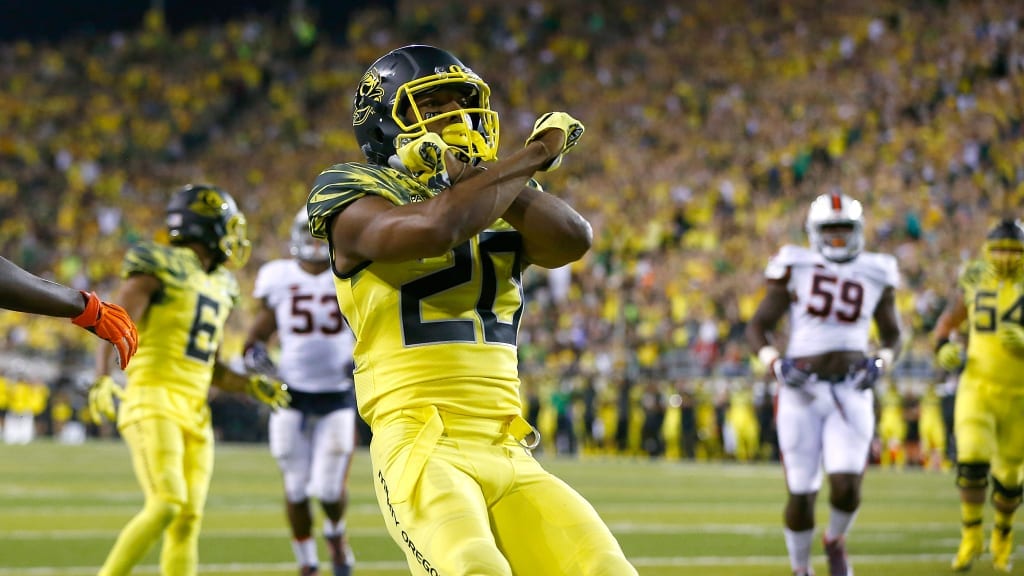 Oregon Ducks (3-1 SU, 0-4 ATS) vs. California Golden Bears (3-0 SU, 1-1-1 ATS) College Football Week 5 Date and Time: Saturday, September 29, 2018 at 10:30PM EDT Where: Memorial Stadium, Berkeley, California TV: Fox Sports One By: Loot Levinson, NCAA Football Handicapper, Predictem.com Point Spread: ORE -3/CAL +3 I like what Cal has done this season, but I see the Oregon Ducks getting the cover when they come to Berkeley to take on the California Golden Bears on Saturday in Pac-12 action. Oregon is coming off a rough loss to Stanford at home, while Cal is at home coming off a break. While we feel Cal is certainly capable, we feel the superior talent of Oregon will manifest into a win/cover in northern Cali this weekend. I'll now explain why…
TIRED OF YOUR CREDIT CARD NOT WORKING AT SPORTSBOOKS? IT WILL AT Intertops + GET A 50% CASH BONUS!
Can Cal Keep Pace?
Cal is off to a nice 3-0 start. Wins over UNC and certainly Idaho St. don't get the blood pumping, but a win over a BYU team that beat Wisconsin on the road the following week puts a different light on Cal's prospects. We have become accustomed to a Cal team that is heavy on offense and low on "D." This season, the "D" has been the only standout part of the team. They kept BYU off-rhythm in a tough road-spot and could be tough in this spot. With Oregon and their offense, led by a stellar QB in Justin Herbert, the Cal defense will be up against it to the point where the Golden Bears' offense will need to put up some points to remain competitive, as the point spread suggests. And so far, it's not clear that they will be able to do that. Chase Garbers, a redshirt freshman, is the official starter, with South Carolina transfer Brandon McIlwain getting time along with former starter Ross Bowers. Garbers and McIlwain can also run the ball well, but it's a far cry from the Cal offenses we've seen in recent years with Jared Goff and Davis Webb. And while striving for better overall balance on both sides of the ball might eventually pay off, it has also left Cal without a really compelling trait on offense.
Talent Speaks at this Level
At this level, having an NFL-talent at QB is a huge advantage. Oregon QB Justin Herbert will be playing on Sundays barring something unforeseen. On the other sideline are QBs who are going to have regular jobs in a few years in an offense that is really without a clear identity. That might be a rash judgment, but it's the harsh reality. And I'm not sure home advantage, a game plan based on minimizing mistakes, and a possibly-improved defense is enough to trump that.
Texas Longhorns vs Kansas State Pick
Is Cal's "D" For Real?
I see Oregon's offense as being better than the team that hung a 45-24 win over Cal in Eugene last season. Saturday was in many ways a demoralizing loss for the Ducks. When they appeared to take a 34-7 lead late in the third, it was a wrap against a really good and highly-ranked Stanford team. The TD got overturned and it seemed to signal a change in momentum, with a turnover returned for a TD starting a Stanford comeback that led to an overtime win. Results aside, the game showed that while Oregon has a ways to go in terms of being the full-package, they have a ton of talent and it took some cruel twists of fate to keep them from scoring a huge win. Those expecting Oregon to show up in Berkeley sagging from that overtime heartbreak, however, might be surprised.
Before We Get Carried Away…
As we construct the storyline, we don't want to get carried away with the plot. Cal is coming off an easy win at home, followed by a break, which looks pretty good when juxtaposed with Oregon's late-Saturday overtime war with the Cardinal, where Ducks' players were strewn on the field crushed by the result. Let's also remember that last week, Oregon was in the same spot Cal is now in, sitting at 3-0 but against dicey opposition while Stanford had already been battle-tested. We see how much that analysis held up, as Stanford backers were exceptionally fortunate to cash in last Saturday.
Lay the Points on the Road Favorite
We don't want to put too much stock in what was a loss at the end of the day, but from a very basic standpoint, Oregon showed they can run with the big dogs in the Pac-12 Conference. I'm not so sure Cal will be able to boast of the same thing this season. This might seem simplistic, but Oregon looks to have a notch more fire than Cal and we see that manifesting on Saturday in terms of point-scoring. Now that the hazards have been acknowledged, scenarios that favor Oregon winning by at least 4 points seem to outnumber scenarios that do not. That is far from iron-clad and it still has trappy elements at play. It still seems like the solid move, as I see Herbert and his cast of weapons gaining enough separation on Cal to cover the spread in this one.
Loot's Pick to Cover the Point Spread: I'm betting on the Oregon Ducks minus three points. Be sure to check all of the top books including Betonline for the best odds on this game.
<h4 class="widgettitle">NFL Picks</h4><!-- [et_pb_line_break_holder] -->
<div style="width:340px; margin: 0 auto;"><!-- [et_pb_line_break_holder] --> <a class="twitter-timeline" data-width="340" data-height="500" data-link-color="#008156" href="https://twitter.com/PredictemPicks?ref_src=twsrc%5Etfw">Tweets by PredictemPicks</a> <script async src="https://platform.twitter.com/widgets.js" charset="utf-8"></script><!-- [et_pb_line_break_holder] --></div>