Texas Longhorns vs. Kansas State Wildcats Pick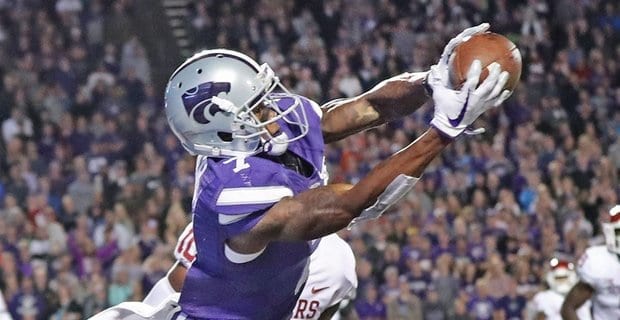 Texas Longhorns (3-1 SU, 2-2 ATS) vs. Kansas State Wildcats (2-2 SU, 1-3 ATS)
College Football Week 5
Date/Time: Saturday, September 29th, 2018 – 3:30 PM ET
Where: Bill Snyder Family Stadium – Manhattan, Kansas
TV: FS1
By: Keith Franks, NCAA Football Handicapper, Predictem.com
Point Spread: Texas -7 / Kansas State +7
The Kansas State Wildcats will host the No. 18 ranked Texas Longhorns in a Big 12 contest set to take place in the Sunflower State at the historic Bill Snyder Family Stadium. Coverage will be offered by FS1 live from Manhattan, Kansas on Saturday, September 29th, 2018. Kick-off is tabled for 3:30 PM ET. These two teams have traded wins and losses back and forth recently. The Wildcats and Longhorns have split the last six meetings, winning three games each. It is worth noting that the home team in these matches have won all six contests. Last year, Texas defeated Kansas State in Austin by a score of 40-34.
Free Pick: Tennessee Volunteers vs Georgia Bulldogs 
Kansas State Gets Rolled In Morgantown
Kansas State looked like a shell of itself when it traveled to No. 12 West Virginia, last Saturday. The Mountaineers would dominate the Wildcats and hand them a 35-6 loss in Morgantown. Very simply, Kansas State did not look like it belonged on the same field as WVU. This marks the second loss that the Cannonballs have lost against a top-15 opponent in 2018. Both losses were grisly, as K-State lost by margins of greater than 20 points in both these aforementioned defeats. Dual-threat Quarterback Skylar Thompson has not lived up to the hype in energizing what is a maligned Kansas State offense.
TIRED OF YOUR CREDIT CARD NOT WORKING AT SPORTSBOOKS? IT WILL AT Youwager + GET A 100% BONUS!
Texas Gets The Horned Frog Off It's Back
The Longhorns come in sky-high after they defeated No. 17 TCU in Austin on Saturday. Throughout the week, we saw the Hook-Ems hover around a field-goal pup in the build-up to their Lone Star State showdown with the Horned Frogs. Texas had not defeated TCU in years and were determined to end Texas Christian's dominance. This of course was reflected in some of the acrobatic plays made by both Longhorn receivers and defensive backs. The final in Austin would be Texas defeating TCU 31-16. Coupling that with a blowout win over a ranked USC team, the Horns have taken down two ranked foes in back-to-back weeks.
A Key Match-Up To Focus On: Texas Against Itself
Yes, we just went there. Texas' biggest threat to itself is itself in this game. For the last two weeks, the Horns came up big against two reputable opponents in both the Men of Troy and the Frogs of War. Texas also did so at home with their faithful screaming loud and proud behind them. Now, Texas has to venture into the most hostile environment they will face so far this season. The environs will not be accommodating by the least and Texas will have to make sure it keeps a level head. On paper, the Horns are the better team. Thus, they could also be prone for a let-down against an inferior opponent which allows K-State to hang around. If they do so, the crowd will can influence this contest if it goes the distance. In the department of coaching, it is hard to go against Tom Herman but at the same token Bill Snyder is one of the most legendary coaches in the game today. If you give a Bill Snyder team a chance to strike late in the game with Purple and Silver behind them, that can get ugly.
Take Kansas State +7
There are several reasons to like K-State here. First, and foremost the aspect of home field advantage is a critical element of this divisional series. We mentioned already how the home team has had its way in Texas/K-State games and we have to like that position with a touchdown introduced into the equation. When you combine this with the psychological angles surrounding Texas in such an unfriendly place, it could be a very hazardous play laying the lumber. When you toss in the potential let-down, it is extremely dangerous and that is why we are not seeing K-State being given more than a one possession margin.
In addition to these elements, biases toward recent results can easily curate a huge overreaction here. After all, this is K-State's third attempt at cracking a ranked opponent. The last two have not gone well so the expectation here is that things will only continue to get worse. However, the opposite may be true. K-State has a penchant for playing up to the level of elite teams when they come to Manhattan. Though they were blown out by Mississippi State earlier this season, they did hang around well into the second half. Every now and then K-State has pulled upsets in Manhattan against teams they were supposed to lose bad against. If Texas' performance against Maryland to start off 2018 provides any insight, the upset is not off the table here. Take the points.