[et_pb_dcsbcm_divi_breadcrumbs_module hide_homebreadcrumb="off" homebreadcrumbtext="Home" separator="sep-raquo" hide_currentbreadcrumb="off" homebreadcrumborientation="left" _builder_version="3.8″ fontsbreadcrumbs_font="Lato||||||||" fontsbreadcrumbs_text_color="#000000″ fontsbreadcrumbs_font_size="15px" fontsbreadcrumbs_line_height="16px" fontsseperator_font="||||||||" fontsbreadcrumblinks_font="||||||||" fontsbreadcrumblinks_text_color="#2567cf" custom_margin="25px|||" custom_margin_phone="30px|||" custom_margin_last_edited="off|desktop" custom_css_main_element="font-family: Helvetica Regular;" global_module="3641″ saved_tabs="all"][/et_pb_dcsbcm_divi_breadcrumbs_module]
Underdog Pick: Stanford Cardinal vs. Washington Huskies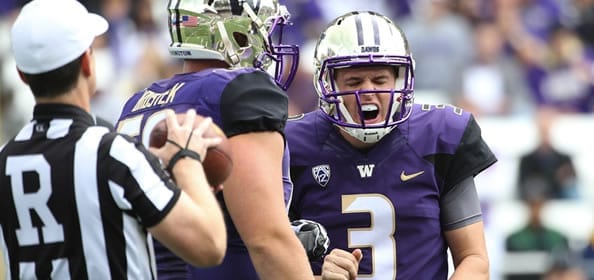 Stanford Cardinal (5-3 SU, 4-4 ATS) vs. Washington Huskies (6-3 SU, 2-7 ATS)
College Football Week 10
Date and Time: Saturday, November 3, 2018
Where: Husky Stadium, Seattle, Washington
TV: Pac 12 Networks
Point Spread: STAN +9.5/WASH -9.5
Over/Under Total: 47
The Stanford Cardinal come to Seattle to face the Washington Huskies this Saturday in a key Pac-12 Conference matchup. I like Stanford to cover the spread in this battle of nose-diving contenders. Granted, Stanford has lost 3 of 4, including two ugly losses before losing to Washington State last week, 41-38. Washington, however, was upset last week to Cal and has been on a gradual fall-from-grace that has them at their most rock-bottom spot in years. The idea of taking them as big favorites just doesn't sit right at the moment.
Washington: What Happened?
Washington is still tough at home in a spot like this against a struggling conference foe. But something seemed wrong all season, and they haven't been able to right the ship. Once they got into the meat of their conference schedule, it started to manifest. Not having Myles Gaskin the last few games has been critical, as he represents a big chunk of their offensive production. Jake Browning has gone from a Heisman candidate to getting benched against Cal, as coach Chris Petersen tried to get the desultory Washington offense going in the right direction. The offense will be in better shape if Gaskin comes back and against a very downward-heading Stanford defense. I'm just not sure if more seeds of doubt are what Browning needed with so many recent adverse developments.
What might not change is how UW has been hell on bettors. Even now, it seems like the powers-that-be are slow to come around to the fact that the Huskies are no longer world-class. They haven't covered 5 of their last 6 spreads, with three having not even been remotely close. The offense is an entirely different unit, with Browning in diminished form, the normally-durable Gaskin missing the first games of his career, and an aerial attack that is a shadow of its illustrious past. Still, at home against a Stanford defense that is getting gashed aerially as of late, one should expect better this week. Even so, Stanford seems more-equipped to thrive offensively without their star back than Washington.
The Huskies' Saving Grace
The Washington defense has still been allowing an average of just 15.2 points per game—quite a low total in this conference against the offenses they face. And that's been without getting their standard support on the other side of the ball. Stanford's offense can still do damage, but they have been handcuffed with Bryce Love being banged-up much of the season. They can't run the ball. That leaves them very one-dimensional, and that one dimension hasn't been enough. With Greg Gaines up-front, LB Ben Burr-Kirven all over the field, and strong defensive back play from guys like Taylor Rapp and JoJo McIntosh, Washington can still control games.
Stanford: As Bad as it Looks?
If we're going to talk about how bad the Washington offense has looked, we might as well put it in its right perspective, as Stanford's defense isn't trending in a better direction. Injuries to guys like Joey Alfieri have taken away just enough venom on this side of the ball to make them a shadow of what they were mere weeks ago. All of the bad things people suspected before the season began have resonated—the loss of too many playmakers, the unfulfilled promise from failed blue-chippers, and a stunning lack of depth. Their secondary can barely stop anything at this point, and any good numbers from their run-defense are just a byproduct of that. The better offenses they face have been succeeding in both facets. For a Huskies' offense trying to gain a foothold, this could be right up their alley.
There is still cause for optimism with Stanford. If he can suddenly shake a nagging ankle injury some, Bryce Love could still explode and showed signs last week that something like that could be imminent. Still, his status always looms as a mystery this season. They have a good QB in KJ Costello, with vital aerial weaponry like JJ Arcega-Whiteside, Kaden Smith, and Trenton Irwin. An offense hitting on all cylinders rubs off on the defense. And it's not like they've been that bad, only struggling once this season in essence. But against this defense on the road, they will need every gear at their disposal.
In a way, it looks like a tough spot for Stanford. They got their butts kicked by Notre Dame and Utah and lost to WSU last week after being up by two touchdowns. Their defense appears to be in a state of freefall—a young group that isn't ready for primetime. But they're still getting a nice chunk of points against a team that might have arrived at a low point. I see the Stanford offense matching up a bit better against this formidable Washington defense than other teams.
Take the Points on the Road Underdog
Granted, it came with a healthy Bryce Love, but a lot of Stanford players did well in last season's 30-22 win over the Huskies. Maybe Love can come out of his funk, as running for 68 yards on just 5 carries last week suggests. Both teams operate with such a wide range that it's hard to pinpoint, but that's true conference-wide. Something in the air suggests a competitive matchup in this game—at least to the extent where having 9.5 points will be a good feeling.
Loot's Pick to Cover the Point Spread: I'm betting on the Stanford Cardinal plus 9.5 points at YouWager where new clients can grab a massive 100% bonus up to $1000 FREE.
<div class="clickable CTA" style="margin: 0 auto; background: #fff; border-radius: 10px; text-align: center; padding: 10px 20px 20px 20px;"><!-- [et_pb_line_break_holder] --> <img src="https://www.predictem.com/wp-content/uploads/2018/05/mybookie-logo.png" alt="MyBookieer" class="cta-image" /><!-- [et_pb_line_break_holder] --> <p style="margin-top: 5px; font-size: 22px; line-height: 30px;"><!-- [et_pb_line_break_holder] --> $1,000 Free Play Offer<!-- [et_pb_line_break_holder] --> </p><!-- [et_pb_line_break_holder] --> <hr class="cta-divider"><!-- [et_pb_line_break_holder] --> <p style="padding-bottom: 20px; font-size: 15px; line-height: 20px"><!-- [et_pb_line_break_holder] --> $1,000 Football Sign Up Bonus<br>Free Play - 15X Rollover<!-- [et_pb_line_break_holder] --> </p><!-- [et_pb_line_break_holder] --> <a href="https://www.predictem.com/out/Mybookie" rel="nofollow" target="_blank"><button class="et_pb_button" style="color: #fff; cursor: pointer; width: 90%;"><!-- [et_pb_line_break_holder] --> Bet Here<!-- [et_pb_line_break_holder] --> </button></a><!-- [et_pb_line_break_holder] --></div>
<div class="widget105"><!-- [et_pb_line_break_holder] --><h4 class="parlays">Best Sportsbooks for Parlays</h4><!-- [et_pb_line_break_holder] --><!-- [et_pb_line_break_holder] --><table id="parlay"><!-- [et_pb_line_break_holder] --> <tr><!-- [et_pb_line_break_holder] --> <th><span class="team"></span></th><!-- [et_pb_line_break_holder] --> <th>2 Team Parlay</th><!-- [et_pb_line_break_holder] --> <th>3 Team Parlay</th><!-- [et_pb_line_break_holder] --> <th>4 Team Parlay</th><!-- [et_pb_line_break_holder] --> </tr><!-- [et_pb_line_break_holder] --> <tr><!-- [et_pb_line_break_holder] --> <td><a href="https://www.predictem.com/out/SportbetP"><img src="https://www.predictem.com/wp-content/uploads/2018/06/sportbet-sm.png"></a></td><!-- [et_pb_line_break_holder] --> <td>2.74 to 1</td><!-- [et_pb_line_break_holder] --> <td>6.24 to 1</td><!-- [et_pb_line_break_holder] --> <td>13 to 1</td><!-- [et_pb_line_break_holder] --> </tr><!-- [et_pb_line_break_holder] --> <tr><!-- [et_pb_line_break_holder] --> <td><a href="https://www.predictem.com/out/BovadaP"><img src="https://www.predictem.com/wp-content/uploads/2018/06/bovada_sm.png"></a></td><!-- [et_pb_line_break_holder] --> <td>2.64 to 1</td><!-- [et_pb_line_break_holder] --> <td>6 to 1</td><!-- [et_pb_line_break_holder] --> <td>12.3 to 1</td><!-- [et_pb_line_break_holder] --> </tr><!-- [et_pb_line_break_holder] --> <tr><!-- [et_pb_line_break_holder] --> <td><a href="https://www.predictem.com/out/MybookieP"><img src="https://www.predictem.com/wp-content/uploads/2018/06/mybookie-sm.png"></a></td><!-- [et_pb_line_break_holder] --> <td>2.64 to 1</td><!-- [et_pb_line_break_holder] --> <td>6 to 1</td><!-- [et_pb_line_break_holder] --> <td>12 to 1</td><!-- [et_pb_line_break_holder] --> </tr><!-- [et_pb_line_break_holder] --></table><!-- [et_pb_line_break_holder] --><div class="widget-footer"><a href="https://www.predictem.com/best-sportsbooks/parlays-odds/">See all Sportsbook Parlays</a></div><!-- [et_pb_line_break_holder] --></div><!-- [et_pb_line_break_holder] --><!-- [et_pb_line_break_holder] --><!-- [et_pb_line_break_holder] --><style><!-- [et_pb_line_break_holder] --> #parlay {border-collapse: collapse;<!-- [et_pb_line_break_holder] --> width: 100%; border: 0px;<!-- [et_pb_line_break_holder] --> font-size: 14px!important;}<!-- [et_pb_line_break_holder] --> #parlay td, #parlay th {<!-- [et_pb_line_break_holder] --> border: 0px;<!-- [et_pb_line_break_holder] --> padding: 8px;<!-- [et_pb_line_break_holder] --> text-align: left;}<!-- [et_pb_line_break_holder] --> #parlay th {<!-- [et_pb_line_break_holder] --> padding-top: 5px;<!-- [et_pb_line_break_holder] --> padding-bottom: 5px;<!-- [et_pb_line_break_holder] --> font-weight: bold;<!-- [et_pb_line_break_holder] --> line-height: 14px;<!-- [et_pb_line_break_holder] --> text-align: center;<!-- [et_pb_line_break_holder] --> color: #000;}<!-- [et_pb_line_break_holder] --> #parlay tr {border-bottom: 1px solid #edeef0;}<!-- [et_pb_line_break_holder] --> .team {font-size: 16px;}<!-- [et_pb_line_break_holder] --></style>