[et_pb_dcsbcm_divi_breadcrumbs_module hide_homebreadcrumb="off" homebreadcrumbtext="Home" separator="sep-raquo" hide_currentbreadcrumb="off" homebreadcrumborientation="left" _builder_version="3.8″ fontsbreadcrumbs_font="Lato||||||||" fontsbreadcrumbs_text_color="#000000″ fontsbreadcrumbs_font_size="15px" fontsbreadcrumbs_line_height="16px" fontsseperator_font="||||||||" fontsbreadcrumblinks_font="||||||||" fontsbreadcrumblinks_text_color="#2567cf" custom_margin="25px|||" custom_margin_phone="30px|||" custom_margin_last_edited="off|desktop" custom_css_main_element="font-family: Helvetica Regular;" global_module="3641″ saved_tabs="all"][/et_pb_dcsbcm_divi_breadcrumbs_module]
College Football Pick: Wyoming vs New Mexico State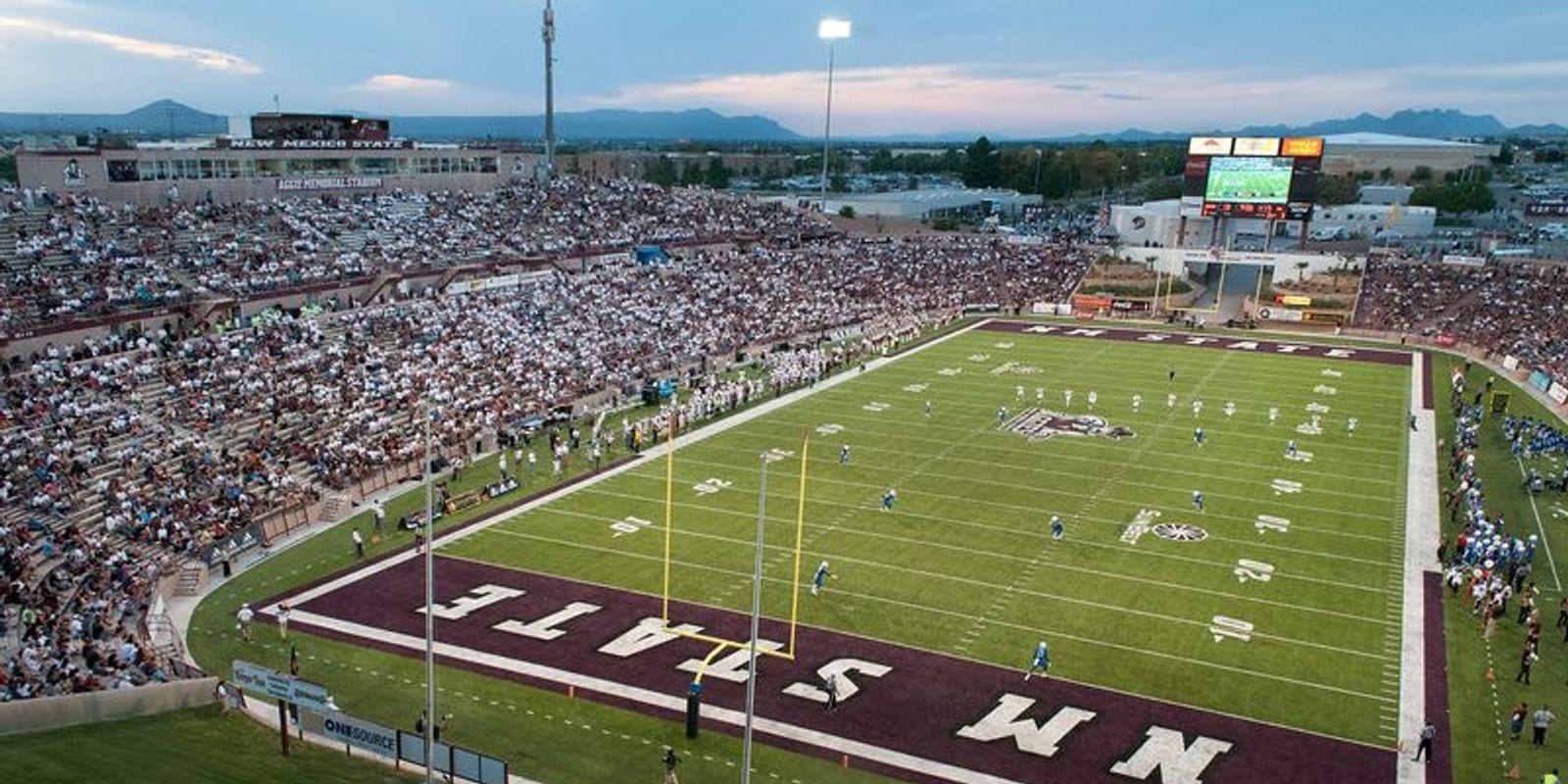 Wyoming Cowboys (2017: 8-5 SU, 8-5 ATS) vs. New Mexico State Aggies (2017: 7-6 SU, 7+6 ATS)
Date/Time: Saturday, August 25th, 10:00 PM
Where: Aggie Memorial Stadium, Las Cruces, NM
TV: ESPN2
By Mike Mann, NCAA Football Handicapper, Predictem.com
Point Spread: WYO -3 / NM ST +3
Over/Under Total: 46
Sportsbook Bonus Listings Updated Daily
The Wyoming Cowboys head south to Las Cruces to take on New Mexico State in a opening weekend matchup at Aggie Memorial Stadium. The teams have played just once before back in 1956 with the Cowboys winning 47-0, but this will be the first time that they will meet in the state of New Mexico.
Neither team has been very successful of late in the first game of the year, with New Mexico State not having won their season opener when versus an FBS team since 1999 and Wyoming winning only one road opener since 2002.
The Wyoming Offense
The biggest question facing the Wyoming offense is how they will replace departed quarterback Josh Allen, who was picked 7th in this year's draft by the Buffalo Bills. Oddly enough though, it wouldn't take much to improve on their offensive stats as they finished 126th in yards per game and 104th in scoring in season ago despite Allen being part of their lineup. He threw for over 234 yards just once all of last season and passed for over 300 yards only twice in his two years as the Cowboys starter. Taking Allen's spot will be redshirt freshman Tyler Vander Wall, who will have plenty of talent at his disposal with nine starters back on offense including wide receivers Austin Conway and James Price. The junior Conway was the teams' leader in receptions and receiving yards a season ago and should provide a nice security blanket for Vander Waal as he gets acclimated to his new starting surroundings.
The New Mexico Offense
While the Wyoming offense will be looking to replace their quarterback, New Mexico State has holes throughout their lineup to worry about. Of their six returning starters to the offense, five are on the offensive line leaving just one among all the returning skill position players. Gone are their two top wide receivers, including Jaleel Scott who was picked in the fourth round of the NFL draft by the Baltimore Ravens, along with second team All-Sun Belt running back Larry Rose, who finished his career as the second leading rusher in school history. Lost to graduation is quarterback Tyler Rodgers. Who will replace him remains up in the air with JUCO transfer Matthew Romero and last years' backup Nick Jeanty both vying for a shot at the starting position. Jeanty struggled in limited duty last season and ended the year with one touchdown pass compared with four interceptions. The Aggies will be relying greatly on juniors Jason Huntley (RB) and DJ Clark (WR) to fill the many voids awaiting the offense to begin the season.
The Wyoming Defense
Defensively Wyoming brings back plenty of experience with eight returning starters. Of the eleven players expected to start on defense, ten are either seniors and juniors, which early on in the season is that much more important, especially considering they are matched up against a depleted Aggie offense lacking in the necessary skill position department. Two 1st Team All Mountain West performers are back on the defensive line in Youhanna Ghaifan and Carl Granderson, both of which are the returning conference leaders in tackles for loss (31.5 combines) along with each ranking in the top four in sacks. The rest of the squad will be led in the middle by linebacker Logan Wilson and in the defensive backfield by the teams' returning interception leaders Andrew Wingard and Marcus Epps.
The New Mexico Defense
The Aggies return nine starters to their defense, though it remains to be seen who will be available to play on Saturday against Wyoming. 1st team All Sun Belt defensive lineman Cedric Wilcots is arguably the teams best defensive player, but he was unfortunately ruled ineligible for the first two weeks of the season due to academic issues. Safety Ron LaForce earned Sun Belt Newcomer of the Year honors last season for his play at the free safety position, but unlike Wilcots his likelihood of playing is up in the air due to injury, as LaForce is currently listed as questionable thanks to ankle issues and is a true unknown for whether he will be able to take the field on Saturday. Linebacker Terrill Hanks, the returning leader in tackles with 111 a season ago, is thankfully 'only' probable with a wrist injury, though he is expected to suit up. With so much unknown on who will be able to play on Saturday, it remains to be seen just how much of an effective unit that the Aggies will be able to muster up, which is never a good sign when playing against a team with as much experience as Wyoming.
The Wyoming vs. New Mexico State matchup on Saturday will likely have more action on it than usual considering it is nationally televised and is one of just three games involving an FBS team to be played during a very light College Football opening weekend. Both teams bring plenty of experience, but with the injuries facing New Mexico State along with a big advantage in the quarterback position for Wyoming I will be saddling up with the Cowboys on Saturday to get a road win and cover their opener against the Aggies.
Pick: Wyoming Cowboys -3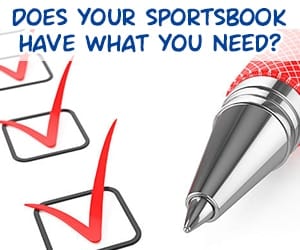 <div class="widget105"><!-- [et_pb_line_break_holder] --><h4 class="parlays">Best Parlays</h4><!-- [et_pb_line_break_holder] --><!-- [et_pb_line_break_holder] --><table id="parlay"><!-- [et_pb_line_break_holder] --> <tr><!-- [et_pb_line_break_holder] --> <th><span class="team"></span></th><!-- [et_pb_line_break_holder] --> <th>2 Team Parlay</th><!-- [et_pb_line_break_holder] --> <th>3 Team Parlay</th><!-- [et_pb_line_break_holder] --> <th>4 Team Parlay</th><!-- [et_pb_line_break_holder] --> </tr><!-- [et_pb_line_break_holder] --> <tr><!-- [et_pb_line_break_holder] --> <td><a href="https://affiliates.sportbet.com/tracking/Affiliate.aspx?idBook=2&mediaTypeID=220&AffUrlID=80&LandingPageID=55"><img src="https://www.predictem.com/wp-content/uploads/2018/06/sportbet-sm.png"></a></td><!-- [et_pb_line_break_holder] --> <td>2.74 to 1</td><!-- [et_pb_line_break_holder] --> <td>6.24 to 1</td><!-- [et_pb_line_break_holder] --> <td>13 to 1</td><!-- [et_pb_line_break_holder] --> </tr><!-- [et_pb_line_break_holder] --> <tr><!-- [et_pb_line_break_holder] --> <td><a href="https://record.bettingpartners.com/_5vfuDOH_H2wWPf2JTsWUjGNd7ZgqdRLk/1/"><img src="https://www.predictem.com/wp-content/uploads/2018/06/bovada_sm.png"></a></td><!-- [et_pb_line_break_holder] --> <td>2.64 to 1</td><!-- [et_pb_line_break_holder] --> <td>6 to 1</td><!-- [et_pb_line_break_holder] --> <td>12.3 to 1</td><!-- [et_pb_line_break_holder] --> </tr><!-- [et_pb_line_break_holder] --> <tr><!-- [et_pb_line_break_holder] --> <td><a href="https://record.webpartners.co/_jGZUKO3JWgwmunhzcKAZ62Nd7ZgqdRLk/1/"><img src="https://www.predictem.com/wp-content/uploads/2018/06/mybookie-sm.png"></a></td><!-- [et_pb_line_break_holder] --> <td>2.64 to 1</td><!-- [et_pb_line_break_holder] --> <td>6 to 1</td><!-- [et_pb_line_break_holder] --> <td>12 to 1</td><!-- [et_pb_line_break_holder] --> </tr><!-- [et_pb_line_break_holder] --></table><!-- [et_pb_line_break_holder] --><div class="widget-footer"><a href="https://www.predictem.com/best-sportsbooks/parlays-odds/">See all Sportsbook Parlays</a></div><!-- [et_pb_line_break_holder] --></div><!-- [et_pb_line_break_holder] --><!-- [et_pb_line_break_holder] --><!-- [et_pb_line_break_holder] --><style><!-- [et_pb_line_break_holder] --> #parlay {border-collapse: collapse;<!-- [et_pb_line_break_holder] --> width: 100%; border: 0px;<!-- [et_pb_line_break_holder] --> font-size: 14px!important;}<!-- [et_pb_line_break_holder] --> #parlay td, #parlay th {<!-- [et_pb_line_break_holder] --> border: 0px;<!-- [et_pb_line_break_holder] --> padding: 8px;<!-- [et_pb_line_break_holder] --> text-align: left;}<!-- [et_pb_line_break_holder] --> #parlay th {<!-- [et_pb_line_break_holder] --> padding-top: 5px;<!-- [et_pb_line_break_holder] --> padding-bottom: 5px;<!-- [et_pb_line_break_holder] --> font-weight: bold;<!-- [et_pb_line_break_holder] --> line-height: 14px;<!-- [et_pb_line_break_holder] --> text-align: center;<!-- [et_pb_line_break_holder] --> color: #000;}<!-- [et_pb_line_break_holder] --> #parlay tr {border-bottom: 1px solid #edeef0;}<!-- [et_pb_line_break_holder] --> .team {font-size: 16px;}<!-- [et_pb_line_break_holder] --></style>
<aside><!-- [et_pb_line_break_holder] --><div class="widget105"><!-- [et_pb_line_break_holder] --><h4 class="cash">Biggest Sportsbook Bonuses</h4><!-- [et_pb_line_break_holder] --><div class="widgetlist"><!-- [et_pb_line_break_holder] --><div class="col1"><!-- [et_pb_line_break_holder] --> <a href="https://www.predictem.com/out/Bovada"><img src="https://www.predictem.com/wp-content/uploads/2018/04/bovada.png" width="150" alt="Bovada" /></a><!-- [et_pb_line_break_holder] --></div><!-- [et_pb_line_break_holder] --><div class="col2"><!-- [et_pb_line_break_holder] --><span class="list"><b>50% Cash</b></span><br><!-- [et_pb_line_break_holder] --><span class="list">5x Rollover</span><!-- [et_pb_line_break_holder] --> </div><!-- [et_pb_line_break_holder] --> <div class="col3"><!-- [et_pb_line_break_holder] --><a href="https://www.predictem.com/betting-sites/bovada/"><button class="btn-widget">Review</button></a><!-- [et_pb_line_break_holder] --></div><!-- [et_pb_line_break_holder] --></div><!-- [et_pb_line_break_holder] --><div class="widgetlist"><!-- [et_pb_line_break_holder] --><div class="col1"><!-- [et_pb_line_break_holder] --> <a href="https://www.predictem.com/out/Intertops"><img src="https://www.predictem.com/wp-content/uploads/2018/04/intertops.png" width="150" alt="Intertops" /></a><!-- [et_pb_line_break_holder] --></div><!-- [et_pb_line_break_holder] --><div class="col2"><!-- [et_pb_line_break_holder] --><span class="list"><b>50% Cash</b></span><br><!-- [et_pb_line_break_holder] --><span class="list">4x Rollover</span><!-- [et_pb_line_break_holder] --> </div><!-- [et_pb_line_break_holder] --><div class="col3"><!-- [et_pb_line_break_holder] --><a href="https://www.predictem.com/betting-sites/intertops/"><button class="btn-widget">Review</button></a><!-- [et_pb_line_break_holder] --></div><!-- [et_pb_line_break_holder] --></div><!-- [et_pb_line_break_holder] --><div class="widgetlist"><!-- [et_pb_line_break_holder] --><div class="col1"><!-- [et_pb_line_break_holder] --> <a href="https://www.predictem.com/out/Gtbets"><img src="https://www.predictem.com/wp-content/uploads/2018/05/gt-bets.png" width="150" alt="GtBets" /></a><!-- [et_pb_line_break_holder] --></div><!-- [et_pb_line_break_holder] --><div class="col2"><!-- [et_pb_line_break_holder] --><span class="list"><b>150% Cash</b></span><br><!-- [et_pb_line_break_holder] --><span class="list">4x Rollover</span><!-- [et_pb_line_break_holder] --> </div><!-- [et_pb_line_break_holder] --> <div class="col3"><!-- [et_pb_line_break_holder] --> <a href="https://www.predictem.com/betting-sites/gtbets/"><button class="btn-widget">Review</button></a><!-- [et_pb_line_break_holder] --></div><!-- [et_pb_line_break_holder] --></div><!-- [et_pb_line_break_holder] --><div class="widget-footer"><a href="https://www.predictem.com/best-sportsbooks/bonuses/">See all sportsbook bonuses</a></div><!-- [et_pb_line_break_holder] --> </div></aside>