Purdue vs. Notre Dame Pick ATS 9/18/21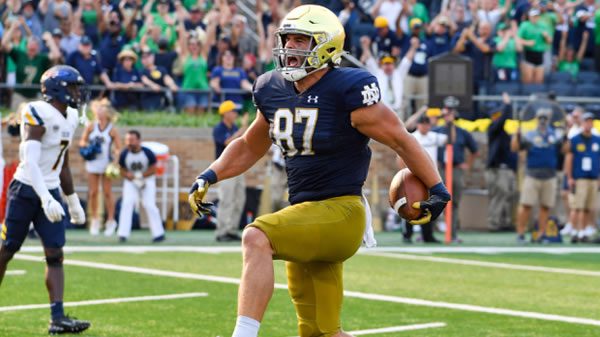 Purdue Boilermakers (2-0 SU, 2-0 ATS) vs. Notre Dame Fighting Irish (2-0 SU, 0-2 ATS)
Date/Time: Saturday, September 18th, 2:30 PM
Where: Notre Dame Stadium, South Bend, IN
TV: NBC
Point Spread: PUR + 7 / ND - 7 (Bovada)
Over/Under Total: 58.5
The Purdue Boilermakers head two hours north to take on the Notre Dame Fighting Irish Saturday afternoon in South Bend. The two teams played each other every year from 1946-2014, but this will be their first matchup since taking a seven-year hiatus in the series. Notre Dame holds a decided all-time advantage with a 58-26-2 mark against the Boilermakers, which includes a current streak of seven victories in a row.
NO RELATION
Purdue finds themselves with an undefeated record heading into the week thanks to early victories against Oregon State and UConn. A lot of their success can be tied to their 18th ranked passing offense led by sophomore quarterback Jack Plummer (not related to Jake), who on the season has completed 73% of his passes while throwing six touchdown passes and zero interceptions. The Irish defense has struggled allowing big plays through the first two weeks of the season (four plays over 60 yards so far in 2021 after allowing just four over 60 from 2018-2020), and how much Plummer can exploit that surprising weakness could be a major variable on Saturday in whether his Boilermakers can pull off the upset.
RINGING THE BELL
Plummer's favorite target on the Boilermakers' offense is undoubtedly wide receiver David Bell, who has continued his success from the last two seasons that saw him win Big Ten Freshman of the Year in 2019 and follow that up with first-team all-conference honors in 2020. This season, Bell has caught nearly a third of Plummer's completions with 14 receptions through their first two games to go along with 255 yards and three touchdowns. Getting into the endzone is clearly one of Bell's better skills, having scored fourteen touchdowns in his last fourteen games. After Bell, the next best option for Plummer is sophomore tight end Payne Durham, who has an impressive 11 catches for 174 yards and three touchdowns through his first two games of the season. Much like Bell, Durham has been on a scoring streak of his own, having scored in five straight games going back to last year and putting up ten touchdowns overall through the first fourteen games of his college career.
HORVATH OFF THE PATH
Purdue ended last year with the 124th ranked rushing offense in the country and hasn't started that much better this season, coming in at just 105th so far despite playing with the lead for most of the year against lower-tier competition. Their chance of making any real improvement took a major hit on Saturday when they lost starting running back Zander Horvath for 1-2 months after he broke his leg against UConn. The team is now expected to lean on sophomore King Doerue to handle the lead role, and he has done well enough so far, averaging 4.8 yards per carry and scoring one of the teams' two rushing touchdowns on the season. Freshman Dylan Downing will back up Doerue, and due to the lack of depth behind him, can count on seeing enough touches to make an impact if he can take advantage of the early opportunity. Any of the three will be looking to end an NFL streak of inferiority that has seen no Purdue back get selected in the draft since 1998.
More Picks: Auburn at Penn State Pick ATS
D-LINED UP FOR SUCCESS
The strength of the Purdue defense is upfront on the line, with junior George Karlaftis the leader of the group and looking like a future star in the making and lined up for a 1st round selection in the 2022 NFL Draft. Karlaftis and the rest of the team will undoubtedly be looking forward to taking advantage of easily the biggest weakness of the Notre Dame team, their offensive line, which have already lost their top two left tackles to injury after losing four starters in the offseason. Toledo was able to provide ample pressure on the Irish, who have been sacked ten times already on the season, and the Boilermakers will likely follow a similar attacking game plan in attempting to duplicate the Rockets success.
Karlaftis is certainly not alone on a defense that ranks 11th in scoring through the first two weeks, with the back seven anchored by the team leader in tackles linebacker Jaylan Alexander, cornerback Corey Trice and safety Cam Allen, the team leader in interceptions with two and the only returning Boilermaker player to record an int a season ago.
PAIR UNDER PRESSURE
Notre Dame will go with their two-quarterback system of Jack Coan and Tyler Buchner on Saturday against the Boilermakers. With the issues surrounding the offensive line, Coan and Buchner will hope the coaching staff will have adjusted from last week where they seemed to avoid a quicker passing attack to offset the turnstile play in front of the quarterbacks, and instead of putting Coan in frequent pocket collapsing situations that hampered the offense. It will be imperative to do that this week with Karlaftis and the Purdue defensive line bearing down on them, and while Buchner may be able to buy himself time with his footwork, they both need either improved coaching and/or offensive line play if they want to survive Purdue this week and the heart of their schedule that immediately follows of Wisconsin, Cincinnati, Virginia Tech, USC and North Carolina, all of which will be coming off of a bye week before playing the Irish.
RUNDOWN
The lack of an offensive line has clearly affected their Irish running game as well, with both Kyren Williams and Chris Tyree struggling to find any sort of consistency on the ground. Neither is averaging over 3.5 yards per carry, though thankfully, both have been able to contribute in the passing game, with Williams and Tyree both having scored through the air and combining for 15 receptions in the seasons' first two games. Considering the left tackle position is going to be a work in progress for the next couple of months, it will be up to the lead back Williams to make his own plays happen. There is certainly a lot of room for improvement, glaringly spotlighted by the fact that the Notre Dame rushing offense ranks 105th in the country after closing out last year at 24th.
WHO WILL BE THREE
Tight end Michael Mayer and wide receiver Kevin Austin Jr. continue to remain the quarterback's top WR/TE options, but unfortunately, after those two, no one else on the team has more than four receptions. With the issues upfront, the Irish will need to alter their offensive game plan, and for them to succeed past their gauntlet of games over the next two months and even just the next two weeks against Big Ten competition, they are going to need someone else to provide some consistency. Braden Lenzy, Joe Wilkins Jr., and Avery Davis are amongst the best bets to do just that.
THE FINAL DECISION
Notre Dame has won at the wire two weeks in a row and now come into Saturday with major question marks on the offensive line while having to face an undefeated Boilermaker team looking to go 3-0 to start their season for the first time since 2007. Purdue has also been a lively underdog of late under head coach Jeff Brohn, having won 9 of the last 19 games they were 'dogs in (five of which they were getting seven or more points) and also posting 17-4 record against the spread in their last 21 games as a road underdog. Even with all that being said, I am still backing Notre Dame this week with the line currently just seven points. Purdue held on to beat Oregon State in week one, and some luster is taken off their 35-0 victory last Saturday considering how horrible UConn football is. The loss of Zander Horvath makes their already one-dimensional offense that much weaker. If the Irish can focus on the Boilermakers only weapon in David Bell, it would go a long way in preventing the opposition from building any sort of momentum. I expect Kyle Hamilton and the Notre Dame defense to do just that and, by games' end, come away with a much-needed win and cover against Purdue.
Mike's Pick to Cover the Point Spread: Notre Dame -7
100% REAL CASH up to $300

USE BONUS CODE:
PREDICT100