Rice Owls vs. USC Trojans Point Spread Winner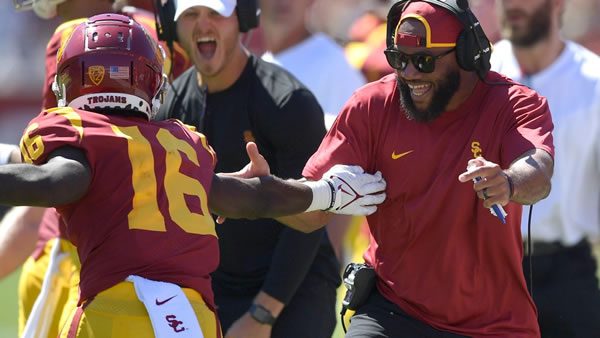 Rice Owls (0-0 SU, 0-0 ATS) vs. USC Trojans (0-0 SU, 0-0 ATS)
College Football Week 1
Date and Time: Saturday, September 3, 2022 at 6PM EDT
Where: Los Angeles Memorial Coliseum, Los Angeles, California
TV: PAC-12 Network
Point Spread: RICE +35/USC -35 (BetOnline)
Over/Under Total: 64
The Rice Owls come to the LA Coliseum on Saturday to battle the USC Trojans in week one of the college football season. Frankly, it's not the most-competitive matchup, and even the image of the Rice Owls being on the Coliseum field against the Trojans doesn't look quite right. Granted, the Trojans aren't the mighty powerhouse at the moment that they've been before, but Rice is a bottom-end Conference USA team facing the hardest of road trips into hostile territory in a game where the best they can hope for is not to get completely run out of the building.
Setting the Table
Rice head coach Mike Bloomgren runs a nice honest program where the kids respond well to him, but last season's 4-win campaign represented his highest win total in five years at the helm. Most damning for the purposes of this matchup is some of the royal beatings suffered in their more-difficult games out of conference. While able to be plucky even in most of their difficult conference games, the matchups where they are out of their wheelhouse have generally gone very poorly. They really need to somehow catch an apathetic USC team that doesn't feel challenged and is working on things as they are in a state of flux. This matchup offers minimal promise for the Owls, but it coming in week one against a USC team lacking continuity maybe offers some promise that wouldn't otherwise exist.
Lincoln Riley takes over as the USC head coach and brings with him that high-octane offensive attack. Guys want to play for him, as evidenced with the transfers of running back Travis Dye, WR Jordan Addison, and many others. While USC didn't thrive overall last season, their offense was in good working order, especially over the second half of the season. Add in Oklahoma transfer QB Caleb Williams, who joined Riley in the exodus to LA, and the prognosis for the USC offense is looking pretty good. Williams was one of the best in the country last year over the last two months of the season. With some nice stuff to work with, including Biletnikoff winner Addison, things could get exciting this season for Southern Cal.
Granted, the continuity isn't there yet with the Trojans. A ton of transfers are incoming, including former Sooners recruit WR Mario Williams. He joins Addison and existing talent in Tajh Washington, Gary Bryant, and Kyle Ford to give Williams a wealth of potential options. Travis Dye, who only seems like he's been in the college ranks for a decade, gives them a shifty presence in the backfield. Stanford transfer Austin Jones offers another option. The pieces are there. What they need to have happen is see some transfers and added experience bring an inconsistent offensive line around to speed so this can all really stick.
Achilles Heel for Trojans
For quite a while, the USC "D" has undermined a lot of the good work on the offensive side of the ball. Last season, it was hard for some to even notice the offensive strides made by the Trojans with all the slapstick occurring on the other side of the ball. It was hard not to notice how quickly former Oklahoma defensive coordinator Alex Grinch turned things around in Norman, as he is also part of the new Oklahoma West that has settled into South Central LA. He will have his work cut out for him. But there is talent in place, especially up front. And the big recruiting and transfer acquisitions were not all reserved to offense, as some exciting new talent could manifest on defense this season.
How the USC defense performs this year will play a big part in how they do, considering the strength represented on their offense. That's more of a big picture scenario. On a more-micro level, the defense we've seen recently for USC doesn't instill much confidence when laying five touchdowns. They never came close to putting that kind of a beating on any team last season and only won a miserable four games, hence all the sweeping changes.
More Picks: Boise State at Oregon State Week 1 Spread Winner >>>
Contrasting Perspectives
It's a bit easy to defer to USC in this spot. They had an offseason that offers hope. All the transfers, a good young coach, and the recruiting—it's hard not to be hopeful. The fact remains that you're asking a four-win team from last season to cover a 35-point spread with a defense that, when last seen on the field, was among the worst in the conference. They allowed points in gobs, could make no impactful plays, and if looking for a key third down stop, you better keep looking because it's not going to happen.
Take the Leap of Faith
Again, the sight of Rice in the Coliseum running around with those funky uniforms doesn't hit the eye right. It won't look like they even belong there, and I think the game will follow suit. How far USC goes this season and whether the defense can turn it around and the coaching and new talent can manifest isn't a slam-dunk. It might not be this season. But I don't think Rice can bring any of these shortcomings about, as this will be something we maybe see down the road in tougher spots. With a new cast and looking to make a good first impression, I suspect the Trojans do the Owls ugly in week one. I'll take the Trojans.
Loot's Pick to Cover the Point Spread:
I'm betting on the USC Trojans minus 35 points.