San Diego State Aztecs vs. Utah Utes Point Spread & Free Pick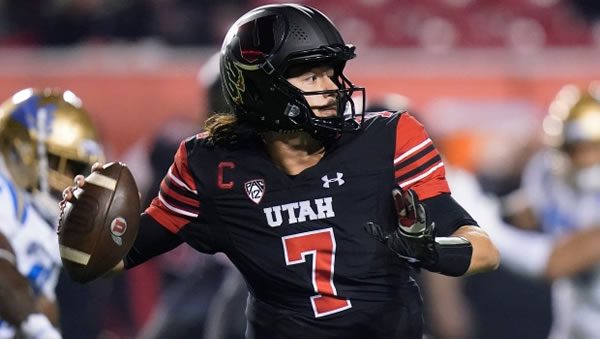 San Diego State Aztecs (1-1 SU, 0-2 ATS) vs. Utah Utes (1-1 SU, 1-1 ATS)
College Football Week 3
Date and Time: Saturday, September 17, 2022 at 10PM EDT
Where: Rice-Eccles Stadium, Salt Lake City, Utah
TV: ESPN2
Point Spread: SDSU +21/UTAH -21 (Bovada - Check out their live betting platform! It's incredible!)
Over/Under Total: 50
The San Diego State Aztecs come to Salt Lake City on Saturday to face off with the Utah Utes in what should be an interesting night game from Rice-Eccles Stadium. Following a minor upset loss to Florida to open their season, Utah got a get-well win against easy-pickings Southern Utah on Saturday, drubbing their FCS opponents, 73-7. Now they get another chance this week at home against a more-respectable opponent in the Aztecs. Following a rough start to the season, the Aztecs got off the mat and delivered the win on Saturday with a 38-7 victory over Idaho State. Can they make a run in this spot, or will the Utes hold down the fort at home? Let's break it down!
Better Spot for Utah
Despite being favored slightly on the road, the Utes were in foreign territory for their first real test of the season against Florida. They came back to Salt Lake City following that setback, one that likely dashed their dark horse chances of making it to the CFP. Playing an SEC team on the road wasn't their best look. At home against the Aztecs should look a lot different. There is only so much to take away from a throttling of Southern Utah, but one could still tell that they had been spoken to and showed up a little more on-point this week.
On Saturday, we saw Cameron Rising precise with his arm, hitting targets with impunity all over the field. We saw familiar targets getting hit in the end zone, with Dalton Kincaid catching two and Brant Kuithe hauling in one. We saw a cabaret of different backs sharing carries out of the backfield, as the Utes' running game really got cranking on Saturday. Lead back Tavion Thomas ran in two TDs, with Jaylon Glover also finding the end zone twice. After seeing their offense stall late against Florida with their "D" wilting late, it was promising at least to see both sides of the ball in fine working order as they settle in for this key homestand.
Food for Thought
Harkening to prior results can lead one astray. But let's not forget the Aztecs' 33-31 overtime win last season over the Utes at home. The Aztecs' then-quarterback and the run-game laid it on thick against this Utah bunch and could be equipped to do similar this week despite not showing it through two games. Utah did well to try to curb the upset win with a spirited comeback where they scored two TDs late to force OT before coming up short in the end. But it's something to think about for those inclined to look at Utah as the up-and-coming Pac-12 team ready to lay it on the lower-key Mountain West Aztecs.
There are still reasons to think that this go-around might be different for the Utes. This one is at home, which comes with certain conditions that the boys in San Diego might not be used to in week three. And not that the Aztecs will be defined by how well they faired against Pac-12 teams when it's all said and done; falling 38-20 to Arizona in the opener was a bad look. The long-winless Wildcats really had their way with the Aztecs. And now the Aztecs take to the road to battle a Pac-12 team that actually wins, and they're really going to need to show something they haven't through two games, or it's going to be tough.
Big Spot for San Diego State
Again, SDSU will be looked at for how they do in the Mountain West. Starting the week after this, they go into a long patch of conference play, and getting mauled twice before even beginning MWC play isn't the best appetizer. There have been some personnel changes in key positions, with the transfer of former Virginia Tech QB Braxton Burmeister. With 159 yards through two weeks, it's not like he's knocking anyone's socks off. Certain players are doing better than others on offense, but the overall roles are murky, with no one really taking the lead. Add into the equation the apparent disappearance of the rigid defense that buoyed their recent run of respectability, and it's not clear if this is a snap-back spot for a team that beat Utah last season or if the Aztecs are really all that close to the same bunch we saw in 2021.
Take the Home Favorite
This is a tough spot to assess. Both teams were in difficult out-of-context spots to begin the season and came up short in games you don't want to go overboard in holding it against them. Then last week, they both handily beat FCS opponents where it's hard to gain a worthwhile evaluation. It leaves an up-in-the-air feeling for this game. On the one hand, you want to rely on how well the Aztecs matched up with the Utes last season in an underdog role. I just have the feeling that the Utes are closer to being where they need to be heading into this spot. A lot of questions remain after two games about the Aztecs' offensive viability in what is a tough road spot against a team whose defense would be rounding back into more-typical form. I'll take the Utes in this one.
Loot's Pick to Cover the Point Spread: I'm betting on the Utah Utes minus 21 points. You can make Utah a -1 favorite by plugging them into a massive 20 point college football teaser at Wagerweb Sportsbook!
CFB Big 10 Total of the Year *13-2 Last 15!*

21-4 last 25 plays overall! On a BIG 13-2 run in my last 15 college football selections. Clients have been cashing in BIG. This Big 10 Total of the Year is all set for this coming Saturday. This is a big 4 star rated selection. Grab this Big 10 Total of the Year winner and join this hot streak!