San Diego State vs. BYU Pick ATS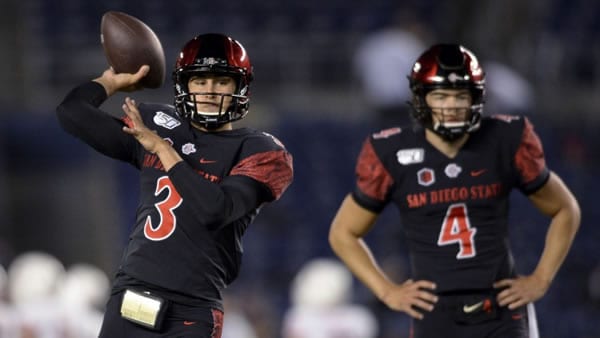 San Diego Aztecs (4-3 SU, 4-3 ATS) vs. BYU Cougars (9-1 SU, 6-3-1 ATS)
College Football Week 15
Date and Time: Saturday, December 12, 2020 at 10PM EST
Where: LaVell Edwards Stadium, Provo, Utah
TV: ESPN2
Point Spread: SDSU +15/BYU +15 (Compare the top sportsbooks - Reduced juice is better than ANY bonus you can get! It's the gift that keeps on giving!)
Over/Under Total: 50.5
The San Diego State Aztecs come to Provo for a Saturday night showdown with the BYU Cougars. The Aztecs did well last week, getting the win and cover at home against Colorado State on Saturday, 29-17. After two losses in a row, it was a needed development for a team that has taken a step back this season. The Cougars had it much worse on Saturday, seeing their unbeaten record fall to the wayside in dramatic fashion to fellow-unbeaten Coastal Carolina, 22-17. A final Cougars play was stopped just short, and now the Cougars are left to pick up the pieces. Who can get it done this week?
Clues From Last Season?
These familiar rivals met around the same time last season, albeit amidst very different conditions. For one, BYU wasn't near the team they are now, having stockpiled wins all season. Meanwhile, the ten-win Aztecs team from last season hasn't flashed the same kind of form much this season at all. For what it's worth, the Aztecs stymied the Cougars in San Diego, winning 13-3. Zach Wilson couldn't convert a somewhat prolific aerial day into many points, with turnovers being the main culprit. SDSU moved the ball deliberately, as the Aztecs' defense was also huge on the day. Both defenses made a lot of plays, and the Aztecs would like something similar this week. They will have to do it against a BYU team that has really improved in a lot of ways.
BYU's Headspace
Last Saturday has to be a bitter pill to swallow for the Cougars. In a hastily-thrown together game, they decided to take on Coastal Carolina to boost their profile as an undefeated team that wasn't altogether respected at just number-12 in the CFP rankings. And after a season chock-full of madness, where their schedule was sometimes thrown together on the fly, to come up short like that might have a deflating impact that the Aztecs can seize upon in an effort to at least keep this one in the ballpark.
It just didn't work out against Coastal Carolina, a good team they had to play in a really foreign road-spot for the Cougars. Wilson and RB Tyler Allgeier both had good games, though each turning the ball over didn't help. Dax Milne had a good game, and it was in many ways a typical BYU performance—just muted. Wilson didn't really see the entirety of the aerial-game turn over, and a defense that usually makes a lot of big plays and is very disruptive was only effective in spots. It's only fair to wonder if the Cougars have run out of gas. It has been a great season for them, and they deserve big credit for turning this around. But the uphill battle of the whole season, the lack of respect, and the aimlessness of it all just might be catching up—at least mentally.
More Picks: Navy vs. Army Point Spread Pick >>>
Can the Aztecs Do Anything About It?
Despite a 29-point output on Saturday, the Aztecs' offense didn't actually score a touchdown, with a kick and punt return going for a TD, along with five field goals. On the road in this setting against a good team, how bankable is this San Diego St. offense? They were working with a very inexperienced QB in Jordon Brookshire on Saturday, and if not for the special teams' explosions, it would have looked really ugly. The offense appears rudderless, and they now deem to have some personnel disarray with former starter Carson Baker getting the hook and banged-up leading rusher Greg Bell getting just one touch on Saturday.
But they do have some spark on special plays, as we saw on Saturday, with BJ Busbee and Jordan Byrd, a pair of game-changers. The Aztecs also have a good kicker in Matt Araiza. There is ample playmaking on defense, with Darren Hall having made a pick in his last three games. After having an awful game against the Aztecs last season, Wilson will be facing a pass defense that has given up very little through the air so far this season through seven games.
The Aztecs' defense has been pretty solid all around, allowing an average of just 16.3 points a game this season. It is a unit that still has a lot of people from the group that stuffed BYU last season. And if the Cougars' offense does, in fact, have a lack of wind in their sails, it could come out in this spot. Even good Mountain West teams like San Jose State and Nevada have struggled to put points up against the Aztecs, and it won't be easy for the Cougars in that regard. The BYU defense might be an even bigger concern for a San Diego offense that isn't very good at all. But this is not an SDSU defense that is likely to get run over, and if the Aztecs threaten to cover the spread, it will be this side of the ball that will be largely responsible.
Take the Points
Granted, the landscape has changed dramatically since last season's win for the Aztecs. At root, they're not as good, the Cougars are a ton better, and this one is in Provo, at night, where the Aztecs will feel cold, unlike what they've seen all season. However, while I don't think the Cougars will deliver a clunker here, they probably already peaked this season. I see a game where there aren't a ton of points, as the Aztecs' defense keeps them in the ballpark for a cover.
Loot's Pick to Cover the Point Spread: I'm betting on the San Diego Aztecs plus 15.5 points. Bet your SDSU pick at +35.5 by inserting them into a massive 20 point college football teaser found at Wagerweb Sportsbook!
Get $60 of FREE member picks & predictions
(NO commitments. NO Credit Card. NO Salesman.)