Saturday Night Clash: Betting Preview & Picks for Notre Dame vs. Duke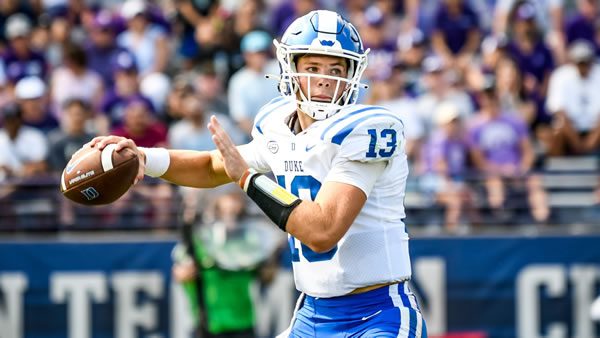 Notre Dame Fighting Irish (4-1 SU, 3-1-1 ATS) at Duke Blue Devils
(4-0, 3-1), 9/30/23
When: 7:30 pm ET Saturday, Sept. 30
Where: Brooks Field at Wallace Wade Stadium
TV: ABC
Point Spread: ND -5.5/DUKE +5.5 (Bet parlays? Be sure you're getting the best parlay odds!)
Total: 52
Matchup Overview
The Notre Dame Fighting Irish (4-1) are set to face off against the Duke Blue Devils (4-0) this Saturday, September 30, 2023, at 7:30 pm in Durham, NC. Notre Dame comes in as a 5.5-point favorite, with an over/under set at 52 points.
Last Game Performances
Notre Dame came up short against Ohio State, losing 17-14. Despite the loss, they covered the spread and managed to put up 351 total yards against a formidable defense.
Duke, on the other hand, bulldozed UCONN in a 41-7 victory. Covering the 22-point spread, Duke's offense amassed 322 total yards, while the defense allowed just 203 yards.
Key Statistics Breakdown
Offensive Efficiency
Notre Dame: Points/Play 0.566 (No.11), Yards/Play 7.3 (No.6)
Duke: Points/Play 0.572 (No.10), Yards/Play 6.3 (No.26)
Both teams are efficient offensively, but Duke edges out Notre Dame slightly in points per play.
Defensive Prowess
Notre Dame: Opp Points/Play 0.125 (No.3), Opp Yards/Play 4.0 (No.4)
Duke: Opp Points/Play 0.236 (No.22), Opp Yards/Play 4.4 (No.21)
Notre Dame has the defensive upper hand, but don't discount Duke's solid performance this season.
Turnover Margin
Notre Dame: TO Margin/Game -0.6
Duke: TO Margin/Game -1.25
Duke has the better turnover margin, which could be pivotal in this matchup.
Rushing Metrics
Notre Dame: Yards/Rush 5.58, Rush Yards/Game 198.80
Duke: Yards/Rush 5.65, Rush Yards/Game 200.50
Both teams have potent rushing attacks, but Duke slightly edges out Notre Dame in terms of yards per rush and total rushing yards per game.
Final Verdict
Alright, folks, let's put on our big-boy pants and make a decision. My money's on Duke +5.5 for several key reasons:
Defensive Matchup: Both teams have rock-solid defenses, but Duke's defensive stats are particularly impressive, especially considering they're the home team.
Turnover Game: Duke's better turnover margin could turn out to be the game-changer here.
Rushing Attack: Duke's ground game is a tad better, which could be crucial in a close game.
Home-Field Advantage: Duke is 7-1 ATS in its last 8 home games, a non-negligible factor.
Recent Form: Duke's recent performance shows a 3-1 ATS record and a 4-0 straight-up record, indicating they're in top form.
So there you have it. I'm laying my chips on Duke +5.5. Bet wisely, and may the odds be ever in your favor.