SEC Title Odds & Predictions for 2022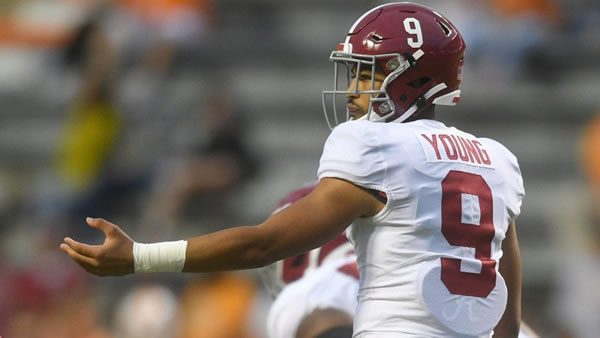 Picking the SEC champion hasn't seemed like much of a challenge since Nick Saban showed up in Tuscaloosa. Ever since Saban became Alabama's coach, the SEC West champion has dominated the East in December in Georgia, winning 13 of the past 15 titles. Only Florida in 2008 and Georgia in 2017 have managed to break the West's stranglehold on the crown, a complete reversal of the 1990s when Florida and Tennessee had a lock on the league title.
Why has the West been so dominant? Everyone in the West knows they're competing with Alabama and Saban every year, guaranteed. Hence, the West champion over the past 15 years is always either Alabama (nine times) or a team that beat Alabama (three each for Auburn and LSU). Conversely, Georgia and Florida have had an almost unquestioned dominance of the East, as those two have represented the East nine times in the past 11 years. Kentucky has improved, and Tennessee seems to finally be coming out of a long stupor, but for the most part, the East doesn't prepare teams, as well as the West does, making the SEC West champion almost automatic in this spot.
Of course, the bookmakers know that, which means that there's not exactly any value on Alabama. If you're taking the Tide to win the SEC title game, you're paying juice for a bet that's not going to pay until December, and the Tide might not even get there. That's obviously awful value, so we'll take a look at some other top bets to make to win the league that might produce a bit more of a return.
Best Bet Besides Alabama: Georgia, +150
It's pretty hard to see a way that Georgia doesn't find its way to Atlanta, so you're basically backing last year's national champions to run through the SEC East and then get the job done when it matters most. You could do a lot worse than getting plus money on Georgia to win one game, especially with Stetson Bennett back and Georgia returning tight end Brock Bowers and three starters on its offensive line.
Plus, the Dawgs' schedule couldn't have turned out much better if Kirby Smart had been invited to the league offices to hand-pick his opponents as a reward for winning the national championship. They get Tennessee and Auburn between the hedges, they drew a favorable matchup out of the West in Mississippi State, and they've had no problems winning at South Carolina or Missouri in Smart's tenure. About the only matchup that could be even slightly tricky is a Nov. 19 trip to Lexington to face Kentucky, but the Dawgs have won seven straight in Lexington and should be fine there too.
So, where could this go wrong? Three possibilities: First, the Dawgs' defense is young and untested as opposed to the juggernaut that didn't give up more than 17 points to anyone but Alabama. Second, defensive coordinator Dan Lanning left to become Oregon's head coach, and the Bulldogs open with the Ducks, which could lead to a crisis of confidence if Lanning uses his knowledge of Georgia to spring a Week 1 surprise. Finally, the Dawgs still have to beat Alabama or someone else out of the West for the SEC title. That's not impossible, but it's also no easy task. Note: To pay the absolute lowest price for this pick, head to BetAnySports (They also let you bet games at -105 instead of -110! HUGE value!
Best Value Play: Arkansas, +5000
Sam Pittman has done a great job so far in Fayetteville, and the schedule has some favorable qualities to it. The Razorbacks don't play Georgia, Kentucky, or Tennessee out of the East, they don't travel to Alabama, LSU, or Mississippi, and they only have to leave the Natural State once until Oct. 8 for a neutral-site game with Texas A&M. Plus, the Razorbacks bring back an accurate and quick passer in KJ Jefferson and four starters on the offensive line.
There are a lot of questions here. They need a wide receiver to replace Treylon Burks, and they need more out of their deep running back corps to make up for all that they lost on defense. Arkansas is either going to have to get tough in its front seven (which might be a front five when all is said and done, as the Hogs like to play with five to six defensive backs) or get ready to try to win a fair amount of high-scoring games. It's doable for an offense of this caliber (hello, Mississippi), but it's a very difficult thing to try to do. Still, Arkansas at +5000 without going to Tuscaloosa is much better value than Texas A&M at +1600 when the Aggies do have to go to Tuscaloosa.
Best Longshot Play: Mississippi, +6600
Yes, Matt Corral traded in his red for the black of the Carolina Panthers, but the Rebels' offense shouldn't completely fall apart. Lane Kiffin remains an excellent offensive mind and should have no problem getting something out of Jaxson Dart or Luke Altmyer at quarterback. Four starters also return on the offensive line, and like Arkansas, the Rebels don't go to Alabama. They do have to play Kentucky out of the East, which has become a tricky matchup, but that game's in Oxford and should be winnable.
This is more of a bet on Lane Kiffin's ability to do work in the transfer market. If his new pieces work out, the Rebels will be a dangerous threat to win the SEC West. If they don't, they'll be lucky to reach a bowl game. But considering a $5 lottery ticket on Mississippi would cash at $330 if they can pull it off, there is more than enough to like about the Rebels to take a small chance on them.
Team to Avoid: Alabama, -140
Let's be fair: there are a lot of reasons to back Alabama to win the SEC. The Tide have the reigning Heisman winner in Bryce Young coming back, their linebackers are outstanding, and they have the best coach in the game. And yet, there aren't enough reasons to back them to win the SEC at this price. The wide receivers are a huge question mark after losing John Metchie and Jameson Williams, and nobody stepped up to fill the void against Georgia when the Tide lost both of them to injury in the playoffs. The line is merely good, not great, as the Tide replace both offensive tackles from last year.
To top it off, last year's Alabama team was honestly a little fortunate to finish the year ranked in the top four. The Tide barely escaped what turned out to be a horrible Florida team and played out one-score wins over LSU, Arkansas, and Auburn last season, and they have to go to both LSU and Arkansas this season. The LSU trip is particularly tricky, as it comes right before facing Mississippi in Oxford, which means there are a few landmines on this schedule. Plus, the Tide are likely to face Georgia anyway if they reach the SEC title game, which means you're probably not going to do much worse than -140 in that situation. There's little reason to tie up your money for three months on Alabama at -140 when you're probably going to be able to get the Tide at -200 or better in the SEC title game.
Overall Pick: Georgia, +150
If you're not taking the Tide, you almost have to pick Georgia, especially given that the Dawgs are getting plus money here despite having the easier division. Florida is likely to improve but is a long way behind Georgia, Tennessee is closing the gap but must go to Athens, Kentucky can't stop Georgia's ground attack, and the less said about South Carolina, Missouri, and Vanderbilt against the Dawgs, the better.
There's one more thing to like about Georgia: Alabama isn't in Georgia's heads anymore. In previous years, the Bulldogs looked scared when facing the Crimson Tide, as if Kirby Smart didn't really believe that he could beat his former boss. That's gone now, and Georgia isn't going to be scared of anything after going to Indianapolis and winning the national championship against Alabama. That makes the Bulldogs the most sensible play to win the SEC. Bet your SEC conference winner predictions for FREE by taking advantage of a 100% real cash bonus on your first deposit of $100 to $500 when you use bonus code PREDICTEM at Betnow Sportsbook!