Stanford Cardinal vs. California Golden Bears Pick ATS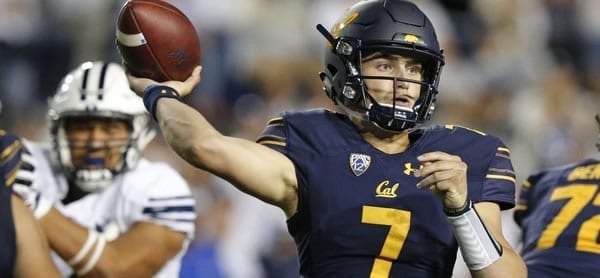 Stanford Cardinal (7-4 SU, 6-4-1 ATS) vs. California Golden Bears (7-4 SU, 6-4-1 ATS)
College Football Week 14
Date and Time: Saturday, December 1, 2018 at 3PM EST
Where: Memorial Stadium, Berkeley, California
TV: Pac-12
Point Spread: STAN -2.5/CAL +2.5
Over/Under Total: 48.5
The Stanford Cardinal come to Memorial Stadium in Berkeley for a week 14 Pac-12 showdown with the California Golden Bears. It's not much of a road trip, with Stanford about an hour from Cal and it should be a well-contested game between these 7-4 teams. Both teams have won two in a row, but the similarities end there. In what has been a wild and wooly Pac-12 this season, each season's path to this spot has been very different. I like the Cal Bears to get the cover in this spot. Here's why:
Cal's Strong Finish
After a 3-0 start, Cal appeared to be spiraling downward when they lost their first three conference games. Following a 30-point home loss to UCLA of all teams, a lot of people were shoveling dirt on the 2018 Golden Bears. Not so fast. They have now won four out of five, beating USC and Colorado in their last two games. Their only loss in this stretch was a narrow defeat to a really good Washington St. team. And they even beat the Huskies a month ago, who went on to win the division.
Making it more impressive in a sense is the role-reversal we've seen from Cal. In recent seasons, they have been a team that was known for a high-power offense that relied on a high-wire aerial act, with a defense that served as mere window dressing. This season we see a team that is almost all-defense. They held Washington and WSU to 29 combined points in consecutive weeks—a startlingly-low total. And against USC on the road and Colorado, the "D" also shined and allowed Cal to finish the season strongly. This has to be a concern of Stanford backers, with the Cardinal unable to run the ball this season and the need to depend on an aerial game that might be facing the toughest secondary they've faced all season, with the exception of Washington.
Stanford: On Again/Off Again
A 4-0 start had Stanford ranked in the top ten. A lot of people were surprised at the fast start, with a lot of potential hangs in the fence not materializing early. Then suddenly, all the preseason talking-points used to project that Stanford wouldn't be a contender emerged. They would go on to lose 4 of their next five games. Losses to Notre Dame and Utah were lopsided. They did a little better in losses to Washington and WSU, but the losses started stockpiling. They did close the season with two straight wins, though beating Oregon St. and barely beating UCLA in a shootout, 49-42, in their last game, hardly suggests a prime Stanford outfit.
On defense, we saw a Stanford secondary with almost no one fulfilling their potential. They have really been awful, and even QB Chase Garbers and a moribund Cal aerial-attack should have their moments. Last week, this Stanford "D" gave up 466 yards to UCLA QB Wilton Speight, someone who almost never puts up big numbers. And even if they've been stout against the run in spots, that could easily just be a case of teams having so much aerial success that they neglect their own ground-game.
Against Cal's newly-stout defense, Stanford also faces a litany of issues. With injuries and a line that struggles big-time, the Stanford run-game has been woeful. This would be a weird time for that part of their offense to improve. Aerially, they have more to offer with KJ Costello and receivers JJ Arcega-Whiteside, Kaden Smith, Trenton Irwin, and others, but even that part of their game has sagged in recent weeks. We've seen Costello becoming more pick-prone over the course of the season. That's bad news with Cal ball-hawks like Jaylinn Hawkins, Traveon Beck, and Ashtyn Davis, who have combined for a ton of plays this season.
Same Record but Different Headspaces
Both teams enter this game at 7-4, but there is a lot behind those records. After a 4-0 start and a high ranking, Stanford has landed here with a thud. Nothing is invigorating about being completely out of contention with nothing to play for other than a barely-perceptible upgrade in a bowl game. Cal, meanwhile, is in the midst of a rebuild that is going well, with a change of philosophy going over well as illustrated by a strong finish to the season. You have two teams with different perspectives, with Stanford maybe looking for the finish line in a deflating season, while Cal has to be feeling pretty good about being here after how hopeless they looked to start their conference schedule.
Concerns for Cal
Granted, Cal has made gains this season, especially late. But their offense is often times stuck in the mud a bit. The Stanford secondary has been pretty bad lately, but it's not like Cal lights it up aerially, ranked as one of the worst passing teams on the whole west coast. Garbers can scoot nicely with the ball, as can RB Patrick Laird, but it's not an electric run-game. In the event that Stanford puts up points, being that they do in fact have weapons, Cal will need to find some answers on offense. Before putting up 32 against Colorado last week, they had gone under 16 points three games in a row.
Take the Points on the Home Underdog
After Cal was able to beat Washington and with how well they have finished the season, this spread is like a small gift. Stanford hardly seems to be in good enough form to be rated a favorite in this spot. Cal gets this at home, is in a good place mentally, and has a lot going for them right now on both sides of the ball. In the end, I see a close game where it's going to feel good to have the points and a team with a more-positive overall headspace. I'm taking the Cal Bears.
Loot's Pick to Cover the Point Spread: I'm betting on the California Golden Bears plus 2.5 points.