Syracuse Orange vs. Notre Dame Fighting Irish Pick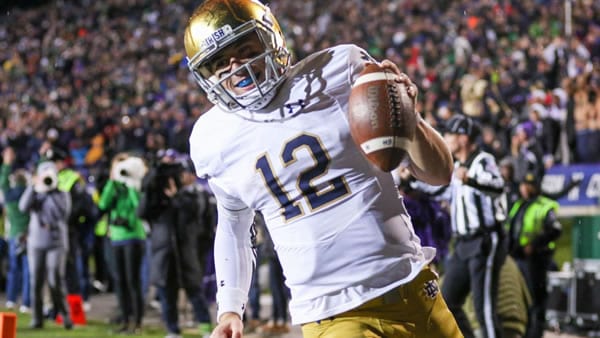 Syracuse Orange (1-9 SU, 5-4 ATS) vs. Notre Dame Fighting Irish (9-0 SU, 5-4 ATS)
Date/Time: Saturday, December 5th, 2:30 PM
Where: Notre Dame Stadium, South Bend, IN
TV: NBC
Point Spread: SYR +34 / ND -34 (Bovada - BEST live betting on the planet! + 50% Bonus!)
Over/Under Total: 52
In a bookend battle of the ACC standings, undefeated Notre Dame plays host to the bottom-dwelling Syracuse Orange on Saturday afternoon in South Bend. The Fighting Irish hold a 6-3 edge in the all-time series, including three straight wins over the past five years, with the most recent a 36-3 shellacking at home in 2018.
TITLE PATH
Notre Dame comes in off a big win against North Carolina, which was their last legit roadblock (just Syracuse and Wake Forest remain on schedule) before an eventual rematch with Clemson in the ACC Championship game. The Irish are currently listed as a five-point underdog in future spreads against the Tigers, but with a win already in hand against them will certainly have the confidence to pull the upset again.
BOOK REPORT
Quarterback Ian Book continued his turnover-free play against UNC a week ago and has now gone eight straight games without throwing an interception and has just one on the entire season. He has also been able to make a consistent difference on the ground and has a streak of seven in a row with at least 40 yards rushing to go along with six running touchdowns and 12 passing. He still exhibits certain traits like happy feet that may affect his ability to play at the next level, but for the Irish, he continues to be precisely what they need at the quarterback position.
KYREN KYRUN
The Notre Dame running game ranks 16th in the country. The biggest reason for their success is sophomore back Kyren Williams, who on the season has rushed for 901 yards and 13 total touchdowns to go along with an additional 21 receptions for 235 yards through the air. Last week against UNC was the fifth time this season that Williams has scored multiple touchdowns in a game and the fifth that he has eclipsed the 100-yard mark. Williams should play less than usual against the Orange, with the Irish likely playing with a big lead as the game progresses, which would allow backups Chris Tyree and expected to return from injury C'Bo Flemister more of a chance at on the field action this Saturday.
More Picks: Texas A&M at Auburn Predictions >>>
SCORING DROUGHT
Amongst the receivers and tight ends, there are four options that Books relies on more than any, Javon McKinley, Michael Mayer, Avery Davis, and Ben Skowronek. McKinley is the team leader in catches and receiving yards and has especially come on as of late with 21 receptions for 378 yards in his last four games. He is still looking for his first score of the season but has an excellent chance to do this weekend against a lackluster Syracuse defense. Freshman tight end Michael Mayer looks to be a future star in the making but has been held out of the end zone in four straight and, like McKinley, will have a good chance to end that drought on Saturday. Davis has also had similar issues as well with just one touchdown in his past seven games, while Skowronek will look to spread his out with his fives scores coming in only two games.
ORANGE CRUSHED
The 2021 season has been nothing short of a disaster for the Syracuse Orange, with just one win going into the month of December and sitting alone in the ACC basement. This will be the seventh time in the past eight seasons that Syracuse will end things with a winning record, and a lot of the reason why has been their terribleness in conference play, with two or fewer ACC wins in now six of the last seven seasons. They have also gone just 7-23 in their previous 30 road games, so ending their season in South Bend against a Notre Dame team that has won 23 straight at home sets up for a perfect exclamation point of awfulness on their 2020 campaign.
REX UP NEXT
After an injury to original starter Tommy Devito, senior Rex Culpepper has since taken over as the lead quarterback for Syracuse. He is coming off his best statistical game of the year with 254 yards passing, two touchdowns, and zero interceptions a week ago. Unfortunately, he also had the dumbest play of the college football season when he spiked the ball to kill the clock, on 4th down, with the team down by just seven against NC State in the final seconds. How he responds this week after that egregious error will go a long way in deciding how he is remembered on campus after his time in Syracuse is done.
BEST OF THE BUNCH
The top weapon on the Syracuse offense is undoubtedly wide receiver Taj Harris, who is fourth in the ACC in receptions (50) and fifth in yards (665) while also posting five touchdowns on the season. Anthony Queeley and Nykeem Johnson are the second and third options for Culpepper, with each having opposite streaks of scoring success. Queeley has just one score on touchdown reception on the season and hasn't gotten into the endzone in five games in a row, while Johnson is undoubtedly making the most of every opportunity with three of his six total receptions over the past five weeks going for scores.
EMPTY BACKFIELD
Syracuse running back Sean Tucker is the clear focal point of the backfield with 525 yards on the ground to go with three rushing touchdowns. Unfortunately for the Orange, Tucker is the only player on the team to run for a touchdown this season, and to make matters even worse; he is questionable for this weekend's game due to an injury. How effective he can even be if healthy enough to play against the Irish run defense remains to be seen, especially considering how he is coming off a career-worst performance against NC State where he rushed 16 times for just 18 yards.
STATISTICAL IMBALANCE
The Notre Dame defense ranks in the top ten in scoring, rushing, and total yards allowed per game, while the Syracuse offense ranks 118th or worse in scoring, rushing, and total yards per game. The Irish offense is 16th in rushing, 22nd in scoring, and 24th in total yards and gets to look forward to an Orange defense that ranks 100th against the rush, 102nd in total yards allowed per game, and 83rd in scoring. Syracuse has been outgained in every game this year by at least 137 yards and on average by 200 yards per, while Notre Dame has outgained every team they played by an average of over 160 yards per game.
THE FINAL DECISION
The point spread this weekend is the highest of any game involving a ranked team. While it is easy to be frightened of giving that many points, history may be on the side of the favorite this week as Syracuse has lost by a large margin (at least 28 points) ten times since 2016 while Notre Dame has won by that amount fourteen times since 2017. Against an already anemic offense possibly without one of their best weapons and with a defense that struggles in general but especially against the Irish strength of the run, I expect Notre Dame to score early and often against an overmatched Orange squad and essentially name the score on their way to a blowout win and cover at home in South Bend.
Mike's Pick to Cover the Point Spread: Notre Dame -34. Make your ND pick/spread -14 by inserting them into a massive 20 point NFL football teaser at BetAnySports! They also offer -105 odds on sides and totals! HUGE savings!
100% REAL CASH up to $300

USE BONUS CODE:
PREDICT100