UAB vs. Jacksonville State Odds & Predictions 9/1/21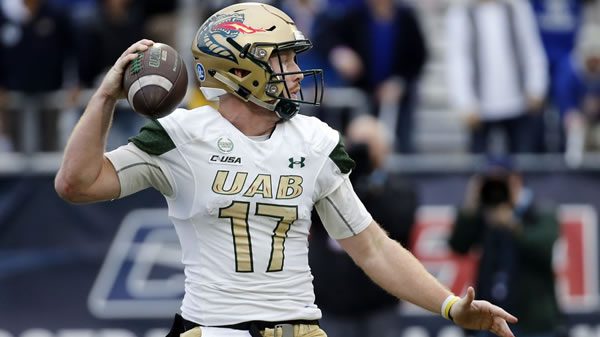 Alabama-Birmingham Blazers (0-0 SU, 0-0 ATS) vs. Jacksonville State Gamecocks (0-0 SU, 0-0 ATS)
When: Wednesday, September 1, 7:30 p.m.
Where: Cramton Bowl, Montgomery, Ala.
TV: ESPN
Point Spread: UAB -14.5/JVST +14.5 (Find the best bonus >>> Don't re-up at your book for nothing! You can double your deposit with a 100% bonus at one of these books!)
Total: O/U 47.5
Outlook
Well, there's one way to get on television if you're an FCS school: play at a time when literally nobody else is on the field. Jacksonville State isn't just any FCS team. This is a solid program that believes it can compete for the FCS title this year after reaching the quarterfinals in the spring. The Gamecocks start the year ranked 10th in the nation in FCS and upset Florida International a season ago, so this is far from your average FCS pushover.
But the Gamecocks might be a tad out of their element in this one, as there's a rather noticeable difference between last-place Florida International and defending C-USA champion UAB. The Blazers' losses last season were more than respectable, giving Miami a reasonable fight, losing in double overtime to Louisiana Tech, and taking a four-point loss to a Louisiana squad that knocked off Iowa State.
That said, UAB might not be where you want to place your money as far as the spread goes, as the Blazers have a terrible habit of disappointing bettors in the non-conference unless they're facing South Alabama. Over their past nine non-conference games, the Blazers are just 2-7 ATS, and both wins came against the Jaguars. Otherwise, they've struggled to either stick close to Power 5 teams or put away lesser opponents. In their past two seasons, they've opened with FCS opponents and failed to cover both times, beating Central Arkansas by ten as a 20.5-point favorite and escaping Alabama State in a 24-19 win after being favored by 39 against the Hornets.
How the Public is Betting the UAB/Jacksonville State Game
In most cases, they aren't. Most sportsbooks don't even have this game up yet, so there's not been any chance for this game to move. If you can find this game at your book, what you see is what you get in this situation.
Injury Concerns
UAB:
UAB reports no injuries.
Jacksonville State:
Quarterback Zion Webb (ACL) and running back Uriah West (shoulder) are both out.
When UAB Has the Ball
The big key for the Blazers is figuring out the backfield. Right now, Tyler Johnston appears to be the guy behind center, as he was the quarterback who guided UAB in the C-USA title game, an upset win over Marshall. Johnston didn't throw as often as No. 2 option Bryson Lucero, but he was far more accurate when he did, tossing seven touchdowns against one interception, compared to eight picks from Lucero.
But the running back position is a question mark, as all-time leading rusher Spencer Brown is finally gone from Birmingham. Freshman Dewayne McBride showed a lot of promise last season, and transfer Lee Witherspoon from Mississippi State should see a fair amount of touches as well. It's tough to compare Jacksonville State's defense to an FBS defense, but the Gamecocks have proven difficult to score against on the FCS level, holding 11 of their past 12 opponents to 20 points or fewer.
More Picks: Michigan State vs. Northwestern ATS Prediction
When Jacksonville State Has the Ball
There's a common saying in football that if you have two quarterbacks, you have none. In Jacksonville State's case, it's completely inaccurate because two quarterbacks have been absolutely necessary for the Gamecocks to keep their offense moving. As an FCS program, the Gamecocks had the option to play in both the fall and spring and opted to do exactly that, using a different quarterback in each part of the season after injuries got in the way.
Before suffering an ankle injury against Florida International, Zerrick Cooper was the signal-caller for the Gamecocks, and astute ACC fans might remember him as Kelly Bryant's backup in the season before Trevor Lawrence arrived in Clemson. Cooper watched during the spring as Zion Webb led Jacksonville State, but now he's fully healthy and ready to lead an offense that needs some receivers to step up. Dave Russell is the only proven pass-catcher on the roster after tight end Trae Barry transferred to Boston College. The shoulder injury to Uriah West leaves Josh Samuel as the only experienced back in the backfield. Throw in that UAB has held opponents to 22 points per game or less over the past three seasons, and you can see why this game has a reasonably low total.
Betting Trends
Again, it's not easy to tell much from the Gamecocks' most recent games, as they've been playing FCS competition, but this isn't a team that usually sees many points. Of their final 11 games last season, seven of them went under 50 points, and each of their games against a team with a winning record saw them score 27 points or fewer. UAB was also stern on defense, holding six out of nine opponents to 24 points or less in 2020. Over the Blazers' past 37 games, the opponent has scored 27 points or less 29 times, and of the eight exceptions, three were Power 5 opponents (Texas A&M, Tennessee, and Miami), and one needed double overtime to do it.
Weather Report
Whether they play on Wednesday will be decided by whether the field is actually still playable on Wednesday night. Heavy rains are likely to soak Montgomery on Monday, with Hurricane Ida bearing down on the Gulf Coast. Montgomery is far enough north that it's likely the game will still be played, but high humidity from Ida's remnants and temperatures at 79 degrees could make for some uncomfortable conditions.
Dan's Pick to Cover the Spread
For me, the best bet is the under, as I'm not sure that Jacksonville State will move the ball well enough to put up enough points to go over this total. I'm a little skittish on UAB given the Blazers' horrible history of covering against lesser foes, especially with that hook, but given that this is the only game the Blazers will play in Alabama until October, I think they'll be motivated to put up a good showing.
I'll take the Blazers for the cover. Important Note! Where are you betting your college football picks this season? Does your bookie allow you to lay only -105 on sides and totals instead of the standard -110 you've been laying your whole life? OF COURSE HE DOESN'T! There's only a couple of places on the web that offer discounted odds! Why lay -110 when you could be laying only -105? Take five minutes and gift yourself reduced odds sports betting (all sports) at BetAnySports! You'll be so glad you did!