UCLA Bruins vs. Arizona Wildcats Odds & Pick 10/9/21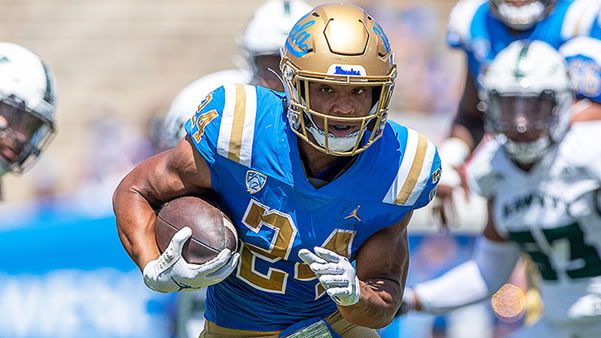 UCLA Bruins (3-2 SU, 3-2 ATS) vs. Arizona Wildcats (0-4 SU, 2-2 ATS)
College Football Week 6
Date and Time: Saturday, October 9, 2021 at 10:30PM EDT
Where: Arizona Stadium, Tucson, Arizona
TV: ESPN
Point Spread: UCLA -16/ARIZ +16 (Betanysports - Offers 20 point college football teasers and the ability to wager on games at -105 odds instead of -110!)
Over/Under Total: 61.5
The UCLA Bruins come to Tucson for a Pac-12 showdown with the Arizona Wildcats on Saturday. The Bruins' topsy-turvy season continued last week with an upsetting 42-23 loss to Arizona State. After beating Stanford the previous week, they were looking for better. But came up well short. The Bruins look to make it better against the other Arizona this weekend. The Wildcats have dropped 16 straight and lost again in their last game to Oregon, 41-19. It's a big number this week. Who can cover the spread in Arizona Stadium on Saturday?
Not as Easy as it Looks
Even with a highly imperfect UCLA team, they've shown enough where a lot of people would sign off on a non-competitive game against the perennially struggling Wildcats. Nothing seems to help, whether it's the coaching staff, the opponent, or anything. Even against Northern Arizona, with a chance to get a "W," they folded. It's a disheartening situation, to say the least. But let's not overstate the case.
While losses to San Diego State and NAU were indeed ugly, Arizona has covered in their two toughest games, losing a one-score contest to the top-ten ranked BYU Cougars and then covering against the Ducks in their last game. Against Oregon, it was just 24-19 Ducks in the 4th quarter before Oregon laid it on heavy at the end. Still, it shows they can be steadfast and remotely competitive in these types of games.
This conference is as wacky as it gets. Results that go opposite of what common sense dictates come down on a weekly basis in the Pac-12. So having Arizona managing to be halfway-competitive with the Bruins at home hardly qualifies as odd in this context. And even if UCLA is a program on the rise with wins over LSU and Stanford, they're still not a team where you feel great about laying a ton of points on the road in conference necessarily, regardless of how long the opponent's losing streak may be. And Arizona having last week off doesn't hurt them, either.
Can the UCLA Defense Deliver?
After a fast start to the season, we've seen some iffy sequences from the UCLA defense. Giving up 40 in an upset loss to Fresno was rough, but they rebounded on the road against Stanford, being again reverting to old form on Saturday with a 42-point allowance to the Sun Devils. While it's not the guaranteed liability they have been in previous seasons, and they have already played well against better offenses than Arizona's, it's still a definite hazard when needing to cover a number this large.
Even a down Arizona team will have some burners and a certain level of offensive upside that defies their W-L record. QB Gunner Cruz has flashed an accurate arm since coming into the fold. Running backs Drake Anderson and Michael Wiley can put together some big plays. And guys like Stanley Berryhill, Tayvian Cunningham, and any number of different speedsters can jump up on Saturday against a UCLA "D" that is not above having such things happen. Still, there is something to be said for this being a possible get-well week for a Bruins' defense that is as good as it's been under the Kelly era.
More Picks: Get this weekend's picks from the pros >>>
Has More Balance Cost the Bruins' Their Explosiveness?
At some point, in order for Kelly to be successful in reviving the long-dead Bruins' program, he was going to have to get away from that all-offense/no-defense approach we saw in his first few seasons. We see a team trying to be more normal, but they may lose a little edge by somewhat standardizing their offensive approach. Dorian Thompson-Robinson is a fine QB and a developing dual-threat weapon. But sometimes, the run game around him isn't all that electric. And having your most productive ball-catcher often being a tight end speaks to how good Greg Dulcich is but also attests to a lack of consistent receiver play outside of Kyle Phillips. They have good backs in Brittain Brown and Zach Charbonnet, but no one who can dominate from week to week.
The road to respectability has been a long one for the Bruins, and they're still on their way. A win over LSU and against a Stanford team that beat Oregon the following week are good signs. It shows they have it in them. But interspersed within those hallmark moments will be a lot of bumpy patches, especially within this conference. No one gets a smooth road in the Pac-12, but it's going to be especially so for the Bruins, even in their improved form.
Take the Points
It's not easy to get behind a team like Arizona, even with the spread. That number can disappear quickly amidst a hail of miscues and substandard play. An effervescent UCLA team is definitely a threat to make that happen. I just think that the losing streak, the loss to Northern Arizona, and the improvement of UCLA paint an image that is too stark in nature and not quite to the extent this spread suggests. I think a rested Arizona team can put up enough big plays and show enough effort to keep this one from getting too out of hand. I'll take Arizona and the points in this one.
Loot's Pick to Cover the Point Spread: I'm betting on the Arizona Wildcats plus 16.5 points. Bet your week 6 college football picks for FREE by taking advantage of a 100% REAL CASH bonus on your first deposit of $100 to $500 at GTBets!