UNLV Rebels vs. Nevada Wolf Pack Prediction 10/29/21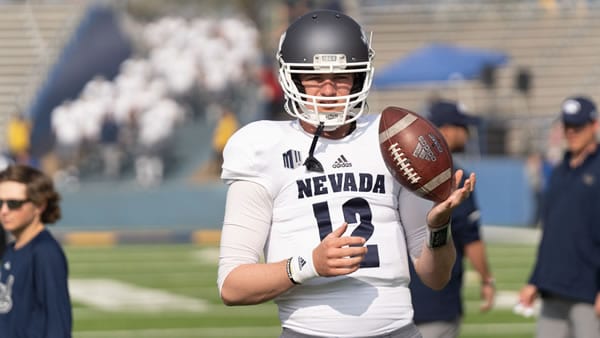 UNLV Rebels (0-7 SU, 5-2 ATS) vs. Nevada Wolf Pack (5-2 SU, 5-2 ATS)
College Football Week 9
Date and Time: Friday, October 29, 2021 at 10PM EDT
Where: Mackay Stadium, Reno, Nevada
TV: CBS Sports Network
Point Spread: UNLV +21/NEV -21 (Betanysports - You can bet on games at -105 odds there!)
Over/Under Total: 58.5
The UNLV Rebels take on the Nevada Wolf Pack on Friday in a Mountain West Conference showdown from Reno. It's been tough going for UNLV, coming out on the wrong side of a 27-20 loss to the San Jose State Spartans on Thursday. At 0-7, they make the in-state trip to Reno to face a Nevada team also coming off a loss, dropping a 34-32 squeaker in a big game to Fresno State when a late two-point conversion failed. They look to regroup this week at home, as they are still in the running for some big things in the Mountain West. Who can cover the spread this week at Mackay Stadium?
Ignoring Records
The image of UNLV can't be a good one in anyone's mind. They are winless this season at 0-7, failed to win a game last season, and haven't seen victory yet in this decade. You take people's already-low opinion of the UNLV program and then add into the equation this latest miserable run of games and it's easy for the mind to go running with the story. You have a Nevada team that is irritated about last week now at home in a tough place to play, with an incoming UNLV team that seems overturned on its back.
And to some extent, that's not a totally unfair appraisal. We just need to recalibrate how we look at teams in this situation. We're not program evaluators and we're not guided by being fans. At 5-2 against the spread, the Rebels have been a solid choice at the betting windows. And when getting points and the public opinion so low, the ability they have to keep games from getting out of hand counts for a lot. So sure, they're a program that is not in any way thriving. But they are as a betting choice and that creates a difficult balance to negotiate for bettors looking to get on this game.
Matchup Difficulty for UNLV
While they are scrappy in certain areas, pass-defense is not a strength for the Rebels. Week in and week out, opposing quarterbacks operate with impunity against this Rebels' secondary. Luckily for the Rebels, they haven't been going against the more-aerially-inclined teams, but they are this week. Nevada QB Carson Strong has put up 1248 passing yards in his last three games. With reliable ball-catchers and a varied attack led by Cole Turner, Romeo Doubs, Melquan Stovall, Justin Lockhart, and others, one would have to assume a beleaguered UNLV secondary would be facing too tall of an order this week.
While we did see the Nevada defense get exploited last week, they can play well in spots and it's not as if the UNLV offense is strong in any given area. But that sometimes-porous Nevada run-defense could be OK in this spot. Vegas running back Charles Williams is the Rebels' most reliable offensive player, but as a whole, this is a team that struggles massively at times in moving the chains. On one sideline is Carson Strong, rolling strong with 20 TD passes. No UNLV passer has more than 2 touchdowns.
Silver Lining for Vegas?
Twice already this season when UNLV looked outmanned against better teams in this conference in Utah State and Fresno, they were able to keep both at one-score games, covering the spread by a combined 25.5 points. That seems to be a common thread with UNLV. They don't do anything well on an offense that is tied up in knots. Their defense would appear to be helpless against an aerially-inclined offense. Then you look up and the score doesn't really reflect that. They only failed to cover in a game that was out of their wheelhouse against Iowa State and last week against San Jose, which they missed by one point. In other words, maybe this is a team that has enough of an underlying scrappiness and level of effort to render some of these damning matchup components less resonant.
Granted, gaining offensive foothold has been elusive for the Rebels. But Nevada is an offense-first team. Their defense doesn't thrive against the run and especially the pass. That doesn't mean the UNLV offense has smooth-sailing ahead of them in this matchup, but the opportunity is there to get Williams untracked a little bit, with enough pass-plays to string something together—at least to the point where they can make a run at covering this jumbo spread.
More Picks: Get Horne's Florida State at Clemson Point Spread Winner >>>
X-Factors
A win last week would have put the Wolf Pack in the driver seat in the conference. There are still a lot of big things on the table in season full of opportunities for Nevada. If they won last week, it may have made it easier to buy into UNLV having a better chance in this spot. Coming off the loss and at home, we could be less-likely to see an apathetic Nevada squad, as teams are naturally not always at a fever-pitch going against the winless Rebels. Having not played on the road for nearly a month, will we see UNLV start to drag a little bit as they trudge into Reno, where it should be chilly? Just some food for thought.
Lay the Number
Before we get too caught up in the Rebels' performance against the spread this season, let's also point out that Nevada is also 5-2 ATS. The only time they didn't cover since September was as 28-point favorites against New Mexico State when they won by 27. I see an urgent Nevada squad taking it to a UNLV team that might be due to start fraying at the edges a little bit. That scrappiness that UNLV has shown basically all season is a concern, as is Nevada's defense, but I see the Wolf Pack offense getting enough separation this week to get the win and cover at home.
Loot's Pick to Cover the Point Spread: I'm betting on the Nevada Wolf Pack minus 21 points. Have you seen our college kid bonus? Deposit $25 and get an extra $50 FREE! How to receive this killer offer: Register for an account at Intertops through this special link. Deposit $25, then go to their Special Offers page and enter bonus code ROOKIE200. The extra $50 will show up in your wagering account INSTANTLY!