UNLV vs. Notre Dame Week 8 Best Bet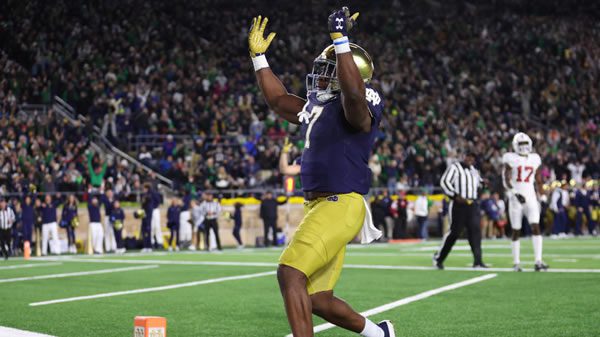 UNLV Rebels (4-3 SU, 4-3 ATS 2021) vs. Notre Dame Fighting Irish (3-3 SU, 3-3 ATS)
Date/Time: Saturday, October 22nd, 2:30 PM
Where: Notre Dame Stadium, South Bend IN
TV: Peacock
Point Spread: UNLV+25 / ND -25 (Wagerweb – You can make UNLV +45 or ND -5 by adding either into a massive 20 point college football teaser there!)
Over/Under Total: 48
In a battle of rare opponents, the UNLV Rebels and Notre Dame Fighting Irish meet Saturday in South Bend for what will be the first-ever game between the two teams in either football or basketball. Any chance of the Irish salvaging relevance out of their season ended with another bad loss a week ago, while UNLV finds themselves over .500 in October for the first time since 2013.
REBEL YELL
It may not seem like a big deal to have a winning record in the second month of the season, but it matters a lot to fans in Las Vegas, considering since joining the Division 1 football ranks in 1976, UNLV has only finished a season with a winning record three times (1992, 2000, 2013). Despite being heavy underdogs against Notre Dame this weekend, the Rebels still find themselves in good shape in getting to their fifth-ever bowl game in school history. Of their four final games, only one opponent (San Diego State) doesn't have a losing record, while the remaining three (Fresno State, Hawaii, and Nevada) occupy the MW-West basement and have a combined record of 6-14.
SOUTH BEND SORROWS
While there is hope in the air on the Rebels campus, it is more so despair and confusion at Notre Dame. Going into the year, the Irish were on a 23-1 run in South Bend and had also won 43 straight against unranked opponents, but with the team losing to both Marshall and Stanford at home, there is a strong possibility that they could end the season out of the top 25 for what would be the 8th time in the last 16 years.
FREEMAN FREEFALL
The biggest question frequently raised regarding Notre Dame's struggles is whether or not Marcus Freeman is going to work out as head coach. He definitely appeared to be the right choice for the job after fraud Brian Kelly bailed for LSU, but Freeman has gone just 3-4 since taking over with some highly suspect losses on his resume. He was a great leader of the defense and unquestionably talented in the recruiting department, but unfortunately, he is trending toward falling into the same category as many coordinators before who didn't make a successful transition to the head coaching position. Though at least Freeman is a highly respectable person who cares about his players and takes responsibility for the teams' struggles, unlike the last former successful coordinator in South Bend, who ended up being one of the biggest head coaching failures in college football history (Charlie Weis).
PASSING PROBLEMS
After three successful performances in a row, the Notre Dame passing game crashed back to earth against Stanford. They have yet to clear 300 yards passing in a game all season, and the team now ranks just 101st in passing yards per game and 100th in scoring. The return of offensive coordinator Tommy Rees was supposed to be a massive boost to the coaching staff and the teams' chances of a successful year as well, but so far, he has yet to find any sort of the same rhythm or consistency that they previously had with either Ian Book or Jack Coan at quarterback. Drew Pyne had a clear off game against Stanford, but he still has an impressive 9/1 TD-INT ratio and 67% completion rate since taking over as the starter, so how much blame can really fall on him and not on the coaching staff is certainly up for debate.
SOLO MAYER
It would undoubtedly help the Notre Dame passing game if they could find any sort of consistent production outside of star tight end Michael Mayer. There is only so much one player can do, especially while dealing with frequent coverage, and Tommy Rees will need to come up with some sort of alternative strategy to either design better plays for Mayer or find a way to get the wide receivers more involved. There definitely appears to be a correlation to winning when Mayer scores a touchdown, as the Irish are 9-1 over his career when he gets into the endzone, and this year finds themselves with a record of 1-2 when he doesn't.
TYREE TROUBLE
Another issue Notre Dame needs to solve is their little league strategy of giving everyone in the backfield the same amount of carries despite the difference in talent. Audric Estime is averaging over seven yards per carry in his last three games and has five of the six rushing touchdowns amongst the backs this season, yet he continues an equal opportunity split with Chris Tyree. The latter hasn't scored a touchdown in over a month and, despite being heralded as more of a receiving option out of the backfield, has just two receptions for -2 yards over his last two games.
INJURY ISSUES
An abundance of players to choose from is not something that UNLV has as an option this week, as their offense is currently ravaged by injuries. Three of their most important weapons (quarterback Doug Brumfield, running back Aidan Robbins, and wide receiver Kyle Williams) are all questionable to play this week, which is not an ideal situation for a Rebels team that has been outscored 82-14 over their past two games.
OFFENSIVE WOES
UNLV's recent point-scoring problems can be directly tied to the injury of their starting quarterback Doug Brumfield. The dual-threat Brumski had an impressive 8/2 TD-INT ratio while also rushing for five touchdowns before getting hurt, and the team has yet to fully recover from his absence. Cameron Friel remains the starter in his place, but how much the backup can pull off remains to be seen, especially with a cupboard getting barer of weapons by the week.
ROBBED OF ROBBINS
The Rebel's running game is in a state of flux as well, with back Aidan Robbins appearing least likely to play of their missing three, and there isn't a whole lot behind him on the depth chart. Robbins is the only running back to score a touchdown either on the ground or through the air this season, and with nine scores total has over 40% of his teams' overall amount of 24. Courtney Reese is the best of the bunch after Robbins and could certainly use some of Robbins' scoring touch, considering that Reese has gotten into the endzone just one time in his last 23 games.
More Picks: Get Ted's Purdue at Wisconsin recommended bet for theri 10/22/22 game'
WHITE AND WILLIAMS
As of Wednesday, it appears as though injured wide receiver Kyle Williams has the best chance of returning against the Irish, which will be a welcome boost for whoever lines up at quarterback. Michigan State transfer Ricky White is the team leader in receptions and yards but shares the tops in scoring with Williams, who immediately would add another reliable option at wideout. If he is unable to go, his last namesake, Nick will likely see an uptick in targets as the Rebels attempt to trade points with the Irish.
THE FINAL DECISION
With the unsurety of the UNLV lineup and complete inconsistency of Notre Dame this season, it's not an easy decision on which side to back this weekend. The Irish have three remaining games against teams ranked in the top 14 (Syracuse, USC, and Clemson) and can ill afford to slip up yet again if they want to have any sort of chance of getting to a half-decent bowl game. The Rebels have covered just twice in their past twelve games, and I can't imagine them being able to trade points with the Irish enough to even make the game competitive or, more so high, scoring, especially if Brumfield is unable to go. The under has hit in the last four Notre Dame home games and is 5-1 in their last six games overall, and I believe the safest and wisest decision this week is to go with that trend continuing and to back the under in the Notre Dame vs. UNLV matchup.
Mike's Pick to Cover the Point Spread: UNDER 48. Bet your Week 8 NCAA football predictions for FREE by scoring a 100% real cash bonus up to $300 by entering bonus code PREDICT100 at MyBookie Sportsbook!
10* CFB Championship! 49-23, 68% Season!
Jack Banks is all-in in tonight's College Football Championship! The Banker swept his NFL yesterday (Won Div GOY) and he's had a 49-23, 68% CFB phenomenal season! Jack won his CFB Bowl GOY (Penn State) and he wraps up the season with win #50! Take it to the bank with Jack Banks!