USC vs. Arizona State Prediction ATS 11/6/21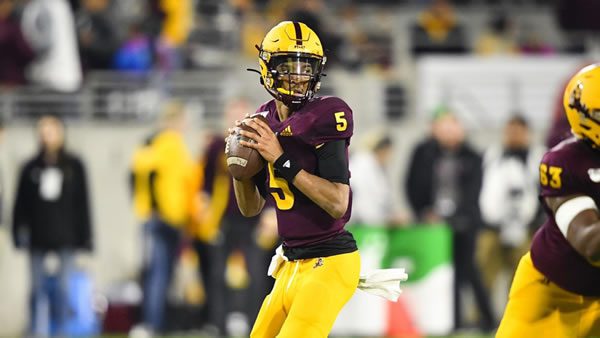 USC Trojans (4-4 SU, 3-5 ATS) vs. Arizona State Sun Devils (5-3 SU, 3-5 ATS)
College Football Week 10
Date and Time: Saturday, November 6, 2021 at 10:30 PM EST
Where: Sun Devil Stadium, Tempe, Arizona
TV: ESPN
Point Spread: USC +8/ASU -8 (SportsBetting.ag - See why they're one of the player's favs!)
Over/Under Total: 59.5
The USC Trojans come to Tempe on Saturday for a Pac-12 showdown with the Arizona State Sun Devils. It took a game against the lowly Arizona Wildcats for the Trojans to get a win last week, ending a prolonged and ugly slide with a 41-34 win. They hope to catch another depreciated opponent in a downward-trending Arizona State team that has hit the skids with two straight losses. A 34-21 home loss to Washington State on Saturday saw the Sun Devils in bad shape, quite a turnaround from the team that started 5-1, coming off three straight conclusive conference wins. Who can deliver in Tempe on Saturday?
Can the Trojans Right the Ship?
At one point, a ranked team at 3-0, it all went south for the Trojans. It has been one kick in the mouth after the next—a midseason firing of the head coach, an ungodly amount of injuries, and a string of ugly losses. They've gone from realistic conference contender to an afterthought that plays competitive games with the long-winless Wildcats. They lost leading receiver Drake London to a bad leg injury in that game, continuing a brutal run of bad luck.
On one hand, the Trojans have managed to stay a notch above the doormats of the division with wins over Arizona and Colorado. But against anyone else, the losses they're suffering aren't even close. Part of you wants to defer to the talent-quotient, a sort of vague assumption that for whatever they're going through, there is still abundant talent on that sideline. After all, the Sun Devils appear to have hit a wall the last two weeks. It sets up to give some hope who might actually fancy the Trojans in this spot.
Sun Devils Losing Steam?
An optimistic view on USC would have to be accompanied with the notion of ASU slippage. And truth be told, when given a window where they could finally make something worthwhile happen, they fell on their face. First was the loss by 14 to Utah in a virtual pick-'em, followed by a 34-21 loss to Washington St. last week as 16.5-point favorites. So those who feel the Sun Devils have started heading squarely in the wrong direction have their reasons. And anyone going with ASU the last few weeks has really been stiffed.
Let's also point out, though, that those losses came with some special circumstances other than Arizona St. just not knowing how to play well anymore. Against a pretty good Utah team, they were beat up a little by a growing Utes' run-game. And against the Cougars, they were undermined by mistakes, as opposed to anything Washington State was able to do particularly well. ASU quarterback Jayden Daniels hasn't played well during this latest stretch. Leading back Rachaad White has disappeared for stretches in games, and a disruptive and stout defense has seen diminishing returns. Against a more-manageable opponent, however, and with a reduction of mistakes, this could be a spot where we see them overcome a rough stretch and get back to adding accomplishments to a season that seemed to have so much promise not too long ago.
More Picks: Get Collin's Michigan State at Purdue Best Bet >>>
What USC Can Do This Week
Even with innumerable team-wide and personnel issues, there is still talent here for the Trojans. Kedon Slovis has been able to air it out to great effect here and there, though his recession this season has been pronounced. Keaontay Ingram has shown livelier legs lately. And there are still difference-makers on defense, though giving up 107 points in their last three games and giving up 34 to an Arizona team that hadn't surpassed 19 points all season certainly paints a dire picture. At this point, they are reduced to flexing whatever talent and juice they have remaining on offense and hope their "D" will not get completely run into the ground in a shootout. Against Arizona and Colorado, it can work. Against upper-half conference teams, though, it seems to be a dicey recipe for success.
This conference is more than wacky enough to justify any stance. A team you might feel is overturned on its back will spring to life when you least expect it. In this case, you actually have a USC team coming off a win, with ASU discernibly slipping. In the Pac-12, this wouldn't even qualify as all-that-surprising. The idea that a still-talented USC bunch can see success against a suddenly-listless Sun Devil squad isn't far-fetched, to say the least. And while it seldom helps to acknowledge the perceptions of those who don't follow the sport closely, since when was USC beating Arizona State any kind of aberration?
Lay the Number on the Home Fave
USC has done well to soldier on despite their season becoming a train-wreck. There are guys out there trying, and the talent is still abundant. Arizona State has done the opposite of taking the bull by the horns in this part of the season. But they're still a team with a hope of achieving something. This stretch has been discouraging, but they're still an intact football operation, albeit while operating at a reduced pitch lately. I see that sort of overall competence being enough to repel what I suspect is a somewhat-broken Trojans' team. I'd look for the Sun Devil run-game to manifest with a better game from Daniels and his line being enough to see ASU through in this one.
Loot's Pick to Cover the Point Spread: I'm betting on the Arizona State Sun Devils minus 8 points. Make ASU a +12 underdog by inserting them into a massive 20 point college football teaser only found at Wagerweb Sportsbook!
Doc's Pac-12 Friday Championship Smash

Doc's Sports is starting this football weekend off on Friday with a strong selection from the PAC-12 Championship Game in Las Vegas. Get this play now as Doc has the key angles that will allow this selection to grab the money in a big way. It is backed by a full report and 50 years of handicapping experience.