Football Pick: Utah State Aggies vs. BYU Cougars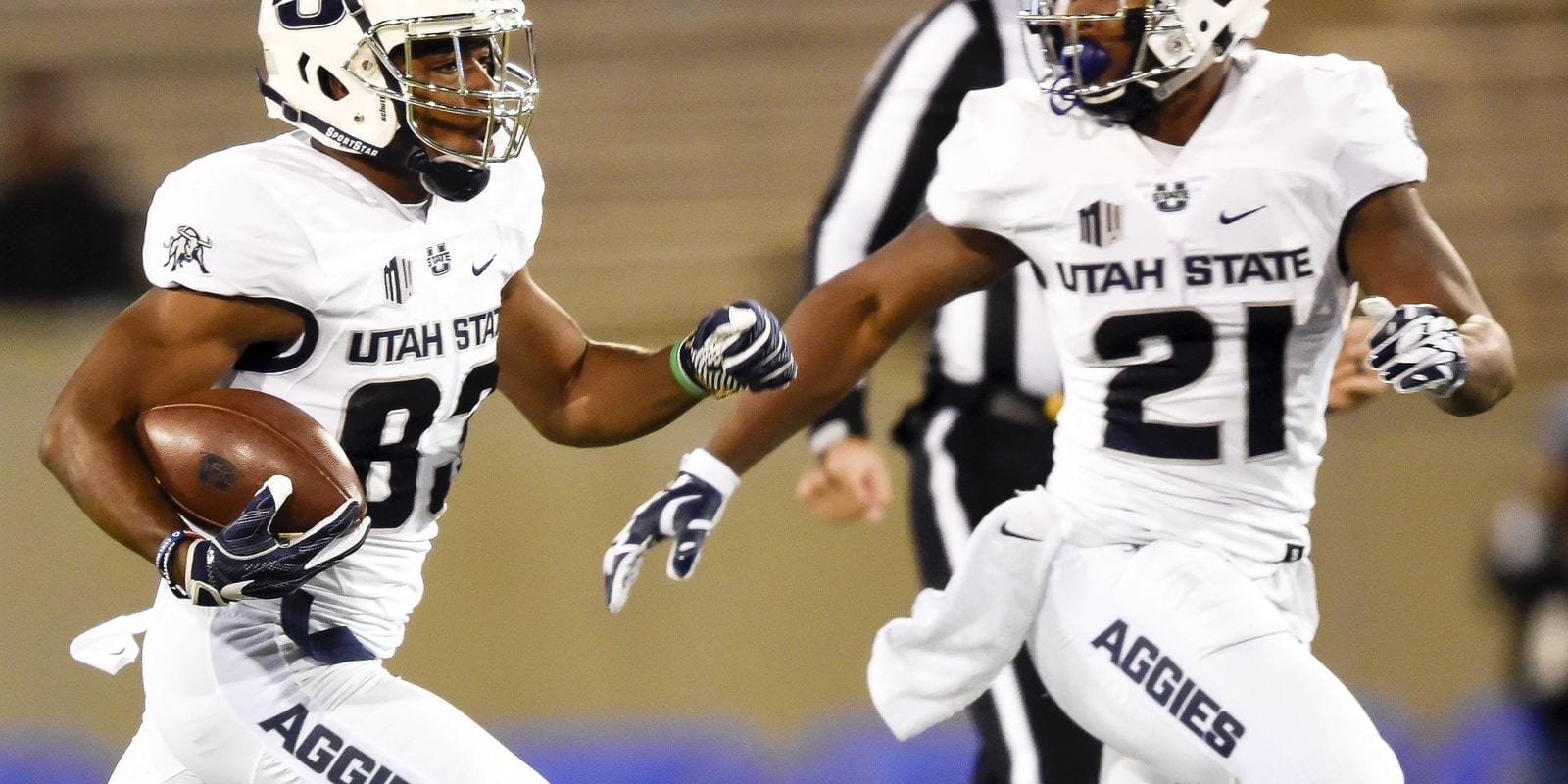 Utah State Aggies (3-1 SU, 4-0 ATS) vs. BYU Cougars (3-2 SU, 3-2 ATS)
College Football Week 6
Date/Time
: Friday October 5th, 2018. 9:00PM (EST)
Where
: LaVell Edwards Stadium Provo, U.T.
TV
: ESPN2
By
: Jay Horne, College Football Handicapper, Predictem.com
Point Spread: USU +3/BYU -3
Over/Under Total: 55
BYU's tenure as a Top 25 team was short lived following a blowout loss to no. 11 Washington last week. The Cougars not only lost to a better football team but they delivered a pretty pathetic performance in the process. For whatever reason, this team has been up and down all year with a plethora of emotions. The Cougars were double digit dogs in the opener against Arizona and scored the outright win. In the next few weeks, the Cougars would then suffer a loss as a home favorite against Cal, bounce back to shock the world as 24 point underdogs in the upset over no. 6 Wisconsin, and then get blown out by 28 points while failing to cover the spread against Washington last week. So perhaps the question this week is not the opponent or matchup, rather which BYU team will show up?
The visiting Utah State Aggies have been more consistent from a performance standpoint. They lost the single game they were listed as an underdog and won the remaining 3 games as favorites while covering the spread throughout all contests (4-0 ATS). The undefeated mark ATS may indicate that this Utah State team has over-performed. Perhaps that notion is true but this Friday's game on the road at BYU will be the Aggies' first opportunity to score a quality win. If this is the team that believes they can challenge Boise State in the Mountain Division, the time to deliver has arrived. Last week's opening conference win over Air Force was a step in the right direction but this BYU program is a better measuring stick of how far this Aggies' group can go in 2018.
Game Flow and Defense - Bet the under
I mentioned earlier that BYU's execution and performance has wavered throughout the year. Normally that is not a reliable indicator in the handicapping world. However, there is good news in the terms of the matchup and the style of play both teams' possess. First, let's start with the obvious. If you have watched either Utah State or BYU play this year, then you are aware that we are not dealing with masterful offensive teams. In fact, the talent level from both offenses is less desirable.
BYU's offense is led by questionable quarterback play from Tanner Mangum who has just 3 passing touchdowns and 2 picks through the first 5 games. Instead, the offense often relies on the rushing attack as their bread and butter. Running back Squally Canada has been the offense's focal point with 335 yards with 5 touchdowns. However, Canada along with several defensive players were banged up in the loss to Washington and are considered questionable for Friday's game. Obviously BYU's offense has not been great this year as they rank 115th in scoring and if Canada is unable to go; they could be in an even tougher position.
The good news for BYU is that their defensive play has been solid and has kept them competitive all year. For Utah State, they have many similarities to BYU. On paper, they have produced more points and produced more offense. In reality, they are very similar to BYU in terms of talent. They do not have overwhelming speed at the skill positions and are primarily a rushing football team. Granted Aggies quarterback Jordan Love has been decent but this offense still revolves around the play of tailbacks Gerald Bright and Darwin Thompson. From a rushing standpoint, this is a tough matchup against BYU's stout defense meaning things are not going to come easy if they come at all. I really expect that to be the case for both offenses throughout Friday night's meeting.
As both offenses lean heavy on the run against defenses in plus side matchups, this sets up for a clock rolling low scored game with traded stops from the defenses. The matchup, game flow, and scenario is simply perfect for a low scoring affair. Luckily, Utah State has produced a ton of points in the last few weeks against inferior competition. The Aggies have scored 175 points combined in their last 3 contest and that has helped elevate the total for this Friday's meeting with BYU. However, rest assured the stylistic matchup and game flow will deviate any potential repeat offensive performances for the Aggies.
Jay's Pick to Cover the Point Spread: Take the under 55 with confidence!
<aside><!-- [et_pb_line_break_holder] --><div class="widget105"><!-- [et_pb_line_break_holder] --><h4 class="cash">Best Sportsbook Bonuses</h4><!-- [et_pb_line_break_holder] --><div class="widgetlist"><!-- [et_pb_line_break_holder] --><div class="col1"><!-- [et_pb_line_break_holder] --> <a href="https://www.predictem.com/out/IntertopsB"><img src="https://www.predictem.com/wp-content/uploads/2018/04/intertops.png" width="" alt="Bovada" /></a><!-- [et_pb_line_break_holder] --></div><!-- [et_pb_line_break_holder] --><div class="col2"><!-- [et_pb_line_break_holder] --><span class="list"><b>50% Cash</b></span><br><!-- [et_pb_line_break_holder] --><span class="list">4x Rollover</span><!-- [et_pb_line_break_holder] --> </div><!-- [et_pb_line_break_holder] --> <div class="col3"><!-- [et_pb_line_break_holder] --><a href="https://www.predictem.com/betting-sites/intertops/"><button class="btn-widget">Review</button></a><!-- [et_pb_line_break_holder] --></div><!-- [et_pb_line_break_holder] --></div><!-- [et_pb_line_break_holder] --><div class="widgetlist"><!-- [et_pb_line_break_holder] --><div class="col1"><!-- [et_pb_line_break_holder] --> <a href="https://www.predictem.com/out/BovadaB"><img src="https://www.predictem.com/wp-content/uploads/2018/04/bovada.png" width="" alt="Intertops" /></a><!-- [et_pb_line_break_holder] --></div><!-- [et_pb_line_break_holder] --><div class="col2"><!-- [et_pb_line_break_holder] --><span class="list"><b>50% Cash</b></span><br><!-- [et_pb_line_break_holder] --><span class="list">10x Rollover</span><!-- [et_pb_line_break_holder] --> </div><!-- [et_pb_line_break_holder] --><div class="col3"><!-- [et_pb_line_break_holder] --><a href="https://www.predictem.com/betting-sites/bovada/"><button class="btn-widget">Review</button></a><!-- [et_pb_line_break_holder] --></div><!-- [et_pb_line_break_holder] --></div><!-- [et_pb_line_break_holder] --><div class="widgetlist"><!-- [et_pb_line_break_holder] --><div class="col1"><!-- [et_pb_line_break_holder] --> <a href="https://www.predictem.com/out/GtbetsB"><img src="https://www.predictem.com/wp-content/uploads/2018/05/gt-bets.png" width="" alt="GtBets" /></a><!-- [et_pb_line_break_holder] --></div><!-- [et_pb_line_break_holder] --><div class="col2"><!-- [et_pb_line_break_holder] --><span class="list"><b>100% Cash</b></span><br><!-- [et_pb_line_break_holder] --><span class="list">20x Rollover</span><!-- [et_pb_line_break_holder] --> </div><!-- [et_pb_line_break_holder] --> <div class="col3"><!-- [et_pb_line_break_holder] --> <a href="https://www.predictem.com/betting-sites/gtbets/"><button class="btn-widget">Review</button></a><!-- [et_pb_line_break_holder] --></div><!-- [et_pb_line_break_holder] --></div><!-- [et_pb_line_break_holder] --><div class="widget-footer"><a href="https://www.predictem.com/best-sportsbooks/bonuses/">See all sportsbook bonuses</a></div><!-- [et_pb_line_break_holder] --> </div></aside>