Utah Utes vs. UCLA Bruins Pick ATS 11/14/20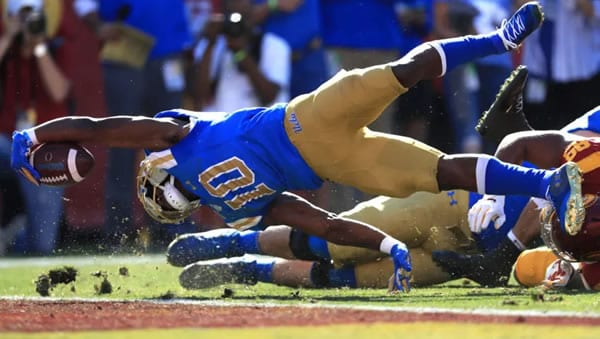 Utah Utes (0-0 SU, 0-0 ATS) vs. UCLA Bruins (0-1 SU, 0-1 ATS)
College Football Week 11
Date and Time: Saturday, November 14, 2020 at 7:30PM EST
Where: Rose Bowl, Pasadena, California
TV: Fox Sports One
Point Spread: UTAH -3.5/UCLA +3.5 (Find the best sportsbooks)
Over/Under Total: 59
The Utah Utes come to the Rose Bowl in Pasadena to take on the UCLA Bruins in Pac-12 action on Saturday. This game was moved from Friday to give Utah more time to recover from some covid-related absences after seeing their first game of the season against Arizona canceled. They look to make their debut against a UCLA team that got on the field last week, losing on the road to Colorado, 48-42, in another typical UCLA shootout where they ended up on the short end. Who can get the cover this week in Pasadena?
Same Old UCLA?
One-week windows can be misleading, but not when they're basically an extension of previous seasons. With Dorian Thompson-Robinson and a nice cast of weapons on offense like Demetric Felton, Kyle Phillips, and rising tight end Greg Dulcich, they can do many good things offensively. We saw it in their first game with DTR throwing for 300 yards and running for over 100 more. He is a dynamic player, seemingly even more solid than he was as a freshman, making the Bruins a truly imperfect team, but a dangerous one, as well.
An ongoing problem for UCLA is a defense that is just out there flailing most of the time. You see opponents almost effortlessly moving the ball down the field against these Chip Kelly UCLA defenses the last few years. Big run plays with chunks of yardage along with splashy pass plays left and right; it's just a big farce how this Bruins' defense plays most of the time. And no matter how many yards DTR and Company compile, this "D" is a liability that threatens to throw their games and spreads into a tailspin. Against a Colorado offense that was working in a lot of new pieces across critical areas, they gave up 525 yards, much of that coming on the ground where the Bruins' have been consistently awful in recent seasons.
Why UCLA Could Be in Trouble This Week
They have a head coach who has thrived in the Pac-12 before on a major level. Kelly is now in year three. And while he has created some offenses befitting a good UCLA team, now is the time for it to start coming together. However, their first game suggested more of the same, and against Utah, that could manifest badly. Utah can typically play some defense, so a UCLA offensive spurt is no guarantee. But with the Utah offense usually a run-heavy unit, how can the UCLA defense hang in there enough to allow the team to compete?
We saw some of that play out last season when Utah smashed the Bruins 49-3 at home. Thompson-Robinson threw a few picks, and the offense was stuck in the mud against a good Utah defense. They ran the heck out of the ball, and Tyler Huntley was well over 300 yards. It's unclear what the UCLA defense can come up with to avoid a similar fate this weekend with a defense that offered no resistance against Colorado last week, until one considers the state of the Utah roster—one that has a lot of youth, inexperience, and has been plucked by player-turnover.
Utah's Challenges for This Week and Beyond
First of all, having your first game dashed because of corona after waiting all this time to get started may have taken some wind out of the Utah sails, particularly for a team trying to work in a lot of new pieces, including a QB, a new backfield, and nine defensive starters. One is perhaps inclined to defer to Kyle Whittingham's recruiting and team-building expertise, but we really don't know a ton about what this Utah team will look like when they hit the field. We do know that they have a solid offensive line to fall back on, but the status of their defense leaves a lot of questions. And for all their faults, unveiling a totally revamped defense against this UCLA offense on the road offers a difficult challenge.
Still, they have dominated the Pac-12 South the last two seasons, and some pieces are still in place. Whether they can maintain their identity as a top defensive team remains to be seen and will play a significant role in who covers the spread this week. On offense, the new starting quarterback, presumably, Cam Rising or Jake Bentley, the South Carolina grad transfer, will inherit their top two receiving threats from last season, Grant Kuithe and Bryan Thompson. But make no mistake, replacing Tyler Huntley, and Zack Moss will be no easy task.
More PAC 12 Picks: Loot's Oregon vs. Washington State Prediction >>>
Questions for Utah
With UCLA's defense being their main drawback, how confident are you laying points on the road with a Utah offense so up in the air? The running back by committee approach might need some time to come around, and they were robbed of that last week. And the best thing that UCLA does, which is put together big scoring drives, is something that Utah might not be able to stop as well as they did last season and beyond. In other words, how solid will Utah be with such an abundance of youth? They have a roster packed with freshmen, redshirt freshmen, and sophomores. Maybe UCLA is a good team to break the team in against, but it might not be easy.
Take the Points
Anyone who has bet UCLA the last few years knows it's very possible that if you check in on what's happening at some point in the game, you might not like what you see on the scoreboard. When the other team is sailing unimpeded up and down the field, you might wonder what you signed up for. Still, with this at the Rose Bowl and UCLA already warmed up a little, they might take it to the Utes' defense a little bit, while maybe being to avoid a free-for-all by a revamped Utah offense. I'll take UCLA and the points.
Loot's Pick to Cover the Point Spread: I'm betting on the UCLA Bruins plus 3.5 points. Bet this game and ALL your Week 11 college football picks for FREE by taking advantage of a 100% real cash bonus on your first deposit of $100-$300 at MyBookie Sportsbook!
100% REAL CASH up to $300

USE BONUS CODE:
PREDICT100