Utah Utes vs. USC Trojans Odds, Trends, Predictions 12/2/22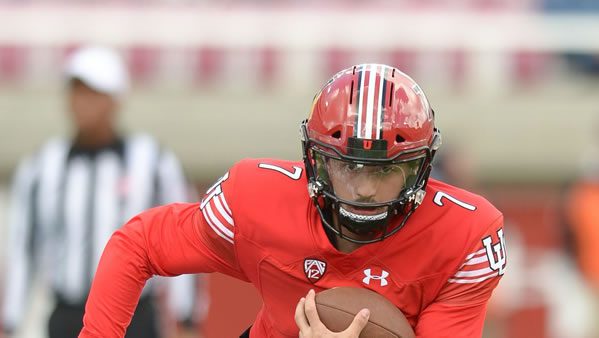 Pac-12 Conference Championship Game
Date and Time: Friday, December 2, 2022 at 8PM EST
Where: Allegiant Stadium, Las Vegas, Nevada
TV: Fox
Point Spread: UTAH +3/USC -3 (Bovada – It's simply the best website to bet on games, bar none!)
Over/Under Total: 67.5
The Utah Utes and the USC Trojans meet in Las Vegas on Friday in the Pac-12 Championship Game. The stakes are high, as the Utes look to defend their conference title from last season, as the Trojans look to avenge their only loss of the season and book a slot in the College Football Playoff. For the once-beaten Trojans, the road to this spot was pretty smooth, with Utah being the more-unlikely party in this contest. This past weekend, they needed a lot of things to shake out for them to end up in this spot. But maybe it was destiny, as these two conference powers look to the rematch with the stakes heightened to a fever pitch.
Setting the Table
On October 15, the Utes handed the Trojans their only loss of the season when Utes' QB Cameron Rising scored the game-winning touchdown and two-point conversion with less than a minute remaining to knock the Trojans from the ranks of the undefeated in a 43-42 thriller. On the one hand, one is inclined to give the Trojans a pass, being that it was their only loss of the season, and one loss in this conference is doing pretty good. In addition, it's not easy playing in Utah, with this one in the more hospitable surroundings of Las Vegas. And it took some late-game drama on a major level to get the win over USC. But they showed they matched up well with the Trojans before, and one should expect a well-contested battle at Allegiant Stadium on Friday.
10* CFB Championship! 49-23, 68% Season!
Jack Banks is all-in in tonight's College Football Championship! The Banker swept his NFL yesterday (Won Div GOY) and he's had a 49-23, 68% CFB phenomenal season! Jack won his CFB Bowl GOY (Penn State) and he wraps up the season with win #50! Take it to the bank with Jack Banks!
Can Utah Do It Again?
With losses to UCLA and Oregon in conference play, Utah won all their other games, with big wins over USC, Oregon State, and Washington State helping to buoy their 2022 title game appearance. They've done it before, and sleeping on a team like this is hazardous. Apathy is also not likely to occur in this spot, with what is on the table for USC if they win and the fact they already lost to the Utes.
Utah can do a lot of things well. Their defense is the real deal, a well-rounded unit that is strong in most areas. Giving up an average of 20 points this season with the offensive powers they have faced is really saying something. With guys like Clark Phillips, III., they get some major playmaking in the secondary. And even if they've been blown up a few times by the more offensively-gifted teams they've faced, it's a strong unit.
The state of the Utah offense and some late-season explosions gives hope that they can hang in there when games become dominated by offense. They showed it the first time against USC with a 43-point output and come into this game having just scored 63 in their last game. With 22 TDs in the air and six more on the ground, Rising has been excellent, leaning upon a deep backfield led by Tavion Thomas, while showing more aerial flair with supreme tight end Dalton Kincaid and receivers Devaughn Vele and Money Parks.
More Picks: Get our K-State vs. TCU Week 14 game analysis plus suggested bet
Theoretical Matchup Edges for the Trojans
We say "theoretical" because, in practice, these edges didn't really manifest the first time these teams played. With Utah more of a running team, it was figured by some that they wouldn't be in the best spot to take advantage of USC's main defensive weakness, which is their secondary. With Rising putting up 415 yards and five TDs, it didn't really play out that way. But in a 43-42 loss, it wasn't all bad news. We also saw USC quarterback Caleb Williams put up five TDs and almost 400 yards in that game. They will be without RB Travis Dye, who was productive in that first game. But against a Utah team that prides itself on defense, the Trojans more or less had their way, even in defeat.
It feels strange to say, given the result of their first game, but Utah isn't a team that would choose an offense-heavy shootout as their preferred method of playing. They want to run the ball, accent it with some aerials, let the "D" do their thing, and see it play out that way. In this setting against this opponent, they're going to have to wrap their heads around the likelihood of a shootout against a team that is maybe a little better this time around, or at least more urgent, and with the stakes more spelled out this time.
It's not right to nitpick Utah's win over USC in an effort to low-rate their chances for this game. They won, and that's the point. They're a threat to win this. They're defending Pac-12 Champions. You don't take things like last-minute comebacks against favored opposition and use it against a team. But still, the last game being in Salt Lake and being a last-second TD with a two-point conversion to boot does give it the air of something the Trojans can bounce back from this week in Vegas.
Lay the Number
Even with the stakes being really high, this is a tough stand to take. Utah just has a way of showing up on a field as a stronger product than what you had previously imagined for whatever reason. Maybe with things like coaching, defense, and a ground game attracting less attention, Utah just slides under the radar. With them needing a lot of stars to magically align last week for them to even be here, they're easy to neglect, even with their previous upset of Southern Cal. That would be a mistake, but I just think the setting and stakes set up for USC to cross the line a nose ahead this week. I'll take the Trojans.
Loot's Pick to Cover the Point Spread: I'm betting on the USC Trojans minus 3 points. Bet your Week 14 college football predictions for FREE by taking advantage of a 100% real cash bonus up to $500 at the web's oldest and most trusted sportsbook when you enter bonus promo code PREDICTEM on the Special Offers page at Everygame Sportsbook! In business since 1983!