Utah vs. Washington State Betting Odds, Insight, Pick ATS 10/27/22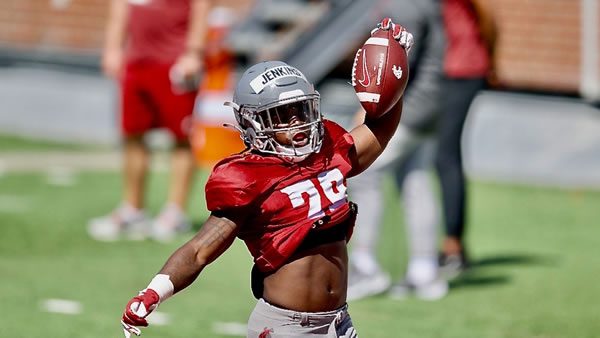 Utah Utes (5-2 SU, 4-3 ATS) vs. Washington State Cougars (4-3 SU, 4-3 ATS)
College Football Week 9
Date and Time: Thursday, October 27, 2022 at 10PM EDT
Where: Martin Stadium, Pullman, Washington
TV: Fox Sports One
Point Spread: UTAH -8/WSU +8 (Bovada)
Over/Under Total: 55
The Utah Utes take on the Washington State Cougars in Pullman on Thursday in a Pac-12 showdown. Both teams had last week off and enter this game relatively fresh. After two straight losses away from home, the Cougars are eager to show their wares on their home field. Their last game, a 24-10 loss to Oregon State, showed a team in a bit of a crisis state in midseason. The Utes had some extra time to ruminate on a win that maybe turned their season around—a gutty 43-42 win over previously-unbeaten USC. Will they keep it going in this spot, or can the Cougars spring the surprise?
Getting a Lay of the Land
Last season, Utah beat Washington State, 24-13, in a forgettable game in Salt Lake City. A Utah pick-six closed it out in a game that was low-scoring until late. A lot of new faces are on both sidelines now, and it's questionable how much that game even means. Washington State definitely benefits from at least being at home on their off-week and getting dug in for this next run of games. After starting the season a promising 3-0 with a win over Wisconsin, they've gone 1-3 in the conference, only beating Cal. They gave Oregon a nice go in a 44-41 shootout loss, but their offense has really gone wayward the last few weeks, coming up with an anemic 24 total points against Oregon State and USC.
Utah has its own issues, and it's worth noting how things seem to shift when they aren't at Rice-Eccles Stadium. When at home, they can beat teams like USC. Away from home, and they lose to teams like Florida and UCLA, which is no disgrace, but there is a disparity. This still looks like one of those winnable road spots for the Utes, with them having shown themselves to be in better form against conference opposition. This kind of arithmetic carries little weight in the Pac-12, but the Utes beat a Beavers team by 26 that just beat the Cougars by two touchdowns. Cherry-picking favorable results for the Utes might not do this matchup justice, but I think it's fair to say we're looking at two different-caliber teams.
100% Free Play up to $1,000 (Crypto Only)
BONUS CODE: PREDICTEM
Advantages for the Cougars
While the Cougars' ability to consistently apply different things is not great, they have shown a high ceiling of play on both sides of the ball. Perhaps some of the ineptitude on the offensive side of the ball has made their defense look worse than it is. That's been an area of more attention after a prolonged spell of the Cougars being a more offensively-geared team. And while they're getting waning returns in that area, a road Utah offense is never a slam-dunk proposition. Could we maybe see the WSU defense take a bigger hand in things this week?
Cougars QB Cameron Ward can catch teams off guard, working with good receiving talent like De'Zhaun Stribling. Pullman isn't an easy place to play, and a Utah team that might be feeling good about themselves after beating USC could get caught off-guard. You'd think Jake Dickert and his staff are firing hard for this spot—a one-shot chance to take a sad song and make it better in a season that has hit the rocks. If Utah is caught looking ahead, this is the perfect spoiler team that can spring one of those upsets that is quite common in this conference.
Get DSan's Thursday night VTech/NC State Week 9 betting analysis and recommended bet
Good Spot for the Utes?
With a lot of their harder work front-loaded this season, the Utes can press their advantage with some winnable conference spots leading up to a showdown with Oregon. This is where they're really supposed to take off, lay these underdog teams to rest, and get a shot at something big. They're not a team built to rest on their laurels or take weeks off mentally. With 415 yards passing against USC and three TD runs, QB Cameron Rising showed he's a force in this conference. It was a statement-making performance, with his late TD and a 2-point conversion run sealing the deal against the Trojans. While usually more of a competent game-manager type, Rising showed a different dimension—that this team can thrive in those Pac-12 shootouts we often see during the course of the season.
After some trying games against the Bruins and Trojans, the Utes' defense might find this to be a good spot to regain some of their momentum. With the other side of the ball humming along, now is a time for things to come together on this side of the ball. Stingy against the pass, this would seem like a spot where that could happen. The Cougars can always deliver offensive fireworks at home, and the time off maybe helped them clear their heads, but I'd look for the Utes' "D" to have their say in this one.
Lay the Number on the Road Favorite
I think Utah will look at their upcoming schedule, especially in relation to the scheduling of their biggest conference rivals, and see this period as a golden opportunity. Washington State is dangerous, but without an identity, as their shift in character is falling flat and is anything, making them less of an X-factor in these underdog spots than they would otherwise be. The Cougars could open things up and try to hang in there a little bit, but by the second half, I think they start running out of answers. A well-rounded Utes team that might be hitting a crescendo offensively doesn't seem like the best fit for Washington State right now. I'll take the Utes.
Loot's Pick to Cover the Point Spread: I'm betting on the Utah Utes minus 8 points.