Virginia Tech Hokies vs. NC State Wolfpack Odds, Trends, Predictions 10/27/22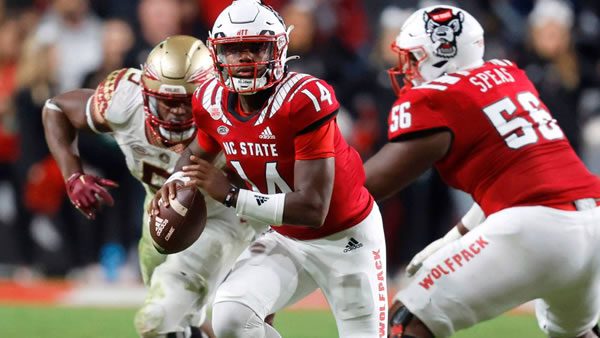 Virginia Tech Hokies (2-5 SU, 2-5 ATS) vs. North Carolina State Wolfpack (5-2 SU, 2-5 ATS)
When: Thursday, October 27, 7:30 p.m.
Where: Carter-Finley Stadium, Raleigh, N.C.
TV: ESPN
Point Spread: VT +13.5/NCSU -13.5
Total: O/U 40.5
Outlook
Are bettors viewing N.C. State as it is, or as what it used to be? The Wolfpack are still giving nearly two touchdowns to Virginia Tech as if Devin Leary is still under center, but Leary's not coming back this season. And with that being the case, State is vulnerable. The Wolfpack still sit 24th in the media rankings because of the work they did before Leary's chest injury, but this team has not proven that it can do anything without him. Jack Chambers did most of the heavy lifting at quarterback in the second half against Florida State and the Syracuse game, but the Wolfpack have zero touchdowns since Leary exited in the third quarter against the Seminoles, hitting field goals on six drives and punting on the other six.
But with three games left at home, a bowl is still possible for the Wolfpack, and Virginia Tech might be the right opponent for State to try and get something going. Year 1 of Brent Pry in Blacksburg has shown that the Justin Fuente era will be no quick fix along I-81. Virginia Tech has dropped four straight games and really hasn't been competitive in any of them except Miami. It's been almost impossible to imagine bowl season without the Hokies, who have played in a bowl in every season since 1993 except the COVID year. But if they don't win at least four of their final five games (possible, as the best team left on their schedule besides the Wolfpack is Duke), they'll miss out on the postseason in a full season for the first time in 30 years.
How the Public is Betting the Virginia Tech/N.C. State Game
The public thinks this is a reasonably cut-and-dried situation, as 62% of tickets are on the Wolfpack. But the line has not budged, suggesting a decent amount of money coming in on the Hokies. The total has ticked up from 40 to 40.5.
Injury Concerns
Virginia Tech:
Wide receiver Stephen Gosnell (undisclosed) and defensive back Dorian Strong (hand) are questionable. Offensive lineman Johnny Garrett (undisclosed), tight end Benji Gosnell (knee), and wide receiver Dallen Wright (undisclosed) are out.
N.C. State:
Running back Demie Sumo-Karngbaye (undisclosed) and wide receiver Devin Carter (undisclosed) are questionable. Tight end Trent Pennix (arm) and quarterback Devin Leary (pectoral) are out.
When Virginia Tech Has the Ball
It's really hard to find anything that Virginia Tech does do well on offense. The Hokies are only averaging 19.4 points per game (despite playing the likes of Boston College, Old Dominion, and Wofford), Grant Wells has as many interceptions as he does touchdown passes (seven each), and the Hokies' ground game has ground to a virtual halt with just 109 yards per game from the run. There's a reason that all but one of Virginia Tech's games has hit the under this year, even with all but one of them sitting in the 40s.
And that reason is that the Hokies don't do their share of the scoring. Virginia Tech has not topped 29 points this season, and when they did, that was because eight came off a blocked punt against Pittsburgh. In their other four losses, the Hokies have averaged a mere 12.8 points per game.
To make matters worse, none of those defeats were against a team that plays defense as well as N.C. State does at home. The Wolfpack have had a few letdowns away from Carter-Finley Stadium, but when they're in Raleigh, good luck. For the season, State has allowed just 44 points in four home games, and nobody has scored more than 17 points on them in Raleigh. Lest you think that's because of a soft home schedule, Florida State's showing says otherwise. The Seminoles have averaged 31 points per game for the season and scored at least 28 points four times this year. Against the Wolfpack, Florida State managed a season-low 17.
10* CFB Championship! 49-23, 68% Season!
Jack Banks is all-in in tonight's College Football Championship! The Banker swept his NFL yesterday (Won Div GOY) and he's had a 49-23, 68% CFB phenomenal season! Jack won his CFB Bowl GOY (Penn State) and he wraps up the season with win #50! Take it to the bank with Jack Banks!
When N.C. State Has the Ball
It's tough to know what to make of State's offense without Leary on the field. That's because Syracuse has a strong defense, so we really haven't seen what Chambers can do when facing a middle-of-the-road defense like Virginia Tech. N.C. State doesn't seem to be making the game too difficult for Chambers, who was a three-year starter at Charleston Southern before making the move to Raleigh for his final season of college football.
While with the Wolfpack, he has relied on his legs more than his arm, as he has more rushing attempts than completions to this point. That wasn't how he played in Charleston, as he was far more balanced as a Buccaneer, but it's also a lot easier to read Big South defenses than a defense like Syracuse. With a full ten days of reps as the starter, Chambers might look more comfortable this time out.
If not, the Wolfpack will have to get more out of Jordan Houston. Houston has mostly carried the ball well enough this season, but the back didn't go anywhere against Syracuse and Chambers ended up with more yardage. Virginia Tech's defense is nowhere near as effective as the Orange's unit, and Houston needs to be able to run against the Hokies.
Kentucky at Tennessee Week 9 Betting Preview
Betting Trends
If the Wolfpack didn't vote no on admitting Virginia Tech to the ACC in 2003, they probably wish that they had. Since beating the Hokies in VT's inaugural year in the league, State has dropped five in a row to them, and VT has covered the number every time. In the past four meetings, VT has won by double digits, although, to be fair, only two of those meetings have taken place in the past seven seasons.
One great reason to take State is that Dave Doeren is excellent at taking extra time to prepare his team. When coming off a bye week, the Wolfpack are 21-5 ATS in their past 26 contests. They've also been very stingy on points on Thursday nights: 17 of State's past 20 Thursday matchups have played to the Under.
Weather Report
The weather could be a lot worse. Temperatures will hit 50 degrees during this game, with winds blowing northeast at seven miles per hour. Considering what could be happening around this time of year, these teams will take it.
Dan's Pick to Cover the Spread
These are not good offensive teams, and there's a real chance that State ends up winning this by a 17-0 score because neither side does much with the football. I don't really trust the State offense without Leary, but I don't trust the Virginia Tech offense, no matter who is on the field.
For me, the best bet on the board is the Under. However, if I have to take the spread, I'll go with the Wolfpack, simply because I don't think the Hokies can score more than seven points against State's defense.