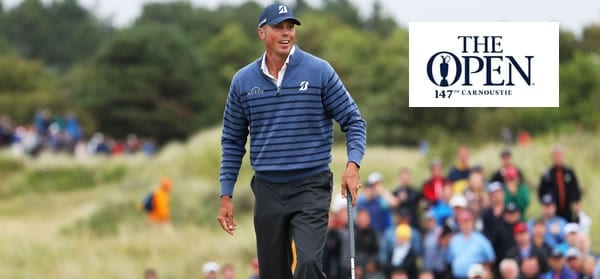 Event:The Open Championship
Date: July 19-22, 2018
Course: Carnoustie GC - Angus, SCO
TV: The Golf Channel/NBC
By: Ted Walker of Predictem.com
One of the more unique golf tournaments of the year is upon us as the pros from around the world descend upon the U.K. for the British Open, or just The Open Championship if you are a bit more cultured than your average American. Scotland's Carnoustie Golf Links welcomes nearly all of the Top-100 players in the world as they tangle for the Claret Jug in the third Major of the season. The course is well known for being one of the toughest tests of golf and rightfully is a star right alongside favorites like Dustin Johnson, Rory McIlroy and Tiger Woods. True links golf is a very much a stranger to most of the U.S. born players but Americans have routinely done well with three wins in the last five years, including Jordan Spieth who will be defending his Open win from Royal Birkdale last year. Tiger Woods looks to notch his fourth British Open win with his two previous trips to Carnoustie ending in T7 and T12 finishes. Many eyes will naturally be on Woods this week but no golfer should go overlooked as the quirks of The Open Championship often level the playing field and allow plenty of Cinderella storylines.
Carnoustie is one of the oldest courses in the world but will be hosting the British for just the eighth time, making it a relative newcomer to the Open host rotation. Of course, the 1999 Open is the most famous edition held at Carnoustie and a quick search of Jean van de Velde will educate you as to why if you don't already know. The 7,402 yard, par-71 is the longest course to host a British Open but the length is only a small part of why this layout is so dreadfully difficult. Carnoustie is famous for narrow ribbons of fairways that must be hit in most cases to access the green. There are very well placed bunkers throughout the course, some right in the middle of fairways and simply getting out of a few in one stroke will be considered a victory. Some greenside bunkers are located in the run-up areas and effectively limit the ability to run a ball onto the putting surface. Not having that option on a links course is unusual and really adds to the challenge when the winds kick up and players are still forced to play the shot in the air. No one has reached 10-under par at Carnoustie and more winning scores have come at an over-par total than under-par. That '99 Open made famous by van de Velde's collapse was won at 6-over with the field averaging nearly 77 for the tournament. The British Open always requires players to not only hit consistently good shots but also approach each hole with both imagination and patience. Perhaps that is why the Open has been the most kind to the older players in the field. Spieth, McIlroy and Woods all won when they were young but they were also the #1 player in the world (or close) at the time. More often than not, the youngsters struggle at the British while the vets grind out the better results.
Each week, we take a look at the odds offewred by online betting site Intertops and highlight the best values on the board. We make a short, middle and long odds pick to win and break down a couple of high profile head-to-head matchups that can be found at just about any golf betting outlet. Here are our picks to win the 2018 British Open.
Justin Rose (16 to 1 odds to win)
Rose has a bit of an odd record at The Open Championship. He splashed on the scene with a T4 low amateur performance in 1998 but that is his only top-5 Open finish in his career. He was T12 here in 2007 and he clearly has the veteran experience factor working in his favor. Rose also knows how to handle elite fields with two top-12 finishes in this year's Majors and a win at the HSBC to start the season. His ball striking is a major key this week as he enters in the top-20 in overall off-the-tee and tee-to-green performance. That suggests he will be able to set himself up with birdies and a top-10 putter has turned in the third-best birdie rate and second-best scoring average so far. He is also second in total strokes gained, further demonstrating his statistical dominance over the average field. He has seen the wind, he has played plenty of links golf and he has the veteran mind game to keep his wits when Carnoustie gets nasty. He should be a factor. Others that come close to his stat sheet include Rickie Fowler (16 to 1) and Jon Rahm (22 to 1). Both are good replacement bets if you don't like Rose this week.
Paul Casey (40 to 1)
At 40 years old, there isn't much Casey hasn't seen in tournament golf but he is still young enough to have elite talent. That is a nice combo for the British Open. Paul has also developed a nice record in Majors with seven straight made cuts as part of a 16-for-19 streak dating back to 2014. Many American fans are not aware that he has 15 combined Euro PGA and PGA wins on his record as many of those came overseas. He snagged a win at the Valspar this season, beating Patrick Reed and Tiger Woods by one stroke but most of his wins have come at courses much more like Carnoustie than Congressional. He is solid if not dominant with the driver, ranking 59th in strokes gained off-the-tee but he improves to 8th in overall tee-to-green with high-end approach game. He putts well enough to net the 5th best scoring average and sneaks in the top-15 for scrambling as well. There are few stat sheets that are as good as Casey's outside the six or seven outright favorites to win the tournament so his value is quite good. Similar stats are found with Henrik Stenson and Sergio Garcia but those players are 28 to 1 to win.
Matt Kuchar (80 to 1)
If you are on board with me that a no-nonsense vet is the way to go this week, how can you do better than Kuch? Matt notched a runner-up at Royal Birkdale, his best Major finish to date, and has seen the weekend at the Open Championship in six straight years. He is a shorter player off the tee, but that is not critical this week as Carnoustie is dry as a bone with several pros posting their 430+ yard practice round drives on the 'gram. He does hit enough fairways and greens to be considered a legitimate threat, especially as he ranks inside the top-50 in just about every putting category. A top-50 rank may not sound special, but it is not common for players to be ranked above average in every putting metric; given there are so many categories and subcategories measured by the PGA. Kuchar gains strokes on the field in all of them and that leads to a better scoring average than most with the same birdie numbers, and he sits at 27th in scrambling to cap the sheet. He will need a special week to pay off the longshot bet, but he has looked down the barrel before and won't be afraid this week. Others that project similarly to Kuchar are Zach Johnson at 100 to 1 and Webb Simpson at 125 to 1.
Head-to-Head Matches
Picks to win are based on the predicted score after all four rounds. Check with 5Dimes for single round matches and a variety of prop bets.
Jordan Spieth v. Justin Thomas (pick to win: Thomas)
This is a battle between the reigning British Open and PGA Champion, so this certainly qualifies as a major head-to-head. Jordan has never missed a British Open cut in five starts and has a 2-0 record against Justin in the two Opens that Thomas has played in, but it is Thomas who has a 2-1 edge in the last three Majors overall. Spieth has missed an uncharacteristic five cuts this season with Thomas perfect in that category in singles competition, only missing the cut in the team event in New Orleans. The stat sheets are virtually a wash when looked at from a macro point of view, but the big difference comes on the greens. Spieth is currently outside the top-150 in putting with Thomas over 100 spots better. That has led to Thomas having the better scoring mark with nearly identical birdie percentages. Spieth is missing that magic and seemingly that ability to make the clutch birdie or save the critical par. His bogey save from the Birkdale practice range way a big part of his win last season, but it just doesn't seem like he can be counted on for that right now. Thomas is solid, and his top-5 ball striking will not be beaten by a player that is not on his A-game. It is only a matter of time before Spieth finds his groove, but it will be a tough task to find it at Carnoustie.
Brooks Koepka v. Tiger Woods (pick to win: Koepka)
Koepka has been on fire since sitting out the early portion of the season with a bad wrist. All injury concerns seem behind him, and he has won once since (US Open) with two other runner-up finishes in just nine starts. That US Open win is a big tie-breaker, but Woods isn't that far behind with a second, fourth and fifth place finish in eleven starts. Both have fared similarly on the stat sheet with Koepka a bit better off-the-tee but Woods evening things out in the overall tee-to-green metrics. Neither gains much ground on each other with the putter, and both have similar scoring marks. This is indeed one of the best head-to-heads the books could have put together considering the huge name value that Woods carries. Tiger has those three Open wins on his record and no one today can touch his career Major record, but few have been better than Brooks over the last few years. Koepka's worst Major finish since 2015 has been a tie for 33rd, and he has nine top-20 finishes over that stretch. Since 2015, Woods has just six Major starts and has missed the cut in four. The conventional golf opinion has turned back to possibly favoring Tiger to win another Major in his career yet, but he is going to be faced with top Tour talent everytime out in these head-to-heads. The nuance of playing links golf may help Woods eventually beat Koepka this week and maybe Tiger rekindles some of his vintage form, but I need to see it once or twice before I am putting money on him. Koepka is too good, especially in Majors, to ignore.
Good luck and good golf!