[et_pb_dcsbcm_divi_breadcrumbs_module hide_homebreadcrumb="off" homebreadcrumbtext="Home" separator="sep-raquo" hide_currentbreadcrumb="off" homebreadcrumborientation="left" _builder_version="3.8″ fontsbreadcrumbs_font="Lato||||||||" fontsbreadcrumbs_text_color="#000000″ fontsbreadcrumbs_font_size="15px" fontsbreadcrumbs_line_height="16px" fontsseperator_font="||||||||" fontsbreadcrumblinks_font="||||||||" fontsbreadcrumblinks_text_color="#2567cf" custom_margin="25px|||" custom_margin_phone="30px|||" custom_margin_last_edited="off|desktop" custom_css_main_element="font-family: Helvetica Regular;" global_module="3641″ saved_tabs="all"][/et_pb_dcsbcm_divi_breadcrumbs_module]
Golf Picks: Bridgestone Invitational 2018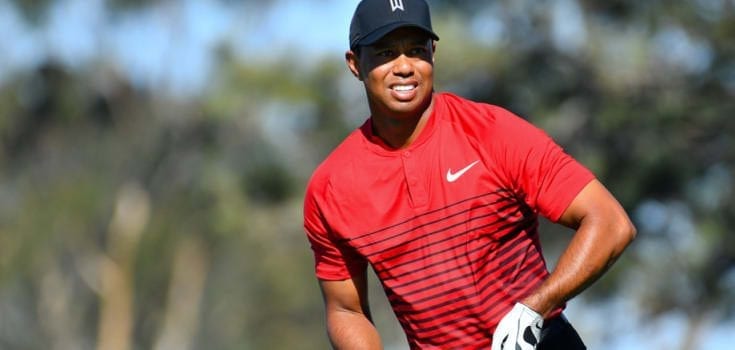 WGC-Bridgestone Invitational
August 2-5, 2018
Firestone CC (South) – Akron, OH
The Golf Channel/CBS
By: Ted Walker of Predictem.com
The best on Tour are primed for a big time finish to the season. Just a few events are left in what remains of the 2017-18 PGA season and each have star power in their fields. The WGC-Bridgestone Invitational is the final World Golf Championships event of the season and this tournament has essentially belonged to Tiger Woods since coming on to the Tour schedule in 1999. Woods has won here on eight occasions and he will be teeing it up at Firestone CC for the first time since 2014. After briefly holding the lead at Carnoustie, the betting sites have cranked up the Tiger expectations for this week, installing him amongst the favorites at 12 to 1 odds to win. He will have to navigate his way through 72 of the top players in the world if we wants win #9 here, including all of the top-50 in the OWGR. Dustin Johnson and Rory McIlroy are some of the few listed above Tiger on the betting board but anyone in this field could be relevant given the minimum standard to be invited.
Firestone CC will be exiting as a PGA Tour host course this season but the Monster at Akron will remain a Champions Tour Major site and still be a player in championship golf. The par-70 layout stretches to 7,400 yards, appropriately gaining that "Monster" nickname from Arnold Palmer. The 667-yard par-5 at sixteen is one of the more famous long holes in golf but it is not necessarily that difficult all things considered. The seven par-4s that come in at 460 yards or more provide a much more consistent challenge as that day-long length tends to wear players down. Mistakes with a 7-iron are greater than those with a 9-iron and the length at Firestone will demand players have their long approach game dialed in. The course record of 61 has been carded on five occasions, including last year as Hideki Matsuyama cruised past the field on the final day en route to an easy win. There have been seven international winners in the nineteen year history of this event but just two editions of the WGC-Bridgestone have needed a playoff to decide things.
Each week, we take a look at the online betting sites and highlight the best values on the board. We make a short, middle and long odds pick to win and breakdown a couple of head-to-head matches that can be found at any golf betting outlet. Here are our picks to win the 2018 WGC-Bridgestone Invitational.
Jon Rahm (25 to 1 odds to win)
Rahm is on a bit of a cool streak after missed cuts at the US and British Opens but the young Spaniard has found WGC events to his liking with two top-3 finishes in just six career WGC starts. Despite the missed cuts in each of the last two Majors, he still has shown an ability to play up to the strongest fields with a T4 at Augusta earlier this year. Rahm is 21st in driving distance which is plenty long to handle Firestone and he uses that length to setup easy approaches. He enters the week 15th in greens hit and has putted well enough to produce the 2nd best birdie rate on Tour. He is making some mistakes and that is bleeding the efficiency out of his rounds but the "good" version of Rahm is still a threat to win. He will need a good week with the irons as his scrambling has been sub-par for most of the season but he is 2nd in off-the-tee performance and getting a good start at Akron is essential. He should be a threat if the putter gets going.
Tony Finau (50 to 1)
I will admit to liking Finau to win a little better last week than this one but he is getting fantastic value this time around and he has the prototype game to do well at Firestone. Tony did flash into contention late Saturday last week but a pedestrian 1-over round on Sunday kept him well back. That is still a good enough result to think he can win this week and he hasn't finished worse than T27 in any of his WGC starts. As the 3rd longest driver on Tour, Finau has the gas to handle the length this week and he sneaks in the top-25 in GIR. His putting average is just above average but he is a better scrambler than people give him credit for and that helps spin the 12th best scoring average out of a birdie rate that is outside the top-20. That kind of efficiency is not usually found in power players and it gives Tony a chance to stay in rounds where he is off a little. It would take a special week all around to win but he is inside the top-25 in total strokes gained and legitimately has the raw materials to take this course on.
Charley Hoffman (66 to 1)
There are many in the field that are exempt due to wins but Hoffman is one of the grinders that clocks into the Top-50 through consistency. His T29 last week was his worst finish since the start of June and he has been inside the top-20 in all three Majors this year. He made a run at Firestone last year, finishing T3 while posting a 66/67 on the weekend. He still averages just short of 300 yards off the tee and has enough power for the course even if he is not Tour-elite in the distance categories. The stat sheet seems uninspiring but there are not many that have Charley's consistency. There are a few down categories like his scrambling but for the most part, he is above average in all of the key predictors and has the 38th best scoring average. He is a rightful longshot but like many in his odds range, Hoffman has a well-rounded game that can handle all the challenges of the course.
Head-to-Head Matches
Picks to win based on predicted score for the entire event. Check with your favorite online betting site for single round matches and a variety of prop bets. Bovada currently offers Bridgestone Invitational matchup and winner odds  .
Francesco Molinari v. Justin Thomas (pick to win: Thomas)
Molinari is about as hot as you can get with three recent wins, including the Quicken Loans National and The Open Championship. The downside of his upswing is that he is now paired with the Tour elite and is no longer the best ball striker in his head-to-heads. Take away his recent run of success and Francesco is paired with the likes of Zach Johnson or Xander Schaffele. Those are good players but Molinari would have had relatively strong advantages against those players in many statistical categories. Now, after breaking out, he is paired with the likes of Rickie Fowler or, in this case, Justin Thomas. Molinari does have a WGC win from back in 2010 but it has been Thomas with two top-4 WGC finishes this season with Franky outside the top-15 in both. Molinari has improved his putting but Thomas is still the better player on the greens and has edges in birdies and scoring. Assuming Molinari's current level could even some of that, Thomas is the longer player and also the better scrambler of the two. This is the deepest water Molinari has been in with regards to his pairing so any fall off from his career-best run will have him struggling to win a head-to-head like this.
Webb Simpson v. Bryson DeChambeau (pick to win: Simpson)
I don't really care that DeChambeau caught some heat for abruptly leaving the scene of his late-round collapse at the Porsche European Open. He is young, he apologized and he is back in the US where most won't care what protocol he breached, if they even know he did. What does trouble me is the way he melted down on the course. He hit three balls in the water and made several more mistakes down the stretch even as his competitors allowed him to stay in the hunt. DeChambeau fancies himself as some sort of machine and I usually like to see machines work properly after failing before I trust them again. Simpson has the Players win this season as proof he can take down an elite field and he has two top-25's in three Bridgestone starts. Webb leads the Tour in scrambling and is top-10 in both putting and scoring average. He is a lunch-pail player that is hard to get rid of. DeChambeau is longer and hits more greens on average but is also more mistake prone. There are fewer true scoring opportunities at Firestone than in most weeks. Maybe DeChambeau takes advantage of those to get the edge on Simpson but I think the more likely scenario has Webb winning after a more patient and mistake-free performance.
Good luck and good golf!
<h4 class="widgettitle">More NFL Picks</h4><!-- [et_pb_line_break_holder] -->
<div class="widget105"><!-- [et_pb_line_break_holder] --><h4 class="teaser">Best Teasers</h4><!-- [et_pb_line_break_holder] --><!-- [et_pb_line_break_holder] --><table id="teasers"><!-- [et_pb_line_break_holder] --> <tr><!-- [et_pb_line_break_holder] --> <th><span class="team">3 Team:</span></th><!-- [et_pb_line_break_holder] --> <th>6 pt Teasers</th><!-- [et_pb_line_break_holder] --> <th>6.5 pt Teasers</th><!-- [et_pb_line_break_holder] --> <th> 7 pt Teasers</th><!-- [et_pb_line_break_holder] --> </tr><!-- [et_pb_line_break_holder] --> <tr><!-- [et_pb_line_break_holder] --> <td><a href="https://affiliates.islandcasino.com/tracking/Affiliate.aspx?idBook=3&mediaTypeID=220&AffUrlID=80&LandingPageID=36" rel="nofollow"><img src="https://www.predictem.com/wp-content/uploads/2018/06/island_casino.png"></a></td><!-- [et_pb_line_break_holder] --> <td>1.8 to 1</td><!-- [et_pb_line_break_holder] --> <td>1.65 to 1</td><!-- [et_pb_line_break_holder] --> <td>1.5 to 1</td><!-- [et_pb_line_break_holder] --> </tr><!-- [et_pb_line_break_holder] --> <tr><!-- [et_pb_line_break_holder] --> <td><a href="https://affiliates.5dimes.eu/tracking/Affiliate.aspx?idBook=1&mediaTypeID=220&AffUrlID=80&LandingPageID=2" rel="nofollow"><img src="https://www.predictem.com/wp-content/uploads/2018/06/5Dimes_sm.png"></a></td><!-- [et_pb_line_break_holder] --> <td>1.65 to 1</td><!-- [et_pb_line_break_holder] --> <td>1.5 to 1</td><!-- [et_pb_line_break_holder] --> <td>1.35 to 1</td><!-- [et_pb_line_break_holder] --> </tr><!-- [et_pb_line_break_holder] --> <tr><!-- [et_pb_line_break_holder] --> <td><a href="https://record.commission.bz/_BhTQDVOVie23_O3IiMN7EWNd7ZgqdRLk/1/" rel="nofollow"><img src="https://www.predictem.com/wp-content/uploads/2018/06/sports-betting-sm.png"></a></td><!-- [et_pb_line_break_holder] --> <td>1.6 to 1</td><!-- [et_pb_line_break_holder] --> <td>1.5 to 1</td><!-- [et_pb_line_break_holder] --> <td>1.35 to 1</td><!-- [et_pb_line_break_holder] --> </tr><!-- [et_pb_line_break_holder] --></table><!-- [et_pb_line_break_holder] --><div class="widget-footer"><a href="https://www.predictem.com/best-sportsbooks/teasers-odds/">See all Sportsbooks Teasers</a></div><!-- [et_pb_line_break_holder] --></div><!-- [et_pb_line_break_holder] --><!-- [et_pb_line_break_holder] --><!-- [et_pb_line_break_holder] --><style><!-- [et_pb_line_break_holder] --> #teasers {border-collapse: collapse;<!-- [et_pb_line_break_holder] --> width: 100%; border: 0px;<!-- [et_pb_line_break_holder] --> font-size: 14px!important;}<!-- [et_pb_line_break_holder] --> #teasers td, #teasers th {<!-- [et_pb_line_break_holder] --> border: 0px;<!-- [et_pb_line_break_holder] --> padding: 8px;<!-- [et_pb_line_break_holder] --> text-align: left;}<!-- [et_pb_line_break_holder] --> #teasers th {<!-- [et_pb_line_break_holder] --> padding-top: 5px;<!-- [et_pb_line_break_holder] --> padding-bottom: 5px;<!-- [et_pb_line_break_holder] --> font-weight: bold;<!-- [et_pb_line_break_holder] --> line-height: 14px;<!-- [et_pb_line_break_holder] --> text-align: center;<!-- [et_pb_line_break_holder] --> color: #000;}<!-- [et_pb_line_break_holder] --> #teasers tr {border-bottom: 1px solid #edeef0;}<!-- [et_pb_line_break_holder] --> .team {font-size: 16px;}<!-- [et_pb_line_break_holder] --></style>
<div style="width:340px; margin: 0 auto;"><!-- [et_pb_line_break_holder] --> <a class="twitter-timeline" data-width="340" data-height="500" data-link-color="#008156" href="https://twitter.com/PredictemPicks?ref_src=twsrc%5Etfw">Tweets by PredictemPicks</a> <script async src="https://platform.twitter.com/widgets.js" charset="utf-8"></script><!-- [et_pb_line_break_holder] --></div>