The Shriners Hospitals for Children Open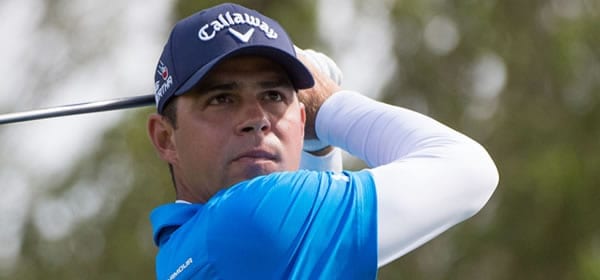 Event: The Shriners Hospitals for Children Open
Date: Nov 1 -4, 2018
Course: TPC Summerlin - Las Vegas, NV
TV: The Golf Channel
Since the Tour Championship ended the 2017-18 PGA Tour season, much of the competitive golf has taken place outside the United States. The Ryder Cup was contested across the pond and many of the early Tour stops have been held throughout Asia. The Tour moves back to the States this week for the Shriners Open. Las Vegas is the host and spending a week in Sin City is probably reason enough for some pros to come out of hibernation but this once second-tier event has become an early destination for many top players. Jordan Spieth will make his 2018-19 debut this week and he is looking for a jump start after a bit of a slump last season. Rickie Fowler is another favorite in the field with Bryson DeChambeau and Tony Finau teeing it up as two of the hottest players in the world right now. Patrick Cantlay will defend his title against a very capable field that includes several former champions as well.
TPC Summerlin is a prototype for desert golf. The 7,255 yard, par-71 course winds through the arid landscape, using the scrub and waste areas to collect errant shots. Given the lack of difficult rough or tree trouble, players just really need to miss landing in the unplayable ravines. The bombers will be able to effectively shorten the course and the elevation allows the lighter hitters to use short irons more often. That is good new for scoring and most of the recent winning totals here have fallen between 16-to-25 under par. Cantlay survived a windswept week last year to notch his Shriners win at just 9-under. That total really stands out considering the course record of 11-under, 60 has been shot multiple times in championship history. Something around 20-under is probably going to be necessary to win this week and you can't do that without a hot putter. Players with a high degree of familiarity at Summerlin should have an advantage over the first-timers but there is no one style that is more apt to score here. Hit good shots and make putts, that is the only recipe this week.
Each week, we take a look at the odds at Intertops and highlight the best values on the board. We make a short, middle and long odds pick to win and breakdown a couple of popular head-to-head matches that are available at any golf betting outlet. Here are our picks to win the 2018 Shriners Open.
Gary Woodland (18 to 1 odds to win)
Woodland finished last season rather well with T12 and T11 finishes at the final two playoff events and he kept the momentum rolling with two top-5 runs on the Asian Swing, including a runner-up at the CJ Cup. He had a decent finish here last year with a T18 but that total seems like an absolute floor considering his current level of play. He enters the week as the 7th longest driver on Tour and finished 10th in greens hit last season. His putter is pretty average by Tour standards but still good enough to be top-30 in scoring. He is a top-20 player from tee-to-green and that simply suggests he will see enough birdie putts through the week to win should he get going on the greens. Gary might be in line for a big year and winning early makes sense for him given he has been playing well with no rust to shake off.
Matt Kuchar (45 to 1)
Kuch will be making his first start of the new season and it has been a bit of an extended break for him given he missed the final two playoff events. That makes it sound like he had a rough season but he only missed four cuts overall. The top-tier results were a bit lacking with just four total top-10 finishes but Matt's game never seemed too far off his winning form. The tee-to-green stats were really the problem last year but I will bet Matty worked on that over the last month or so and that will help his top-25 putter net more birdies. Even in a down year, Kuchar was a solid player around the greens, ranking 8th in scrambling and 4th in sand saves, proving that putter and veteran experience can carry him. Any uptick in his ball striking should have Matt back in contention and TPC Summerlin should be a good spot to break out as his light-hitting ways won't hurt him here.
Ryan Moore (50 to 1)
Moore has a near miss already with a T2 at the Safeway and while he only played 3-under at the CIMB and CJ Cup, the early season tune-ups always help. Ryan has a comfort level here as the 2012 champ and he is one of two that share the tournament record at 24-under par. He is not long but again, that is not a big deal at elevation and he balances that lack of power by hitting the 4th most fairways on Tour. He is a solid greens hit guy as well and putts well enough to net the 22nd best scoring average. Moore is one of the best players in terms of limiting mistakes as his 12th ranked recovery game would suggest and he spins that top-25 scoring average out of just the 128th best birdie percentage. Efficient players are often the best in shootouts as they refuse to give shots back to the field.
Head-to-Head Matches
Picks to win based on predicted score for all four rounds. Check with 5Dimes for single round matches and a variety of prop bets.
Jordan Spieth v. Webb Simpson (pick to win: Simpson)
I am one that fully expects a resurgent Spieth at some point in 2018-19 but I think that is more likely to happen as we run up to Augusta rather than immediately. Major champions look to peak at certain times and while Spieth is a threat in any event he enters, winning the Shriners Open cannot hold the same motivation for him as winning a Masters or U.S. Open title. Webb Simpson finished the year 6th in putting average, 4th in scoring and 9th in total strokes gained. He was better or equally ranked to Jordan in nearly every relevant scoring predictor last season and you want to stay with that until Spieth regains his form. On paper, you probably aren't seeing Spieth in a pairing like this so the first thing you may want to do is pick on his name-brand value but his play hasn't backed that up recently and Webb is no slouch. Jordan needs to putt better than he did last season for sure and I'm not positive that automatically comes back after a break.
Rickie Fowler v. Bryson DeChambeau (pick to win: DeChambeau)
I like both of these guys and I think they are among the few truly unique talents on Tour. Bryson gets the nod for me based on his two Playoff wins that are barely two months in the rear-view and his T7 from Summerlin last season. You have to split hairs to find meaningful differences between these two on the stat sheets, in fact they were 40th and 41st in birdie average during the regular season. Fowler is a bit more accurate off the tee but Bryson comes back to lead the total-strokes gained category. Rickie is the better player around the greens so he could see an advantage if they both miss a lot of greens but I don't think that is happening for either this week. I think they both play well at a course each could dominate but DeChambeau's hot finish to the season has a good chance to carry over to wrap-around events. You can probably find Bryson as an underdog and get something close to even money value and that is hard to pass up as well.
Good luck and good golf.
<div style="width:340px; margin: 0 auto;"><!-- [et_pb_line_break_holder] --> <a class="twitter-timeline" data-width="340" data-height="500" data-link-color="#008156" href="https://twitter.com/PredictemPicks?ref_src=twsrc%5Etfw">Tweets by PredictemPicks</a> <script async src="https://platform.twitter.com/widgets.js" charset="utf-8"></script><!-- [et_pb_line_break_holder] --></div>