$100,000 Manitoba Derby Highlights Holiday Card at Assiniboia Downs on Monday, August 1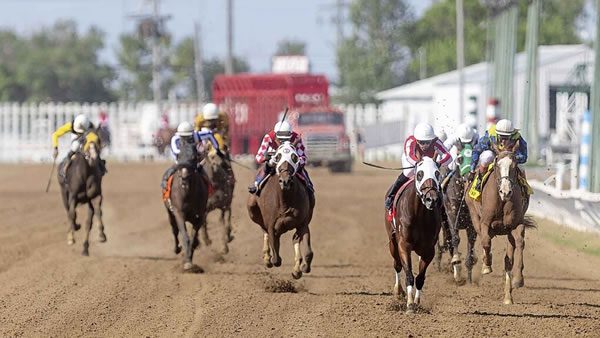 Mandatory Payout on Jackpot Pick 5 Carryover of $515,613, $100,00 Guaranteed Pick 4
The 74th running of the $100,00 Manitoba Derby on Monday night at Assiniboia Downs (ASD) goes as the 6th race on a stellar 8-race card that also includes a mandatory payout on the Jackpot Pick 5, which currently has a carryover pool of $515,683! Post time for the first race at ASD on Wednesday is 7:30 p.m. Central.
Free programs are available for download at the Assiniboia Downs Player Portal, and you can also download the Manitoba Derby Press Kit here.
The Pick 5 pool is expected to easily go over $1 million by post time for the fourth race, the first leg of the Pick 5, and the fifth race marks the start of a $100,000 Guaranteed Pick 4. The card also includes the 63rd running of the $50,000 Harvey Warner Manitoba Mile Stakes, which goes as the second race, and the 37th running of the $50,000 Escape Clause Stakes for fillies and mares, which goes as the third.
The races in the Pick 4 and Pick 5 are extremely competitive, with at least three horses in each leg having a shot at winning and more longshots on the fringe that could slip into the mix. If you can somehow structure a ticket that hits with limited favorites, you could be looking at some huge payoffs.
While the first race on the card includes nondescript maidens, it's worth watching just to see how the track is playing, and the two stakes that follow should tell us all we need to know. The track at ASD has played fair all year, with horses coming from well off the pace six-wide on occasion and others slipping up the rail. You can win on the front end or from off the pace. Still, it always pays to watch the first few races before the Pick 5 and Pick 4, just in case.
Assiniboia Downs Picks and Analysis for Monday, August 1, 2022.
We wouldn't normally do a full card analysis, but there will be so much silly money in the pools on Monday it's worth doing the extra homework. Wagering on Monday, Tuesday, and Wednesday evenings at Assiniboia Downs this year has been averaging a million dollars a night, which means you can bet a thousand dollars on a horse and not change the odds.
Located in Winnipeg, Manitoba, Canada, this Western Canadian track has basically nailed Monday, Tuesday, and Wednesday nights, and everybody knows it. Wagering partners are located around the world, and good handicapping is rewarded.
Note that the Jackpot Pick 5 starts on Race 4, and the $100,000 Guaranteed Pick 4 starts on Race 5.
So let's get started!
RACE 1
Nondescript maidens. Any horse could win. NOTABLE NORA is the logical choice based on current form, but a few others in here have cheap speed, and bottom maidens are notoriously unreliable. GOING COMMANDIE drops from a restricted stakes to Maiden Claiming $5,000 and could wake up despite the fact that she hasn't shown anything to date. Trainers on both horses are solid. First-time starter RY BRED wouldn't have to be much to beat these, despite average works. He's a full-brother to a three-time winner at this level of competition. Your best bet is probably to pass this race.
PASS
RACE 2 – 63rd Running of the $50,000 Harvey Warner Manitoba Mile
SOY TAPATIO
ITSTHATTIME
REAL GRACE
SOY TAPATIO ships in to Assiniboia Downs from Churchill Downs for top trainer Robertino Diodoro, who has three horses in the Manitoba Derby. Top Alberta jockey Rico Walcott is slated to ride, and this horse has a slight edge in Beyer Speed Figures as well as what should be a class and trip edge. ITSTHATTIME set a slow pace after rocketing to the front in his last race here, the RJ Speers Stakes on July 12, and won by seven lengths with a figure that would be close enough to win this. In the same race, REAL GRACE hesitated just a touch at the start and ended up wide on the first turn before tracking ITSTHATTIME from the outside through slow fractions and tiring in the drive. We could flip flop between these two as far as who gets the lead, but the versatile SOY TAPATIO could probably take it from both of them if he wanted to. He was four-wide forcing the pace in his last race at Churchill Downs on July 1, an optional $62,500/N2X claimer going 1 1/16-miles, and he continued on doggedly to the wire to finish fourth beaten only 1 ¼-lengths. Ralliers WARRIOR'S MAP and PLENTIFUL would likely need a three-horse duel to win this.
RACE 3 – 37th Running of the $50,000 Escape Clause Stakes
HIDDEN GRACE
SPUN LINE
TEXAS RAIN
HIDDEN GRACE makes her third start off the layoff for trainer Lise Pruitt and could turn the tables on SPUN LINE this time if able to clear to the lead early enough. In her last start in the Canada Day Stakes going 7 ½-furlongs on July 13, HIDDEN GRACE dueled with two different horses and couldn't get a breather, while fellow Escape Clause entrants SPUN LINE, and TEXAS RAIN sat back after steadying mildly early, watched, waited and rallied to pick up the easy late spoils. Trainer Jared Brown said SPUN LINE could win stakes here, and he was right, but the pace scenario could be more suitable for HIDDEN GRACE this time. CYPRESS POINT was claimed back out of her last race by leading trainer Jerry Gourneau, and he will likely tell the rider to send her early. She has shown speed going a route in the past and could bother HIDDEN GRACE early, but if the latter can get away from that rival early enough, she should be tough to beat. If a duel does develop, SPUN LINE will be sitting right behind it with leading rider Jorge Carreno up and can rally to win. Carreno was aboard HIDDEN GRACE in her last start, but with the injury to SPUN LINE's rider Leonel Camacho-Flores, Carreno took the mount as Brown's first-call rider. TEXAS RAIN will rally but doesn't seem to have quite the level of acceleration as that of SPUN LINE.
RACE 4 – FIRST LEG OF 20-CENT JACKPOT PICK 5 – $515,683 CARRYOVER. MANDATORY PAYOUT.
G'S TURN
GOLDENEYED
TAP MASTER
The first of numerous tough races in the Jackpot Pick 5 features three horses that love to win, including a new arrival from Lone Star Park in Texas, a possible lone speed horse, and three more horses that are close enough on numbers to win with perfect trips. This may be the one race where you try to beat the favorite, MR. DAZZLE, who has the best Beyer Speed Figures but rarely wins. Based on back class, we're going to go with versatile multiple stakes-placed Texas shipper G'S TURN, who can go to the lead or come from off the pace for leading trainer Jerry Gourneau. He'll likely need a perfect trip to win, as both WICKED FORTITUDE and GOLDENEYED know where the wire is, but neither of those two has much experience or success going a route so it's a guessing game. GOLDENEYED has defeated WICKED FORTITUDE in their last two meetings sprinting. TAP MASTER will likely try to open a clear lead early after a decent dueling try in his last, and he may have less company up front this time, so he's a mild threat to steal it. RAILSPLITTER has the numbers to win this but rallied only mildly behind St. Louie Guy and fellow entrant MR. DAZZLE in his last going seven furlongs. He should like stretching out to a mile. LIFESBEENGOODSAFAR was claimed out of a good-trip winning race in his last start from trainer Marvin Buffalo, who is winning at a 27%-clip, by Maria Stanford, who is 1-for-16. He has a good record at the distance and the back numbers to win this, but he's been a forever in-and-outer and would need an absolute dream trip to win this. We'll use G'S TURN as our top selection and back him up with GOLDENEYED, who is trying for his third win in a row for top trainer Gary Danelson, who excels with repeaters.
RACE 5 – FIRST LEG OF $100,000 GUARANTEED PICK 4
SINGANCRYINDUBAI
CIMPL MAN
SHOOTINMONEY
Yet another bafflingly competitive race that almost any horse could win. There are a number of speed horses in here, almost all of which could win if able to escape the pack from the gate. We'll take the position that there will be a duel and go with a few from just off the pace.
Breaking from the inside posts, both YOLA and BIG TONY drop in for $7,500 from very tough $10,000 optional claiming races, and both have recently shown speed. Next to them is EAGLEBINE, who is also quick when on his game but who has only started one this year way back on May 31. TABIA is a versatile sort that probably can't get the lead in here, but he moves up in class from $5,000, and these are tougher. His numbers last year were easily good enough to beat these. Interesting longshot as he makes his third start off the layoff.
CIMPL MAN was 6-wide trying to rally into similar company in his last and certainly has a chance from just off the pace with a better trip. BUDLITELARRY makes his second start off the layoff, and he too has both the numbers and the back class to beat these on his best day, but he only ran three times last year, and we're wondering what's up with him. SINGANDCRYINDUBAI will be the pick off his back class, and a good win last out against slightly lesser. He looked good winning that race and might get just the right trip again. It should be noted that SINGANCRYINDUBAI was claimed out of his last by one top trainer, Tom Gardipy Jr., from another top trainer, Jared Brown. As a result, he now loses leading rider Jorge Carreno to YOLA, who is trained by Brown. Could the switch to Carreno on YOLA mean a different kind of trip stalking from the rail and a rally up the inside to win? Ronald Ali, who has won a number of races for Gardipy with a strong ROI, will be on SINGANDCRYINDUBAI on Monday. SHOOTIN MONEY was beaten only half a length going this distance in a tough field in his last at this level, and while just a bit light on numbers, he could also get the right trip. This could easily be an ALL race in the Pick 4 and Pick 5.
RACE 6 – 74th Running of the $100,000 Manitoba Derby
RED KNOBS
PRAYFORPEACE
GREAT ESCAPE
PRAYFORPEACE parlayed a dream trip under jockey Antonio Whitehall to victory in the Derby Trial at Assiniboia Downs going 1 1/16-miles on July 11, while some of his fellow Derby rivals in that race had all kinds of trouble. Still, he looked worth every bit of the $80,000 former champion race car driver Henry S. Witt, Jr. claimed him for three starts ago at Churchill Downs, he has the numbers, and he can go to the lead or come from off the pace for leading trainer Jerry Gourneau. The major contenders lining up to beat PRAYFORPEACE are three horses saddled by top North American trainer Robertino Diodoro, who has won the Manitoba Derby three out of the past five years. Diodoro will saddle GREAT ESCAPE, CLANCY'S PISTOL, and RED KNOBS for a variety of different owners, some of whom have won this race in the past.
GREAT ESCAPE looks like the speed of the three Diodoro charges as he makes his second start off the layoff. In the Derby Trial, he was off balance after being bumped early and then bumped more than once while between horses early. He finally worked his way to the lead inside after passing the midpoint of the final turn, but by that time, PRAYFORPEACE was already rolling by him on the outside after sitting a nice trip inside. GREAT ESCAPE could only chase his rival home at that stage. Things could be very different this time as GREAT ESCAPE looks to be the only real early speed, and he now has a much-needed prep race under his girth.
If PRAYFORPEACE decides to go with GREAT ESCAPE early, the race could set up for either of Diodoro's other charges.
RED KNOBS is a fresh claim by Diodoro that has Beyer numbers good enough to win. Claimed for $50,000 off a second-place finish going 1 1/16-miles at Churchill Downs, he'll have leading Assiniboia Downs rider Jorge Carreno in the saddle on Derby Day, and he does have some back class to work with, having finished third in both the Iroquois Stakes (G3) and the $200,000 Street Sense Stakes as a 2-year-old. His best Beyer Figure is an 86, which is the same number PRAYFORPEACE was given for his Derby Trial win.
CLANCY'S PISTOL doesn't quite have the numbers of the two other Diodoro entrants, but he certainly has an excuse. He was completely wiped out by PRAYFORPEACE's stablemate in the Derby Trial before rallying from well back to finish third under jockey Rafael Zenteno Jr., who was swearing all the way back to the unsaddling area. He'd likely need a big duel, but he's certainly not out of it.
The remaining entrants in the Manitoba Derby don't really measure up on numbers. It looks like it will take a Beyer Speed Figure of 80 or better to win this, and the highest that the remaining contenders have been able to achieve so far are in the 60s. Locally stakes-placed GOLD SPECIAL was a victim of the bumping/checking incident in the Derby Trail and advanced to finish fourth beaten 15 ¾-lengths. He could improve, but how much? DIMMI QUANDO finished second in the local Golden Boy Stakes, going six furlongs. STRONG BELIEF has won two in a row, including his last going a mile, but with numbers in the 50s. And the stablemate of PRAYFORPEACE, GET WITT GONE, has only been able to get as high as 51 while running in Maiden Special Weight races at Lone Star Park in Texas.
Diodoro is winning at 21% off the claim, so we'll take a shot in here with RED KNOBS at 5-1 to get a nice trip under Carreno, hoping he stalks a bid battle between GREAT ESCAPE and PRAYFORPEACE on the final turn.
RACE 7
SILVER LUKE SILVER
RIDE EM
FLASH OF GLORY
The 7th race is another tricky one where we'll take a few shots and hope we get lucky. The logical horse is SILVER LUKE SILVER, who drops in for $7,500 for leading trainer Jerry Gourneau after being a non-factor in the RJ Speers Stakes. He has the best current Beyer Speed Figures in the race and two starts back, he was impressive winning a $10,000 optional claiming race with Antonio Whitehall, and he's back up again on Derby Day. He should also stalk a pace battle between MAS MISCHIEF, RIDE EM, MY COWBOY, STONE CAFÉ, GOOCH EXPRESS, and HOOCHIECOOCHIE SAM. If RIDE EM, MAS MISCHIEF, or MY COWBOY gets loose early, they could go all the way. The more likely scenario is that some form of duel develops, which sets the race up for SILVER LUKE SILVER and maybe even longshot FLASH OF GLORY, who won three photos here last year with determined rallies, including one in the Derby Trial. Something else worth noting is that RIDE EM, who was recently claimed from Mike Taphorn by trainer Curtis Maxwell, has some back numbers that would easily beat this field if he can find them for his new trainer.
RACE 8
FLAT OUT LEADER
TAKINTHENITETRAIN
OUTCOME
OUTCOME takes a huge class drop for this race and might find himself easily on the lead. On top of that, the only race he did win was from off the pace. So he figures if trainer Murray Duncan has him ready, and Duncan is 2-for-9 dropping horses from allowance to claiming over the past five years. Still, OUTCOME is difficult to trust in a large field with other speed, and there are all kinds of ankle-biter angles in here. FLAT OUT LEADER looks like the inside speed for six-time leading trainer Tom Gardipy Jr. He could get loose and go all the way. BODYMOOR HEATH also has numbers that are good enough but cuts back from 7 1/2-furlongs to six furlongs, and he'll likely be in chasing mode from the outside post. Perhaps the most intriguing horse in the race is TAKNTHENITETRAIN, who was claimed by top trainer Jared Brown out of his last race after rearing at the break. A notoriously slow breaker, he now gets a jockey switch to leading rider Jorge Carreno. If Brown and Carreno can solve this horse's gate issues, he could be a major player. BENROY is a tryer who will rally as usual, but even though he had an excuse after being checked at the break in his last, he does seem to have seconditis. BRO CODE cuts back from a mile to six furlongs and makes his second start against winners after a solid first effort. HENRISINCONTROL has numbers that fit with these, and for a real flyer, how about CHICAGO ROLL rallying up the rail from the inside post as the whole field drifts out in late turn. Stranger things have happened. In the Pick 4 and Pick 5, this race is probably best played with a few horses on one ticket and ALL on another ticket.
It should be a great evening of racing, and if you can nail either the Pick 4 or Pick 5, the payoffs could be excellent. And because of all the attention the Pick 4, Pick 5, and the Derby will attract, there might also be some opportunities in the Pick 3s. Money everywhere!
Let's go get it!
How to Bet on Horses
Read our Race Betting Guide to get insight on all of the types of wagering options in horse racing. Dig deeper below to get tips on the most popular exotic wagers with winning strategies provided by expert Kenneth Strong.